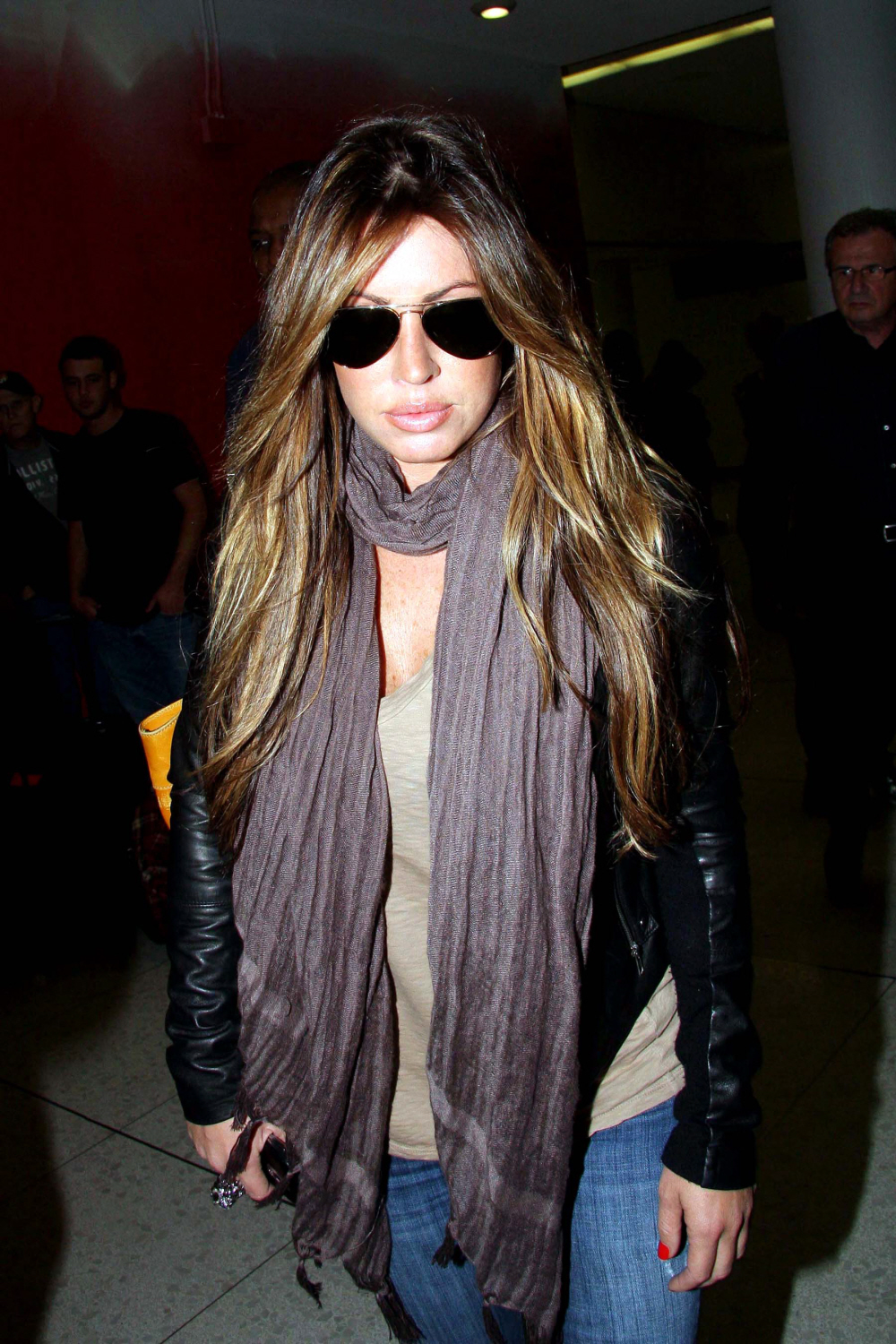 Aw, nuts. Just when I was starting to feel a little bit sorry for Tiger Woods, the other shoe dropped. Now it's not just about New York party girl Rachel Uchitel (above, in new photos from Sunday) and an alleged six-month affair – now it's about multiple women. As in, Tiger's had his paws on several different mistresses in the past few years.
First up, Lainey Gossip has an advance copy of this week's Us Weekly, and apparently Tiger's lady drama made the cover. Us Weekly will allege that Tiger has had multiple affairs with multiple women. Lainey continues: "One woman claims they've been f-cking for almost 3 years. And…she has the text messages. And the voice messages. The sexting is embarrassing. All of it is terribly embarrassing. Especially an email that was allegedly sent from Tiger to one of the women he was involved with. For a guy who is fiercely private, the sh-t that's coming out, the details about what he's like and what he attracted… it's mortifying. And so stupid. SO STUPID. They don't think when they think they're invincible. The article also gently suggests that when Tiger parties, oh he parties, sometimes leading to out of control behaviour."
Next up, Radar. Radar is basically claiming the same thing as Us Weekly - that a bunch of junk is just about to break about Tiger, and that it's pretty harsh:
Several other women are coming forward claiming they had affairs with Tiger Woods, RadarOnline.com has learned exclusively.

What's more, one of these women claims to have proof in the form of voice mails from the golfing great. The voice mails are said to be explosive.

RadarOnline.com has not heard the voice mails and verified their authenticity. But we have confirmed that at least two more women are being linked to Tiger in sexual affairs and that one cheating story could appear as early as Thursday.

Several national media outlets are in contact with women who say the have had sexual contact with Tiger while he was married. It all adds up to the Tiger cheating scandal turning into an even bigger national story, despite his attempts to defuse various reports with a statement on his web site asking for privacy and attacking rumors.

Tiger has given no interviews after his early morning one-car crash November 27. A day before the crash, the National Enquirer published an exclusive story linking him to Rachel Uchitel, a party planner who has vehemently denied an affair with Tiger. But Rachel has been caught in several inconsistencies.

RadarOnline.com has confirmed that Rachel had an affair with married TV actor David Boreanz earlier this year — while his wife was pregnant. And Rachel has offered little explanation about how she ended up in Australia at the same time and at the same hotel as Tiger just weeks ago.
[From Radar]
Rachel Uchitel gave an "exclusive" interview to the New York Post today, where she's still denying everything under the sun. Most of Uchitel's interview is a total and hilarious bashing of the Enquirer's two named sources for their initial affair story. Uchitel blasts the women as lying "hookers" who abuse drugs. Chuckle. Then why did you tell them details about your love life, honey?
In a revealing new interview, Rachel Uchitel, the New York club manager accused of having a fling with Tiger Woods, goes off on the affair allegations, insisting that two drug abusing "hookers" made up the story and sold it to the tabloids.

"This is ridiculous. Not a word of it is true," she tells the New York Post. "I told the [National] Enquirer and Star that it wasn't true. I told them not only did I have information to disprove the story, but I offered to take a lie-detector test."

Uchitel — who is reported to have bragged to pals about her fling with Woods, 33 — says an unidentified acquaintance who's spreading the rumors was allegedly paid $25,000 for her story and is also out for revenge.

"She had a personal reason to make this up," Uchitel also tells the Post. "She got herself invited on a trip that I went on [to Europe]. She conducted herself in a manner that was so embarrassing that the trip ended after a day. It was a total nightmare. I saw her again last week in Vegas. I was embarrassed by her behavior. She fell down the stairs at the restaurant because she was so wasted. She's a train wreck."

When asked about what her connection with one of the sources is and what happened on the vacation, Uchitel tells the Post: "She was just a roommate of a friend who got invited at the last minute. This guy at the hotel gave her 3,000 euros to go upstairs with him, and then basically got the money back because two minutes into whatever they were doing, she passed out from too many Quaaludes. The guy came downstairs and was like, 'Rachel I don't know you, but you brought hookers here, and they are not even like hookers? This girl passed out on my bed, it was like gross. Like, who are these people?' And I was like, 'Oh, my God, I am so embarrassed, I am so sorry.' The whole thing got really weird. She's just a total train wreck, this girl…."

Uchitel says the other person involved in spreading the rumors is the unidentified acquaintance's "wicked little friend," whom Uchitel claims also "got $25,000″ for the story. The other woman involved "is just looking for a payday because she is a f- – -ing hooker and wants money," Uchitel says. "She just got a little smart for once and put some things together she could use for a story."

Uchitel says that because she handles VIP clients at a New York nightclub, the two women "heard me say Tiger's name a bunch" and "probably misinterpreted" what they heard "because they are on so many drugs and just stupid."

Says Uchitel, "The whole thing's a lie. Tiger never told me he loved me. They said they overheard him saying he loved me. It's just stupid. I've never texted or talked to him on the phone…."

Talk of the alleged affair reportedly led to Woods' one-car accident near his home in Florida early Friday morning. Some reports claim that Woods and wife Elin Nordegren were arguing about the alleged fling just before the crash.

"It's horrible to Tiger's family. His wife must feel horrible," Uchitel says. "The worst part of it, it's not true."
[From Us Weekly]
God, Uchitel is a piece of work. My guess is that once several women come out claiming to have had affairs with Tiger, Rachel will change her story again, this time claiming that Tiger told her that he loved her, and that he broke her heart, and that's why she lied for him or some such nonsense. Oh, and just a minor peeve… lip injections, much? Uchitel's mouth is insane.
UPDATE: Us Weekly just put their story up. The woman now claiming to have had an affair with Tiger is named Jaimee Grubbs, and she's 24 years old. She claims that their affair began in April 2007, and they went on to have 20 "sexual encounters". She kept the voicemails, photos and text messages too. Oh, and she was on VH1's Tool Academy. Seriously.
Rachel Uchitel photographed at LAX on November 29, 2009. Credit: INF.