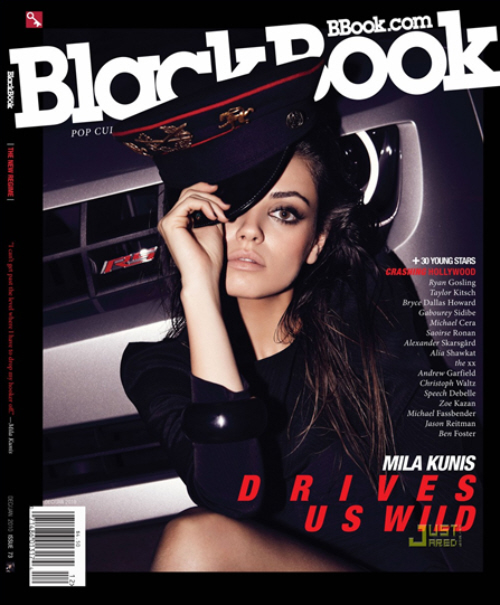 Mila Kunis is the cover girl for the December/January issue of Blackbook Magazine. At 26 years old, Mila has found herself on the precipice of movie stardom after being one of the best parts of the ensemble of That 70s Show, and stealing scenes away from Jason Segel in Forgetting Sarah Marshall. Now she's playing in the big leagues, working with Darren Aronofsky and Natalie Portman in Black Swan. Mila is promoting her supporting role in The Book of Eli, but all anyone wants to talk about is her angry, druggy sex with Natalie Portman in Black Swan, which is filming right now and won't be out until next year. But Mila can't or won't talk about the movie, so what's the point, really? I guess the pictures are the point. She does look pretty – but she kind of sounds like an a-hole in the interview (full Blackbook piece here):
On ballet training for Black Swan, her new Darren Aronofsky-directed ballet drama starring Natalie Portman and Winona Ryder: "I just skipped about 10 years of ballerina training and started as if I'm a professional. (laughs) Every day, I tore the ligaments in my calves and I would think, What am I doing to myself?"

On being secretive for Black Swan: "I just feel like such a douche because I can't talk about it. It's not even that big of a deal. It's a f—ing movie. It's not like I'm saving the world."

On her rumored sex scene with Natalie Portman in Black Swan: "It's two girls making out, and guys have a thing for that. And Nat is like every guy's dream. She's a nerd's idea of heaven. The whole thing is silly, but I can see why people care."

On being an actress: "I didn't come to L.A. to become a famous actress. I lived in L.A. and I was an actress, and it was just like, Who am I? I loved what I did, but I didn't like the judgment that came with it. It took me until I was 21 to realize that this is what I was going to do. I finally decided I'm not going to be embarrassed to write 'actress' on my medical forms."

On the prospect of marrying her boyfriend Macaulay Culkin: "Not to say that I don't believe in it, but it's just not something that's important to me. But I will have children. I'm too selfish to have them now, but when I do, I don't feel like I need to be married. I need to have a person in my life who will care for me and my children—nothing else."
[From Blackbook Magazine via Just Jared]
Here's the thing – I think Mila is a really pretty little thing, and some of these photographs of her are gorgeous… but doesn't she seem strange, and not in a good way? Granted, I only skimmed the full Blackbook interview, and she is self-effacing and nice, sometimes. But I think she's gotten into that groove that a lot of young actors have where they think they're always going to be getting work, and they'll always have a steady paycheck, and so they get a bit of chip on their shoulder. I could be off-base, completely. Mila could totally be a nice girl, and I'm just reading the interview the wrong way. But she seems full of herself.
Blackbook Magazine cover and additional images courtesy of Just Jared.