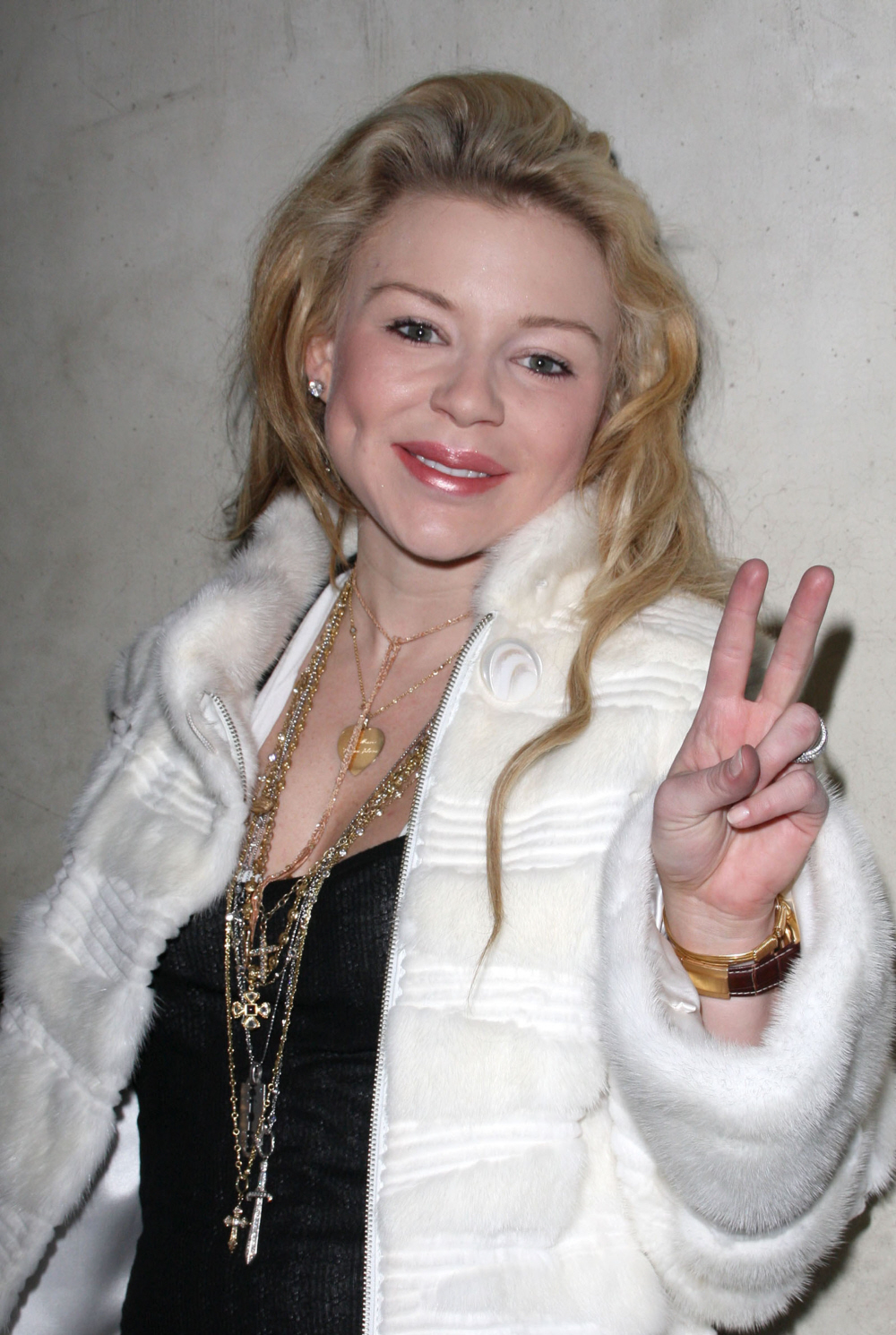 I hope I'm not selling this awesome tabloid story short by calling it one of the most awesome stories you'll hear about an heiress this year. Casey Johnson, one of the heiresses to the vast Johnson & Johnson fortune, has been arrested for grand theft. Before I get into the awesome, hilarious and sad details of the crime, let me just say that I only really know who Casey Johnson is for two reasons – first, I saw part of some documentary she was in about the current crop of famous or semi-famous heirs (I think it was on E!), in which Casey came across a smug, holier-than-thou princess. Secondly, I know who Casey Johnson is because back in 2006, when she was 26 years old, she gave a nasty interview to Vanity Fair, complaining that her 56-year-old aunt, Libet Johnson, stole her then-boyfriend, 38-year-old John Dee (full Vanity Fair article here). The nastiness made national headlines, and word was that the Johnson family was not very impressed with Casey.
After the whole aunt-stealing-boyfriend incident, it seems as if Casey turned to women in a big way. She became a lesbian, and took up with Courtenay Semel, better known as Lindsay Lohan's maybe lover back a few years ago. Now, I bring up Semel because she plays a role in Casey's heist – Semel was the one to turn her in! Hahaha. Johnson was arrested for stealing clothing, underwear, jewelry and paperwork from model Jasmine Lennard. The police learned about Johnson's heist of Jasmine's property when Courtenay Semel contacted Jasmine to tell her "Casey Johnson just got into bed with me and she is wearing your underwear. You need to call police." Not only was Johnson arrested, while is jail she allegedly "was screaming outrageous and crazy things." Johnson's already been released from Van Nuys jail, and she left the jail in style, in a chauffeur-driven Rolls Royce with a cardboard-cutout of the Queen of England beside her. Tragically eccentric, or hilariously out of touch? Oh, but I haven't even gotten to the best/worst part of the heist – it involved a "used" vibrator:
Casey Johnson, the troubled heiress to the Johnson & Johnson fortune, is under arrest for grand theft after she allegedly stole dozens of pieces of clothing, jewelry and other items from a supermodel who had befriended and tried to reform her.

Jasmine Lennard said she was away from her Hollywood home for six weeks and returned 12 days ago to find her apartment had been plundered. She told The Post that the thief stole jewelry, shoes, 600 pages of a legal document, clothing — even her underwear.

The thief also left a bizarre calling card — a used vibrator was found in her bed and a wet towel was on the floor.

Lennard suspected Johnson, whom she said had "been like a little sister to me."

Then she got a text message from Johnson's off-again, on-again girlfriend Courtenay Semel. Lennard is a friend of both women.

"There's a problem, Jaz, Casey Johnson just got into bed with me and she is wearing your underwear," the message read. "You need to call police. There are documents here, your shoes and your clothing — you need to call the police."

Lennard called the cops, and they went to Johnson's Los Angeles home. There they found all of the stolen items, Lennard said. Johnson was arrested at 12:30 p.m. yesterday in Los Angeles and is being held on $20,000 bail at a jail in Van Nuys.

Johnson is the great-granddaughter of the founder of the Johnson & Johnson pharmaceutical empire and is the daughter of Woody Johnson, owner of the New York Jets. Her godmother is Diandra Douglas, the ex-wife of actor Michael Douglas.

The 30-year-old socialite has been linked to several high-profile girlfriends, including Semel, the daughter of Yahoo! CEO Terry Semel. Semel allegedly beat Johnson up and lit her hair on fire during a catfight at Semel's home. But they apparently reconciled and were seen together earlier this year.

Lennard said she had never had sex with Johnson.

"Since the day I met Casey, I have only been a good force in her life. She's been like a little sister to me," she told The Post. "I tried to get her off drugs and alcohol. I tried to get her into a 12-step program. I tried to help take care of her daughter. I've given her money."

"I am the only person who helped this girl, and I believe she was obsessed with me, and thinks in her mind we had some kind of affair. That is not the case."

She said she was outraged: "She breaks into my Hollywood apartment, masturbates in my bed, has a shower in my bathroom, takes every thing in my apartment."

"This time she really messed with the wrong lady. I am going to teach her a lesson," Lennard vowed.
[From The New York Post]
Mother of God. Casey Johnson is absolutely ridiculous. So… you not only steal clothes, underwear, papers, and jewelry from a friend, but you use a vibrator mid-heist, and you leave it in the house? Holy sh-t. Oh, and this model, Jasmine, gave an interview to Radar calling Casey an "evil little girl". Jasmine says: "Casey sends me letters and sprays them with perfume and covers them in glitter and star stickers. It's so pungent it stinks up my whole apartment! The first thing I'm doing this morning is getting a restraining order. I've had a hell of a lot of patience and compassion for this woman and she just hasn't treated me right. Casey is an evil girl. She's going to be full of vengeance and try to attack me in any way she can."
And you know Casey used to be friends with Paris Hilton and Nicole Richie too, right? When Paris signed on to do The Simple Life, Casey was offered the co-starring "friend" role before Nicole. Casey turned it down… and in interviews, she says she "regrets" that one choice. Personally, I would "regret" being a batsh-t crazy heiress who leaves used vibrators laying around crime scenes, but whatever.
Casey Johnson at a party for the sixth season of 'The L Word' in Hollywood, California on February 1, 2009. Also, photos of Casey with Courtenay Semel at The Beverly Glen Center in Los Angeles, California on May 30, 2009. Credit for all: WENN.