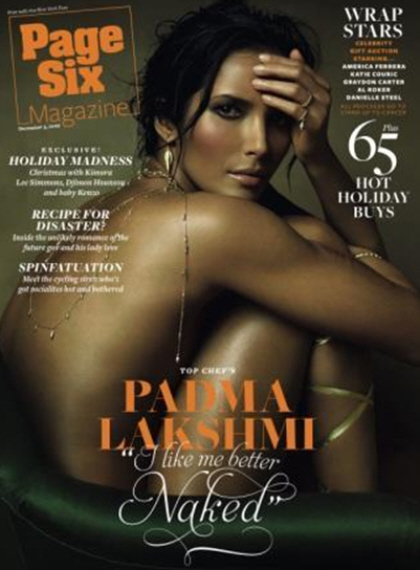 This is Padma Lakshmi's sexy cover shot for the winter issue of Page Six Magazine. I think she looks amazing here, and I love that she's showing some skin, but in a cool, interesting way – but I'm pretty sure they made her skin look darker, yes? I'm sure they just wanted some sexy, faux-gritty lighting to make Padma look extra exotic, but the result is that her skin looks about two shades darker than normal. The complete interview hasn't been released yet, but there are some interesting excerpts floating around. Unfortunately, 39-year-old Padma's still not telling who her baby-daddy is (cough cough Jude Law cough), but she is still very open with talking about the changes in her diet and her body:
Padma on being naked: "I like me better naked. I don't mean that in a vain way . . . When you put clothes on, you immediately put a character on. Clothes are adjectives, they are indicators. When you don't have any clothes on, it's just you, raw, and you can't hide."

On her pregnancy weight gain: "One of the reasons I think I've gained weight pretty quickly during my pregnancy is that I'm not exercising as much as I do normally … I can't. I'm feeling tired, and I have this business to run."

On aging: "You hope that with age, what you pay for in gravity, you gain in gravitas. I'm sure my thighs looked better when I was 25, but I think my mind is better today."

On being a celebrity: "I went to a bar mitzvah on the Upper East Side last year, and not to toot my own horn, but I might as well have been Michael Jackson to these 13-year-old boys and girls. There were something like 30 children around me, and they were all practically hyperventilating. I had this swarm of little kids going, 'Oh, my god! Oh, my god!' Kids are so authentic, so pure, and they'd be telling me, 'My sister and I had an amuse-bouche contest, and we need you to tell us who should have won.' I think that's really cool."

On her divorce from Salman Rushdie: "I [have been] reconstructing my life and putting it back together in a way that looked more appropriate to who I was. At this point in my career, I'm still growing. Jewels, spices and teas – I sound like Magellan."
[From assorted sources - People, Page Six and I'm Not Obsessed]
Padma is growing on me more and more. I used to not care for her in the least, but I've begun to watch Top Chef and I've started to read her interviews, and she comes across as a refreshingly professional, self-aware, intelligent woman. She's not girlish or silly or playing dumb, which I appreciate. She's a real woman, and there aren't enough real women on television. Oh, but she was absolutely horrible on 30 Rock. That woman cannot act for sh-t, not even when she's playing a version of herself. That was embarrassing. So, Padma, just stick to Top Chef and writing and giving interviews – those are your strong points.
Page Six Magazine cover shot and additional magazine photo courtesy of I'm Not Obsessed.