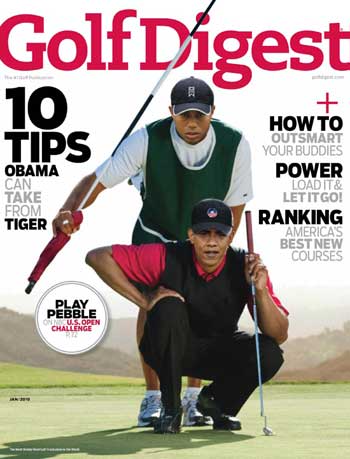 Radar Online points us to this very funny Golf Digest cover for the upcoming issue. It was of course photographed and laid out well before the Tiger Woods scandal, and is unintentionally hilarious and ironic on several levels. First, there's the photo. This ties Obama and Tiger together during a major controversy for the formerly squeaky-clean golf champ. Given recent world events, I'm struck with how much Obama and Tiger have in common. They both have carefully cultivated public images that don't seem to jibe much with reality.
There's also the pose that's shown of the two looking like they're waiting for a ball to sink. For those of us who don't golf, it could seem first like Tiger is about to smack Obama on the head with the putting green flag stick. (I had to look up what this was called.) When I first saw this photo I really thought that Tiger looked kind of menacing behind Obama because he's looking down like he's ready to strike.
Of course there's also the title of the cover story: "Ten Tips Obama Can Take from Tiger." What would those tips be? How about:
1. When choosing a mistress, don't pick a NY party girl with talkative call girl friends – credit to Kaiser
2. Scan VH1′s reality programming for the classiest girls – credit to Kaiser
3. Don't ever sleep with anyone with Gloria Allred's phone number – credit to Kaiser
4. Open the door when the police are knocking
And here are some that I'm lifting from the commenters on Radar:
5. If you are fighting with your wife at 2:30 a.m. and you want to leave; call a taxi. – credit to lansinghannah02
6. If you have golf clubs hide them where only you know where they are. – credit to lansinghannah02
There are at least four tips missing, so please come up with your own in the comments.
Tiger has been issued a fine and ticket for reckless driving for his accident on Friday. He's already paid the $164 dollars, but the resulting scandal and all the alleged mistresses who are coming out of the woodwork are sure to cost him much more.