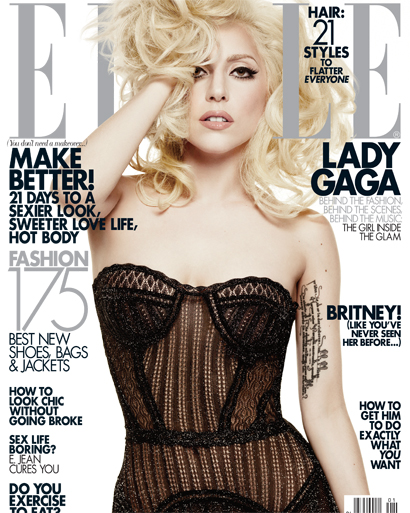 Can you believe Lady Gaga on the cover of the January 2010 issue of Elle UK? She looks… dare I say… pretty. Normal-pretty, not like "Oh, I guess her headgear doesn't clash with her dominatrix outfit too badly" pretty. Sure, Gaga is no great beauty, but she's been trying to look a bit nicer… cleaner, really. In the interview excerpt from The Daily Mail, Gaga seems to be trying to put out a nicer image of herself too – she's even talking about babies. Minivan majority, here she comes!
Without her usual bizarre outfit, outrageous make-up and eye-popping headgear, it's hard to tell that this is Lady GaGa at all. With tumbling blonde curls and a sexy corset, the Bad Romance singer is virtually unrecognizable – in fact she looks more like a supermodel.

Only the tattoo on her left bicep gives the game away as Stefani Germanott graces the cover of the January edition of Elle magazine.

And to go with her fresh-faced image, the kooky 23-year-old was refreshingly normal in an interview, talking about her future, having children and old jobs waiting tables.

She said: 'In eight to 10 years, I want to have babies for my Dad to hold, grandkids. And I want to have a husband who loves and supports me, just the way anyone else does. I would never leave my career for a man right now, and I would never follow a man around.'

Talking about being a waitress, she said: 'I was really good at it. I always got big tips. I always wore heels to work! I told everybody stories, and for customers on dates, I kept it romantic. It's kind of like performing.'

The star also revealed how stress affects her.

'I get all the symptoms of a pregnant woman. I get headaches, I get tired, I get blurred vision sometimes during a really intense session with [her creative team] the Haus.'

She added: 'My album covers are not sexual at all, which was an issue at my record label. I fought for months, and I cried at meetings. They didn't think the photos were commercial enough…The last thing a young woman needs is another picture of a sexy pop star writhing in sand, covered in grease, touching herself.'

And she also explained why she fakes her own death on stage: 'I feel that if I can show my demise artistically to the public, I can somehow cure my own legend. I can show you so you're not looking for it. I'm dying for you on domestic television—here's what it looks like, so no one has to wonder.'
[From The Daily Mail]
I totally agree about Gaga's image, and I could see how the powers that be at any record label would try to make her image more like, say, Britney Spears – as if that worked so well the first time. Or the first hundred times. Sure, Gaga is derivative, with her music and with her shock-value costumes, videos and image. But… I do think she's an heir to Madonna in a way that someone like Britney just isn't. Britney was only Madonna's heir because they made pop music and danced and made a lot of money. Gaga is Madge's heir in a different way – in the image-focused "provocateur" way that Madonna used so well for the first decades of her career.
More photos of Lady Gaga for Elle are available on Elle.com.
Elle UK cover for January 2010 courtesy of Elle.com. Additional image courtesy of HuffPo.