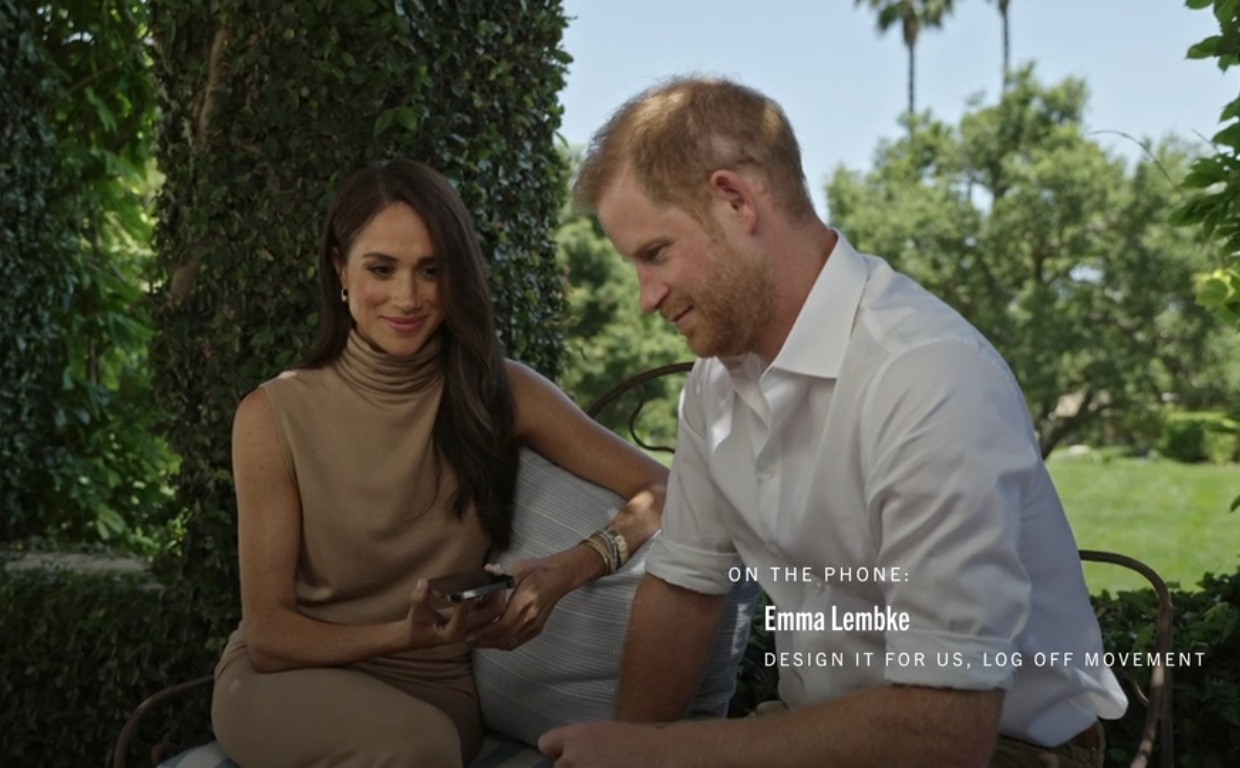 On Thursday, the Duchess of Sussex stepped outside and ran some errands in Montecito. A paparazzo was there to document her errand-running, and Page Six bought the photos. These days, it's either Page Six or the Daily Mail, they're the two outlets who can afford the rare photos of Harry and Meghan. I'm including the tweet-embeds below.
Meghan Markle steps out in camel coat and cashmere shawl in 70-degree California weather https://t.co/cu8rSQA9f0 pic.twitter.com/Bl3Rp3aw9U

— Page Six (@PageSix) August 11, 2023
Page Six got two different stories out of these photos. The first was "omg, Meghan wore a COAT in California weather!" The second was "omg, Meghan has an anti-anxiety patch!" So, let's discuss. First of all, her outfit is very rich-Montecito lady. Per Page Six: "a camel-colored $1,625 Max Mara Raspoli Coat — which is no longer available for purchase — a blue-and-tan printed $1,225 cashmere Hermès Rayures D'Ete Shawl and white pants." Her shoes are Chanel ($1150) and her tote is Goyard ($1650). I cannot wait to see the Princess of Wales's copykeen version of this outfit, I swear to god. Kate will really turn up at the memorial event for QEII in white jeggings, a camel blazer from Reiss and an Hermes scarf tied like a neckerchief. It's going to be hilarious.
As for Meghan wearing a coat in August in Montecito…who knows, but I suspect Meghan is simply the kind of woman who runs cold and she probably brings or wears a coat or sweater almost everywhere. Especially since Americans are pretty aggressive with our air-conditioning in the summer. Plus, California girls are just like this – the temperature drops below 70 degrees one day and they're pulling out their cashmere sweaters and posting autumn-girl memes.
As for Meg's anti-stress patch – for hours, no one knew what it was, but now they've ID'd the brand and everything. It's a "dark blue NuCalm biosignal processing disc." Per Page Six, it "activates the parasympathetic nervous system [provoking a] rapid return to a functional state (motor skills, attention, and full cognition) with no lingering effects or mental lethargy." Page Six also notes that "A pack of 20 discs costs $80, while a set of 100 discs retails for $400." Is Meghan about to become the spokesperson for NuCalm? I hope she is, because I guarantee that company is about to see a sales bump.
Meghan Markle wears anti-stress patch while Prince Harry is away in Asia https://t.co/97n0MTbQ2t pic.twitter.com/gvUIxKTsR9

— Page Six (@PageSix) August 12, 2023
Screencaps courtesy of Vimeo.