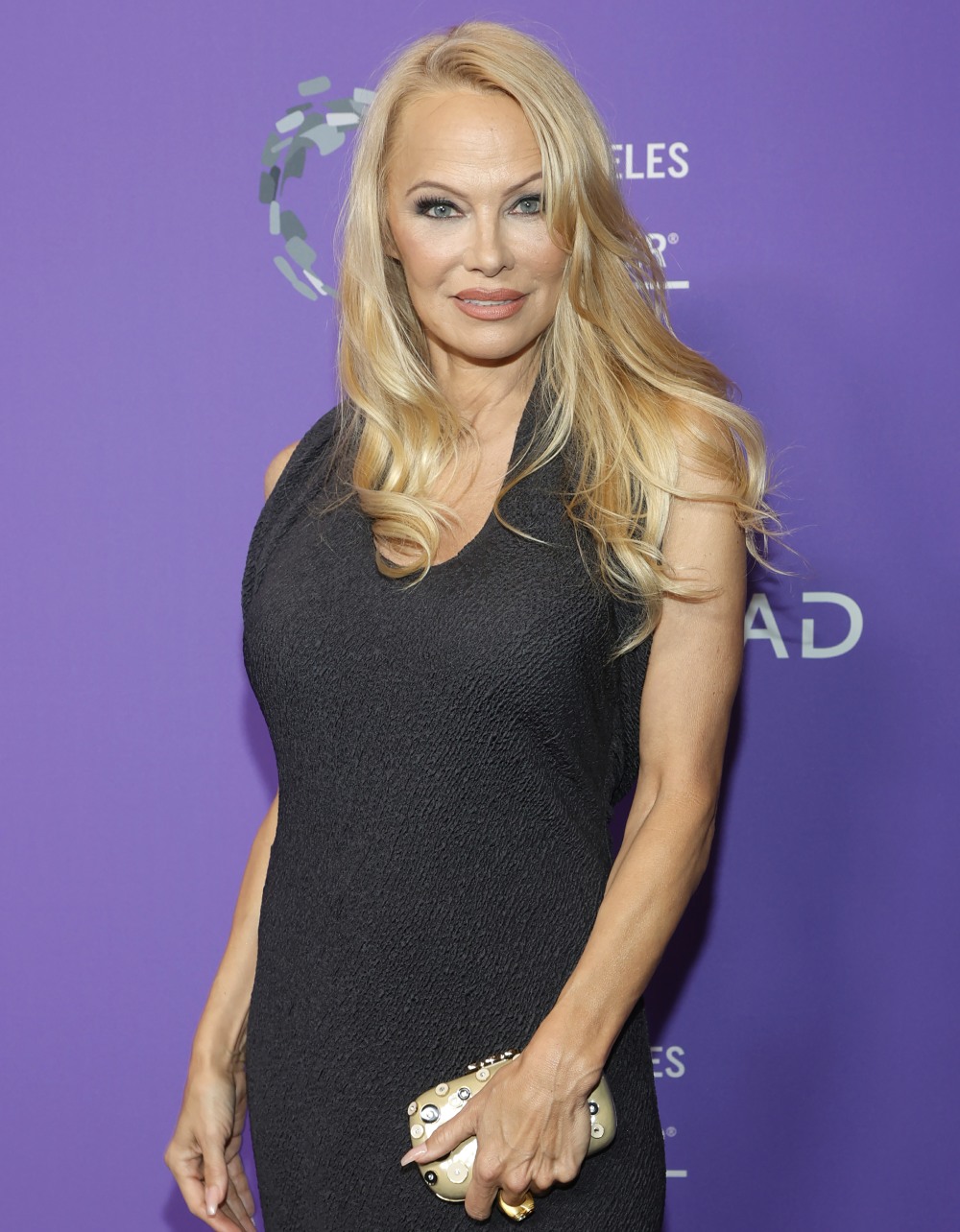 Pamela Anderson has a lovely feature in Elle Magazine to promote her collaboration with the Canadian fashion house Aritzia. She's the face of their fall campaign, and she came up with some ideas for the campaign. Pamela is enjoying a sort of renaissance in her life and career, especially after the success of her memoir, Love, Pamela: A Memoir of Prose, Poetry, and Truth. She also had a successful Netflix documentary about her life – basically, people are getting to know her, all over again. Plus, Generation TikTok is obsessed with her '90s style – they call it Pamcore. She's just in a good place in her life. Some highlights from Elle:
She loves to write: "If I'm not writing, I know I'm not in a good place. If I'm writing, I am in my body. I am where I'm supposed to be." She misses the days of letter writing, and the ritual takes her back to a pre-social media, pre-texting era. "I guess everybody always romanticizes the past. You want to be kind of OG."

Her work with Aritzia: "We're two Canadian brands colliding. When I was younger, I never thought that I would be in any campaigns, especially really recognizable ones. I always felt like I was an outsider, a little bit rebellious. So I'm laughing to myself, going, 'Wow, I feel really in the zone and accepted by my peers lately.'"

She likes that Aritzia is an approachable brand. "I come from people who were struggling to make ends meet sometimes. I always say, money can't buy taste. When you see someone head to toe in [runway] designs, you're just like, 'Well, that's easy.' But Vivienne Westwood was the first one to tell me, 'Buy one thing a year. Don't buy a lot of stuff.'"

On the #Pamcore hashtag: "My kids told me about it, because I don't have these apps on my phone or anything. I refuse to," She defines her aesthetic back then as "wild and uninhibited…I don't know if it was a defense mechanism or what. I just thought, 'I'm going to have fun.'" She often accessorized with "the makeup from the day before, and a little bit of glitter from two nights before. The stuff that never leaves you! I'd be volunteering at the kids' school, and I would catch myself in a reflection, and I'd have glitter all over my face. Which doesn't make you a bad mom, just because you're covered in glitter."

Fashion is calculated these days: "Now, it's all so calculated. And these are the looks that we're inspired by now, because we lack that. We want that uniqueness. I never thought that those looks we threw together would be on mood boards."

She maintains that you can't be a dumb blonde and play a dumb blonde. "That was a great expression that Suzanne Somers told me. She used to always say, 'Hi, dumb blonde.' Meanwhile, she's a gazillionaire, doing all these great things. I always thought it was fun to not have anything to live up to, because you could only surprise people. So it was to my advantage sometimes…and if people didn't want to look at you as an intelligent person, because you looked a certain way? I think we've grown past that, hopefully."

People have changed their minds about her: "I get a lot of people walking up to me on the street, saying, 'I had no idea who you were, and I'm sorry for all the ways I thought about you before, because I like you now.' I'm just like, 'What did you think of me before?' You don't really think about it in the moment. You're raising two kids, you're trying to survive, your heart is broken, you're trying to fill up your life with people and making mistakes. We're all just trying to live every day. So, I guess, decades got away from me. And it was nice to come home, full circle. I'm working more than ever, when I thought I was retired!"

She's going makeup-free a lot these days: "I just went along with what people were telling me what to do." After her makeup artist, Alexis Vogel, tragically passed away from breast cancer, she abandoned her signature look. "She was the best. And since then, I just felt, without Alexis, it's just better for me not to wear makeup." The new look has been "freeing, and fun, and a little rebellious too. Because I did notice that there were all these people doing big makeup looks, and it's just like me to go against the grain and do the opposite what everyone's doing. I think we all start looking a little funny when we get older. And I'm kind of laughing at myself when I look at the mirror. I go, 'Wow, this is really…what's happening to me?' It's a journey. I feel rooted for. I feel good. I'm in a good place."
This is one of those career-renaissance stories I just love – I'm so happy that she's still working and that people have updated their thoughts about Pam. I'll admit, I didn't know about the Pamcore thing, but her '90s fashion really was fun. I think you could draw a straight line between what Pam did in the '90s to what Paris Hilton did in the early '00s, to the "retro" fashion of today. Also: I miss letter-writing too. I miss receiving and sending letters! I used to write to people all the time.
Photos courtesy of Avalon Red, Cover Images, Elle's Instagram.