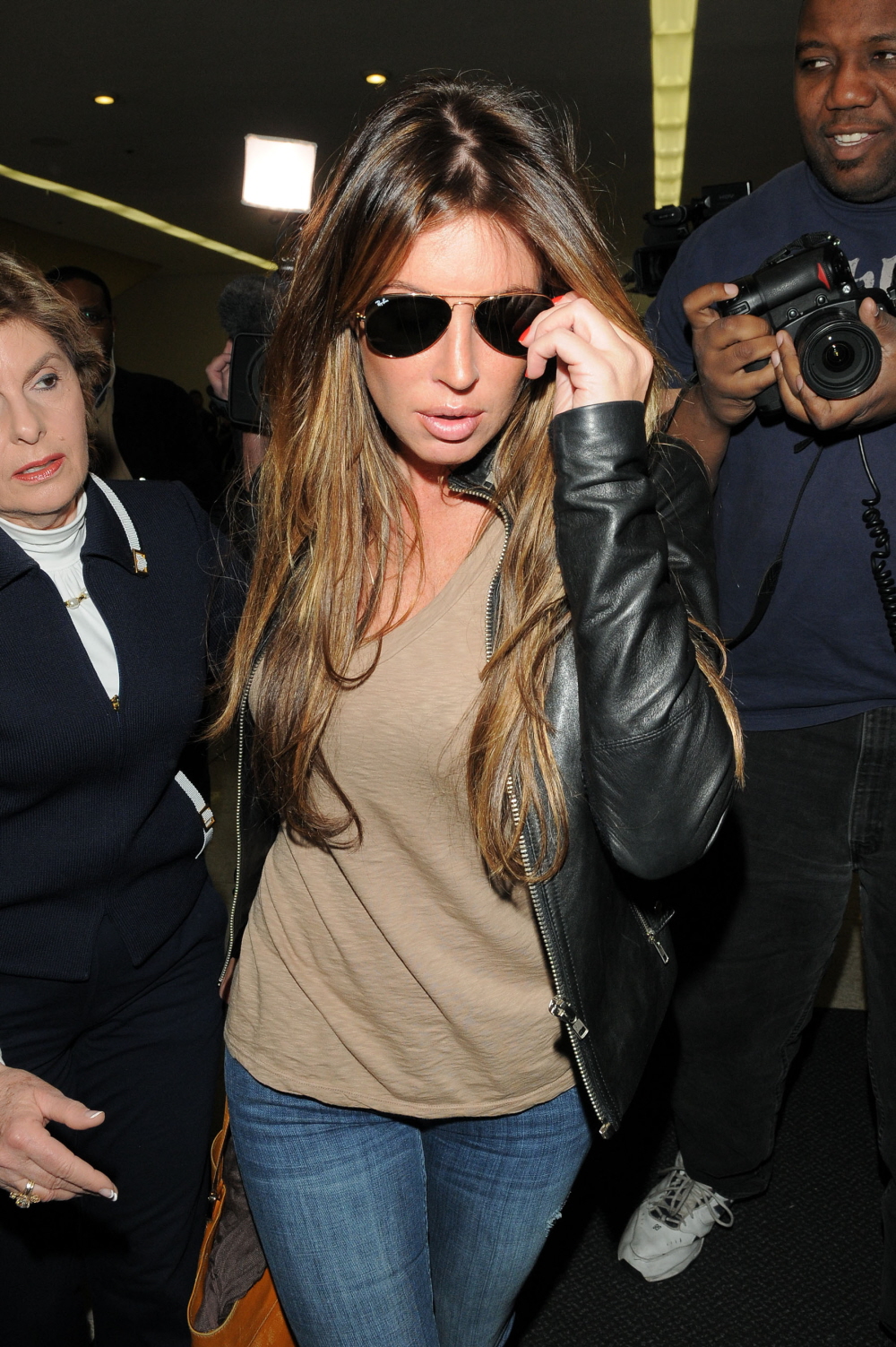 Yesterday Tiger Woods put out a long statement sort-of acknowledging his affair(s) but focusing more on his need for privacy as if his "transgressions" are all our fault for paying attention to them. We've heard of at least three women that the golfing great was wooing on the side, and as Kaiser told me, that's probably the tip of the iceberg. Tiger's maybe main mistress, or the first one we heard about anyway, Rachel Uchitel, initially denied an affair. She spun all sorts of ridiculous stories to the NY Post and basically trashed the former friends who sold the story of her dalliance with Tiger to the National Enquirer. Her interview read like a particularly inventive high schooler's way of evading the truth by giving too many details. Utichel had an elaborate story for why someone may have overheard her on the phone talking about Tiger and called one of the women who sold her out a pill addicted hooker. As for Uchitel's other alleged affair, with married actor David Boreanaz, she claimed "I don't want to comment on the David Boreanaz stuff. That one is a different ballgame than the Tiger Woods thing."
According to TMZ Uchitel is about to spill the beans on Tiger, though. She's hired fellow fame-seeking lawyer Gloria Allred and has scheduled a press conference for 11:30 Pacific time. It's possible Uchitel will continue to deny the affair, but now that two other women have been identified as having affairs with Tiger, she could be ready to talk. Maybe she thought she was Tiger's only piece on the side and this news has convinced her that she should cash in when she has the chance. Cocktail waitress Jaimee Grubbs sure is getting paid for her story, and Uchitel probably realizes that she should be making some coin off her affair with Tiger too.
TMZ also has more alleged details of what went down before Tiger got in his accident. They say that his wife caught him texting with Uchitel and then grabbed the phone and called her. Elin and Tiger then had some sort of argument, and there is reportedly significant, noticeable damage to the foyer of their home.
In related news, the Swedish golfer who introduced Tiger in Elin in 2001, Jesper Parnevik, says he's sorry and that it's his fault that Elin, who once worked as a nanny for his family, ever met Tiger. "We probably thought he was a better guy than he is. I would probably need to apologize to her."
And the most talkative of Tiger's mistresses so far, cocktail waitress Jaimee Grubbs, allegedly told sources that Tiger would change his phone number about once a month. Yesterday we heard Tiger's kind of pitiful voicemail message to her asking to change her voicemail greeting to the generic computer message so that his wife wouldn't bust him.
This is turning into a circus to eclipse even the most ridiculous exploits of the Gosselins. I have to say that I'm looking forward to the press conference. Allred will probably be as indignant as usual and I expect Uchitel to play the preening victim. How much do you want to bet that she sucks in her cheeks and purses her lips multiple times?
Update: Gloria Allred has put out a press release announcing that the press conference has been canceled due to "unforeseen circumstances." Damnit!
Header is of Rachel Uchitel at LAX with Gloria Allred on November 29, 2009. Credit: INF