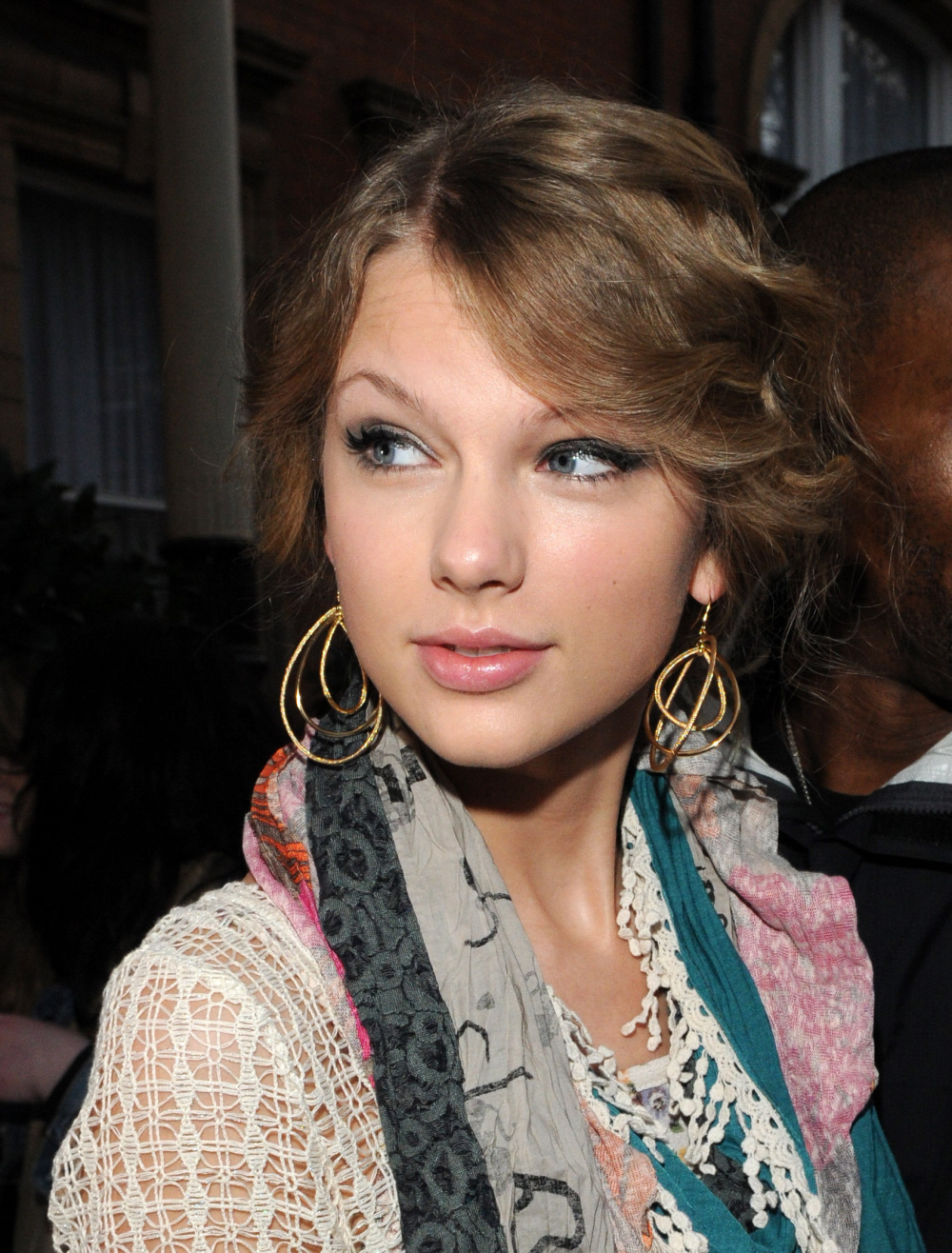 The real question is, "Will the Grammys even let Kanye West in?" The answer: probably. Because it will be good television. Because the Grammy nominations just came out, and it's looking like it's going to be another head-to-head match-up between Beyonce and Taylor Swift. The two ladies lead in Grammy nomination this year, with Taylor receiving 8 noms to Beyonce's 10 noms, and the ladies are even competing with each other for song of the year, record of the year and album of the year. Here's People's rundown of the noms:
Taylor Swift's amazing year continued at full speed as the teen sensation received eight Grammy nominations Wednesday – topped only by Beyoncé's 10.

And with West not far behind, joining the Black Eyed Peas and Maxwell with six nods each from their music-industry peers, the stage is set for another awards show showdown. But can it top West's bizarre microphone grab during Swift's acceptance speech at the MTV Video Awards?

Naming the Grammy nominees was no quiet affair, either. Kicking off the big reveal was George Lopez , who was star struck by Smokey Robinson and Ringo Starr staring at him from ringside at Wednesday's The Grammy Nominations Concert Live: Countdown to Music's Biggest Night at LA's Club Nokia. Still, the comic and TV host still found the words to announce the nominations for Song of the Year.

And they would be Lady Gaga's "Poker Face," Maxwell's "Pretty Wings," Beyoncé's "Single Ladies (Put a Ring on It)," Kings of Leon's "Use Somebody" and Swift's "You Belong with Me."

In the Pop Performance by a Duo or Group with Vocals category, the nominees are the Black Eyed Peas, for "I Gotta Feeling"; Bon Jovi, for "We Weren't Born to Follow"; The Fray, for "Never Say Never"; Darryl Hall and John Oates, for "Sara Smile"; and MGMT, for "Kids."

Katy Perry announced the Best Rock Album contenders: AC/DC, for Black Ice; Eric Clapton and Steve Winwood, for Live from Madison Square Garden; Green Day, for 21st Century Breakdown; Dave Matthews Band, for Big Whiskey and the Groogrux King; and U2, for "No Line on the Horizon"].

Dwight Yoakum named the Best County Performance by a Duo or Group with Vocal hopefuls: Brooks and Dunn, for "Cowgirls Don't Cry"; the Zac Brown Band, for "Chicken Fried"; Lady Antebellum, for "I Run to You"; Rascal Flatts, for "Here Comes Goodbye"; and Sugarland, for "It Happens."

Robinson and Starr had the honor of naming those in the running for Record of the Year and Album of the Year. For Record: Beyoncé's "Halo,", Black Eyed Peas' "I Gotta Feeling," Kings of Leon's "Use Somebody," Lady Gaga's "Poker Face" and Swift's "You Belong with Me."

"Don't worry, Taylor," advised Robinson. "Kanye West is not here."

Album of the Year nominees are Beyoncé's I Am Sasha Fierce, the Black Eyed Peas' The End, the Dave Matthews Band's Big Whiskey and Swift's Fearless.

The hour-long nominations concert, broadcast on CBS, also featured a tribute to the late Michael Jackson, performed by Maxwell, as well as the debut of Nick Jonas & the Administration, who were introduced by Nick's brothers, Kevin and Joe.

The concert emcee was LL Cool J, whose opening routine contained the lyrical phrase, "No need to adjust your TV/It's not Hugh Jackman/It's a black man."

Watch the 52nd Annual Grammy Awards on Jan. 31 at 8 p.m. ET/PT, live on CBS – and catch up on all the news and style from the show on PEOPLE.com!
[From People]
Taylor already gave a statement to the Associated Press/People Magazine: "I started freaking out and jumping up and down. I honestly never would have predicted this, eight nominations – I'm ecstatic, and blown away and so, so thankful. To be recognized by the Grammys is the ultimate honor, and all I know is that when I write about this in my journal tonight it will be in all capital letters and underlined four times, and there will be lots of exclamation points in this entry because I never imagined I'd get to write this kind of journal entry. The thought of that absolutely is something that you daydream about. I'm just gonna call a bunch of people and tell them that I love them."
Aw… cute. I'm let you finish! I know some people are going to piss all over this girl no matter what she does – and seriously, whenever something good happens for her, someone tries to steal her thunder – but I love her. I want her to do well. And I want Beyonce to have to sit in the Grammy audience and watch Taylor "stand up for art" and win it all.
Beyonce performing in Dublin, Ireland on November 22, 2009. Taylor Swift in London on November 23, 2009. Credit: WENN