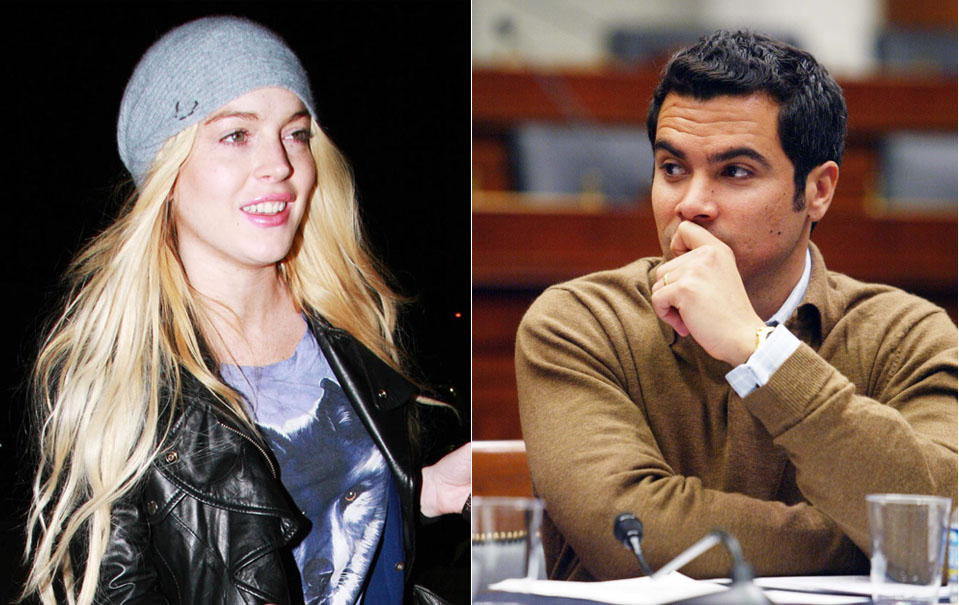 Jezebel has this week's tabloid roundup, and Lindsay Lohan is all over the place as usual. I tend to believe US Weekly more than the other celebrity rags, as they have a little more integrity and don't tend to make up stories. (They also broke the cheating scandals with the Gosselins and LeAnn Rimes this year.) Sadly, they're reporting that Lohan was making out with Jessica Alba's husband, Cash Warren, at a club a couple of weeks ago. There's a specific date and everything, which makes the report seem kind of real. If it's true, I feel bad for Alba even though she's not my favorite actress. There's regular cheating and then there's your husband making out in public with one of Hollywood's skankiest, drug-addicted, thieving narcissists. Meanwhile, In Touch is reporting that Lohan is hooking up on the down low with Kevin Connolly. These two reports are not mutually exclusive, and I can understand why Connolly would want to keep it a secret if he's sleeping with Lohan. I could also see Lindsay getting bored and making out at a bar with whoever happens to be nearby and interested.
US Weekly: "No celeb goes to Villa in West Hollywood on Thursday nights anymore." But on November 19, Lindsay Lohan and Jessica Alba's husband Cash Warren both showed up with their friends and sat together, and after about 30 minutes, started making out "lip on tongue." "It was raw," says an eyewitness. "They were not shy." Lindsay spoke to Us and says she and Cash are friends who are collaborating on a potential TV show. "This is so absurd. He is married. I wouldn't dare kiss him."

InTouch: Lindsay Lohan is having a "secret romance" with Entourage star Kevin Connolly. They've known each other for years but hooked up at a party at Leonardo DiCaprio's house in November and are "sneaking around."
[From Jezebel via D-Listed]
Lindsay's denial doesn't mean much. She would probably still claim to be with Sam if she was asked. (She did hang out and talk to her one night after John Mayer intervened on her behalf.) Now, the question is will Alba ignore this disgusting makeout session by her husband, will she make him pay for it at home, or will she divorce him? How do you explain making out with Lindsay Lohan at a club? Cash might either deny it or go for the guilty approach and try to minimize it. "I was drunk. I'm so sorry. It was just a onetime thing and didn't go any further." How out of it, stupid, and absolutely uncommitted to your marriage do you have to be to make out with a tabloid target celebrity at a popular nightclub? It's like Cash wants out and is trying to send his wife a passive aggressive message. Maybe he's still pissed that his wife made him dress like a dorky kids' educational cartoon character for Halloween.
Lindsay Lohan is shown out in West Hollywood last night. Jessica, Cash and their daugher Honor, one and a half, are shown on 11/27/09. Credit: Fame Pictures. Header is of Warren supporting the "Youth PROMISE Act at the Rayburn Building" in Washington, DC on 5/7/09. Credit: Carrie Devorah/WENN.com