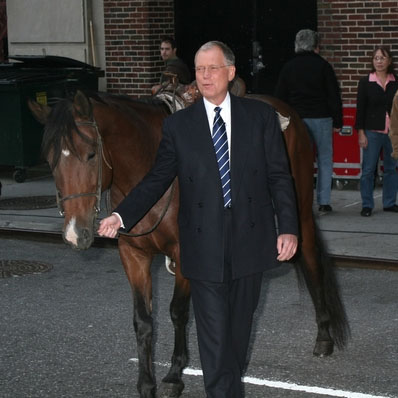 David Letterman, Craig Ferguson, Jay Leno, Conan O'Brien, Jimmy Kimmel, Jon Stewart and Steven Colbert will return to their respective talk shows this week. Letterman's company has struck an agreement with the Writers Guild of America that allows him to use writers for "The Late Show." Craig Ferguson's "Late Late Show" is controlled by Letterman's production company, Worldwide Pants, and also has the advantage of falling under the interim agreement and being able to use writers. Leno and the rest of the late night hosts will have to make due with whatever they can muster that doesn't violate the WGA contract. That is expected to entail longer celebrity interviews and more off the cuff audience interaction. "On the street" segments are also anticipated.
The first celebrity guest booked on Letterman's show is Robin Williams. Both Letterman and Ferguson have an added edge over their talkshow host competitors in that guests don't have to cross picket lines to appear. Williams is one guest who certainly wouldn't need a scripted Q&A to appear, however. He is particularly gifted in off the cuff absurdity which can sometimes be hard to follow.
Steven Colbert and Jon Stewart are expected to be scrambling to come up with material that's not prepared. They rely on scripted segments for their shows and will be hard pressed to ad lib. Under the WGA contract they can't even use ideas that are prepared ahead of time by writers. These two strike me as cleverer than most, so we'll have to see how they deal with the situation. It will also be interesting to see if Letterman and O'Brien have shaved their "strike beards," or if they'll grace us with their unshaven faces at least for one night.
As for how the writer's strike continues to affect television, I read an interesting article that compared the 1988 strike to the current strike and said that there's evidence that television lost 10% of its viewership almost permanently after the five month strike from March to August. This current strike could result in a nearly 30% drop in television viewers and could go a long way toward strengthening the audience for online content and web-based shows. And we may have to make due with more open-ended interviews with lesser-known celebrities on the talk shows. Maybe that's an added benefit to refusing to cross picket lines – celebrities don't have to worry about sounding stupid if they can't rehearse their answers ahead of time.
Here's a link to a wikipedia article that has an updated list of how many episodes are available for specific shows.
Thanks to the NY Times and The Wall St. Journal for the details for this story.
Letterman is shown on 10/20/05 with a horse, but I swear to you this picture is captioned "Madonna Visits The Late Show with David Letterman" by the photo agency, PRPhotos.