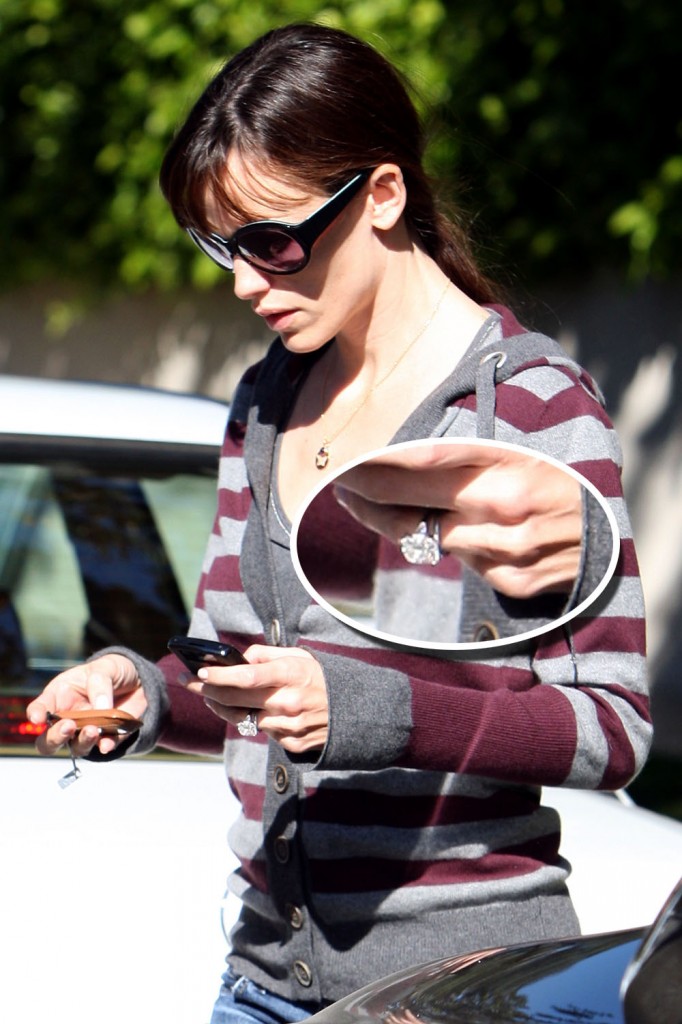 Remember that honking giant engagement ring that Ben Affleck bought for Jennifer Lopez back in 2003? It was a 6.1 carat pink diamond from Harry Winston and he paid 1.2 million for it at the time. These two canceled their wedding at the last minute in January, 2004 and the rest is history. The ring was sold in 2005 with no word on if the proceeds went to Ben or J.Lo or if they shared.
Jennifer Garner, Ben's wife of four and a half years, has been seen out with a ring to top J.Lo's giant pink bauble. According to Star Magazine, the thing is 7 carats and it's real!
Ben Affleck sure knows how to make a girl feel appreciated! He recently gave wife Jennifer Garner a stunning 7-carat diamond ring as a thank-you for hanging in there while he shoots the romantic drama The Town in Boston. "Jennifer was flabbergasted when he gave it to her," says a source. "He said he knows he's so lucky to have her, and that she's a great mom." So now Jen is tending to daughters Violet, 4 and Seraphina, 11 months, with a hot new rock on her hand. "She isn't pretentious at all, so she's kind of embarrassed by the size of it," adds the source. "But she's getting into showing off her bling!"
[From Star Magazine, print edition, December 14, 2009]
I scoured through photos of Jennifer Garner, because her poor family is pretty much stalked by paparazzi, and I found photos of her wearing the amazing ring on 11/17, 11/19 and 11/21. In photos taken on 11/28, 11/29 and 12/1 she's not wearing the ring. She attended a charity event last night wearing different rings. Garner is an understated person who dresses pretty casually when she's not on the red carpet. At first I thought she might not want to wear the ring out much because it's so valuable. She's also looking very thin lately, so maybe the giant diamond ring is out being sized. It's also possible she's not that into the ring, like maybe she thinks it's garish. J.Lo loves flashy jewelry but Garner seems content with a few low-key pieces. She did have a ton of diamonds on at the 2008 Oscars, but that's pretty much what all the celebrities wear.
J.Lo with her engagement ring in February, 2003:

Photo credit: Fame Pictures and WENN.com