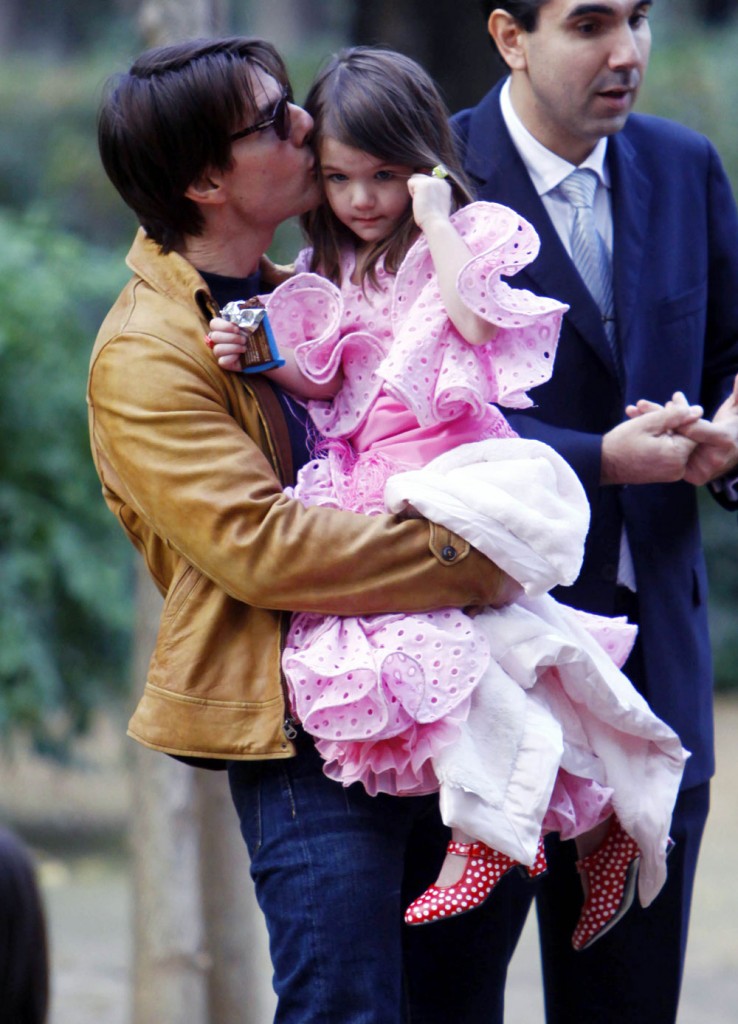 Suri Cruise was photographed out in Sevilla, Spain with the parents she tolerates, Tom Cruise and Katie Holmes. Princess Suri was wearing a pink Flamenco-style dress with tiered ruffles and red polka dot kitten heels. She didn't have a jacket on during a press-friendly outing to the park, but it wasn't freezing cold in Sevilla yesterday. Weather Underground reports that it was around 60° Fahrenheit on average. Her mom Katie Holmes told Access Hollywood last week that Suri wears "ballroom dancing shoes for kids," not kid-styled high heels per se. It's hard to tell if Suri can still play in the heels as she was mostly being carried by her dad. In one photo, mom Katie shows her how to climb a rope ladder but she's not having it and doesn't seem interested.
Katie and Suri were visiting Tom while he's in Spain to work on his new action film with Cameron Diaz, Knight & Day. This week's In Touch makes a big deal out of the fact that Katie and Tom spent Thanksgiving apart but it sounds like Tom was too busy working despite the fact that he's said to have "begged Katie to join him in Europe."
In Touch reports the typical Tom/Katie tabloid dynamic: she wants more space while clingy Tom wants her closer. Instead of spending the US holiday with Tom in Spain, Katie's parents flew into NY from Ohio to spend time with their daughter and grandchild. It looks like the famous family got together again soon afterwards anyway. Is it just me or do both Katie and Suri look annoyed with this photo-op? Suri just wants to go home and play dress up with her fabulous wardrobe. She didn't have enough time to perfect her outfit before Tom dragged her out again. If only her mother had the same excuse most of the time.
Photo credit: Target/FAME Pictures. I'm sorry for posting so many, but there were so many cute photos I couldn't decide!