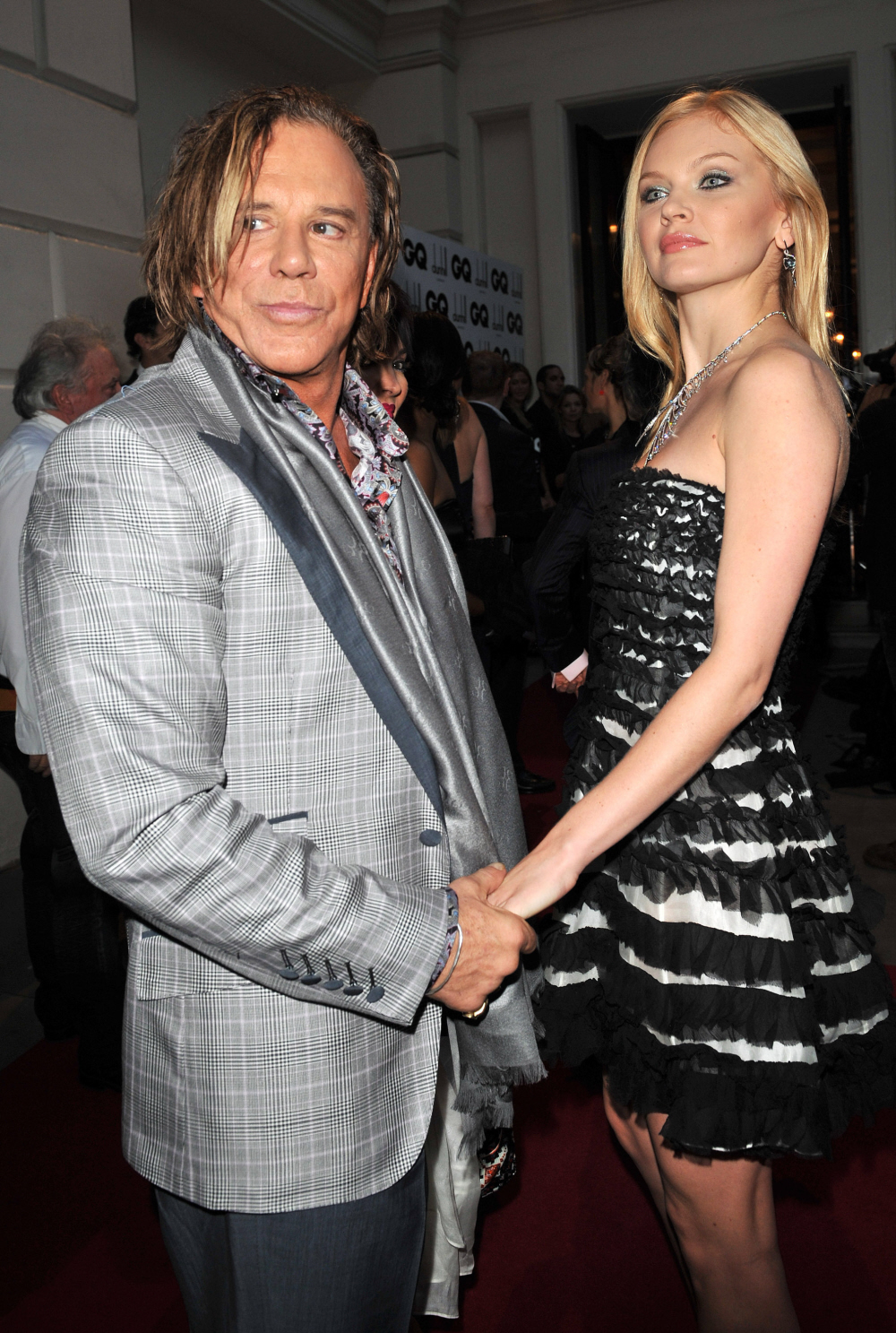 Oh, Mickey. Will he ever learn? Probably not. Page Six is reporting the rumor that Mickey proposed to his 24 year old Russian girlfriend Elena Kuletskaya recently, and that they plan to marry in the spring. Mickey is 57 years old. This would be his third marriage, and probably her first, but who really knows anything about this girl? I mean, other than she's probably kinky enough to get Mickey to propose. I love the guy, but something tells me he likes some crazy stuff in bed.
Reformed Hollywood hell-raiser Mickey Rourke is making plans to wed Russian beauty Elena Kuletskaya in Russia this spring, sources tell Page Six.

Rourke, 57, has been dating stunning blond model Kuletskaya, 24, for several months and popped the question to her over dinner last week. The star has told friends he's planning a Moscow wedding in April.

"They haven't booked a venue or made any solid plans. He just knows he wants to do it in April, and he's been asking what is involved in a traditional Russian wedding ceremony," a friend of Rourke said.

Kuletskaya reportedly dumped Russian pop star Dima Bilan for Rourke, whom she's been tutoring in her native tongue for his role as Russian villain "Whiplash" in the upcoming "Iron Man 2." She and Rourke have recently canoodled their way through New York and Europe. She was dripping in diamonds as she accompanied Rourke to pick up his GQ Man of the Year award at London's Royal Opera House in September.

In Manhattan last week, the lovebirds went puppy shopping to replace Rourke's beloved dog, Loki, who died right before the Oscars.

Rourke has already hit it off with his mother-in-law-to-be: our spies spotted him giving Elena's mom the star treatment a while ago at The Bank at Wonderland in LA.

It will be the third trip to the altar for Rourke, who cleaned up his bad-boy image and revived his career with the 2008 hit "The Wrestler." He and actress Debra Feuer ended their eight-year marriage in 1989. Rourke later said that his role in the steamy "9½ Weeks" "was not particularly considerate to my wife's needs."

In 1992, he wed "Wild Orchid" co-star Carre Otis. He was arrested for beating her up in 1994, but they stayed together till 1998. Rourke's rep didn't return our calls.
[From Page Six]
Well, if it's true, congratulations to the happy couple. I do think Mickey is probably in the best place in his life at this moment. He's spent the last fifty years wrestling with his demons, and in interviews from the past year, he seems so mellowed and, for lack of a better word, Zen. I also think it's a good sign that Elena is an animal lover, or that she seems to love dogs. Because Mickey's puppies are his family. Those are his babies, and they're getting a new mama!
Mickey and Elena at the GQ Men of the Year show on September 8, 2009 in London. Credit: WENN. Photo update: here are some photos of Mickey out with Elena on 11/7/09. There's some question over whether this is the same woman. This woman is not named by the photo agency, but in the event pictures she's listed as Elena Kuletskaya
Update by Celebitchy: After many of you said that Rourke was photographed out with a different woman than shown in these event photos, I compared the pictures and it does look like another woman. They are the same height and build with the same hair but the two women have different face shapes and noses. The woman with Rourke at the event was credited as Elena Kuletskaya by the photo agency back in September. The woman he's out with earlier this week is not named.