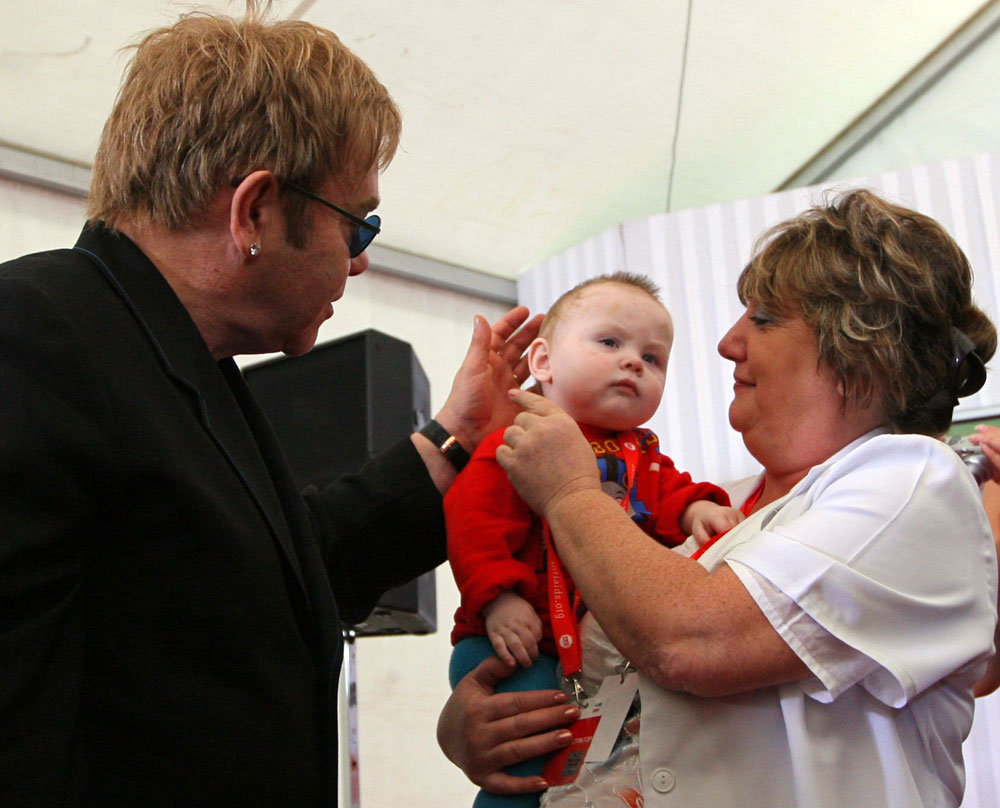 In September, Elton John and his husband, David Furnish, visited an HIV-positive orphanage in the Ukraine to raise awareness for his Aids foundation. While there, Elton met a little HIV-positive 14 month-old boy and told the press that he'd love to adopt him. Elton said "Having seen Lev today, I would love to adopt him. I don't know how we do that but he has stolen my heart. And he has stolen David's heart and it would be wonderful if we can have a home." The Ukrainian government quickly shot Elton down, and issued a statement saying that Elton wasn't eligible to adopt from the country because he was single under their definition and, at 62, was too old. Under Ukrainian law, foreign adoptive parents must be married to an opposite sex partner, and must be no more than 45 years older than the children they plan to adopt.
Elton and David might not be able to take little Lev home with them, but they plan to make sure he and his brother are supported throughout their lifetimes. In an interview with BBC radio, Furnish said that he and John were devastated that they weren't able to adopt the boy but that they would provide financial support to ensure that he was well cared for:
Elton John's partner says the musician was devastated that he wasn't allowed to adopt an HIV-positive Ukrainian toddler, but plans to support the boy anyway.

The 62-year-old pop star met 14-month-old Lev at a home for HIV-positive children in September. But he was refused permission to adopt the boy because he was too old and not married.

John's partner David Furnish said Tuesday the couple was "massively gutted" by the rejection.

Furnish told BBC radio they were working to ensure Lev and his brother "have the best health care, education and family options available to them."

John and Furnish tied the knot in 2005 in a civil union in Britain. Ukrainian authorities do not recognize gay unions as marriage.

Furnish said the couple would campaign for a change in Ukrainian law.
[From AP via Huffington Post]
As Kaiser mentioned in her story about this in September, I understand the age restrictions on adoption and why that's necessary. It seems unfair to both adoptive parents and orphans that gay unions aren't recognized under Ukranian adoption law, though. Good for Elton and David for remembering this little boy and making sure he'll be provided for even though they won't be able to care for him. It really tugs your heartstrings to hear stories like this.
Photos are from 9/14/09. Credit: BARM/Fame Pictures