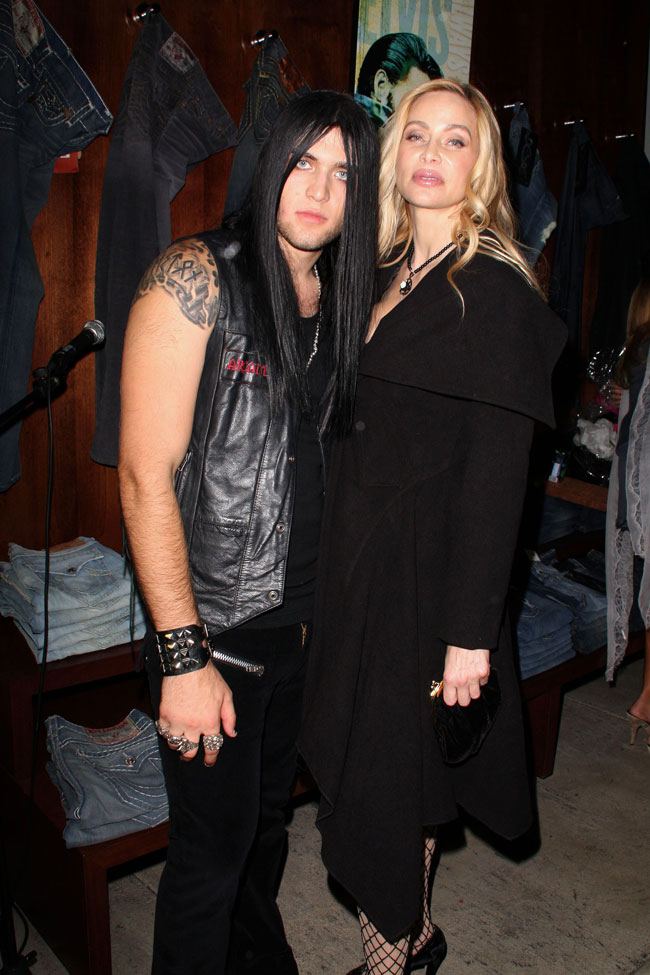 Christina Fulton and Weston Coppola Cage on 10/23/08. Credit: WENN/Fayes Vision
Nicolas Cage threw a lot of money around, and that seems to have included his ex girlfriend and the mother of his oldest son. Cage, who owes over $6 million to the US government and is being sued by – and suing – his former business manager, is now being sued by his ex, Christina Fulton. Fulton, 42, claims that Cage took back a house he gave to her in 2001 for raising their son and that one of his employees racked up charges on one of her credit cards. According to the lawsuit, Fulton is over $1.2 million in debt and wants $13 million from Cage:
Christina Fulton, mother of Cage's eldest child Weston, 18, is suing the actor for fraud and breach of contract, alleging she's been caught in the web of his financial mismanagement and is now more than $1.2 million in debt herself, Los Angeles court papers show.

Cage stated in an October lawsuit he faces financial ruin after allegedly being duped by a former accountant, Samuel Levin. The actor currently owes $6.3 million in back taxes, recently defaulted on a $2 million loan, and has begun a massive sell-off of homes, cars, yachts and other possessions to recoup his losses.

Fulton, 42, a former actress, says she was provided an L.A. home years ago by Cage in exchange for raising Weston, and believed the property was under her name. That is until September, when Cage allegedly served her with a 60-day notice to get out.

Fulton says that because of Cage and Levin's negligence, she now owes the IRS more than $1 million, in addition to $250,000 in unpaid credit card debt. She says the credit card was supposed to be paid off regularly by Cage and that fraudulent charges were racked up by a staffer hired by the actor who didn't undergo a sufficient background check.

All told, Fulton says damages to her exceed $13 million.

Levin, the accountant, has countersued Cage, stating the actor's financial collapse was due to his "compulsive, self-destructive spending."

Cage's attorney Marty Singer tells PEOPLE: "This lawsuit is ridiculous and absurd. Nicolas Cage has given her approximately three million every year for many years, even though he was only obligated to pay her six thousand a month in child support. We expect this lawsuit to be promptly thrown out."
[From People]
If this is true and Cage only owed Fulton $6,000 a month but was giving her three million a year and a free house I don't have a lot of sympathy for her. It's not like Cage owes her more money just because he decided to give his son a life of luxury. On the other hand, if she believed the home was in her name and had a bunch of fraudulent charges on her credit card from one of Cage's employees she should be compensated. It's not Fulton's fault that Cage was massively overextended.
Radar Online has the court filing for this case and there's some interesting dirt in there. Fulton's filing mentions her troubled relationship with Cage in the early 80s and states that they lived together for four years and that Cage emotionally and physically abused her:
After living together off and on for approximately four years [after Weston was born in 1990], and not being able to live with the mental, physical and emotional abuse inflicted upon her by Cage, and feeling that she was subjecting Weston to an unhealthy environment, Plaintiff together with Weston moved out of her common residence with Cage.
The legal document goes on to say that Cage bought Fulton and his son a house in 2001 and told her "that she could restore and decorate… to her liking as it was going to be a permanent residence and as title would be transferred to her as soon as arrangements could be made." What's more is that Cage allegedly sent an e-mail to Fulton in 2009 telling her to sell the home if she needed money. It was only when she tried to sell that she realized it was still in Cage's name. Then at the end of September she got a notice to move out followed by foreclosure notices.
Cage's financial situation is surely a mess and it's not surprising that he let down some people who were depending on him. The guy was a compulsive spender and only a massive setback like this was going to stop him.
By the way, have you seen Nicolas Cage's oldest son? He's in the photo above. He's a big kid with long hair and a punk look and I assumed he was in his twenties. He's only 18, though, and it looks like he could be fending for himself unless his dad steps back in to help.