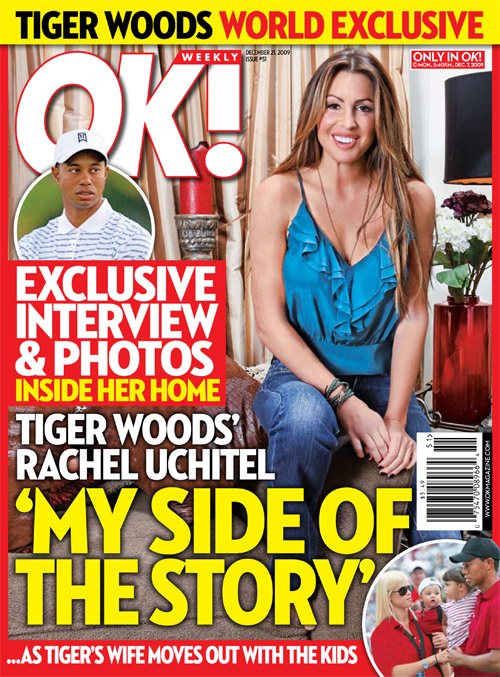 Rachel Uchitel may have been paid off by Tiger Woods to the tune of a million bucks to cancel her press conference, but that doesn't mean she can't still cash in on the notoriety while it's hot. Tiger's first known mistress in what's become a sea of cocktail waitresses, porn stars, strippers, hostesses and Perkins managers, is on the cover of OK! Magazine promising to tell "My Side of The Story." A hundred bucks says she's super vague about a possible relationship with Tiger and just focuses on her life and the club-promoting career she's hoping to boost with this magazine cover. The very brief excerpt of the interview published on OK!'s website seems to support this:
Considering her job as a night club promoter Rachel Uchitel is no stranger to celebrity. But last week, she found herself thrust into the spotlight, as the first of many women accused of having an affair with married golf icon Tiger Woods. Though she was originally scheduled to discuss her relationship in a press conference on Dec. 3, she instead opted to avoid the media — until now. In the new issue of OK! — on sale everywhere Thursday — Rachel invites only OK! into her NYC apartment, and reveals the truth about the woman behind the headlines.

The media has been painting you as the "other woman." How would you describe yourself?
In every story, you need a villain and a hero. I've been characterized as a villain. People have called me homewrecker, gold digger, tramp, whore. I make mistakes, but I'm not those things. I have very good qualities. When you're judged by the nation, it's really difficult. It's horrible.

For more on Rachel, the obstacles she's overcome in her life (including losing her fiancé in the 2001 World Trade Center attacks) and what she's looking forward to in her future, pick up the new issue of OK! — on sale everywhere on Thursday!
[From OK! Magazine]
It's all about Rachel, and she's going to remain loyal to that fat check Tiger wrote her. OK! probably doesn't care. This is the best bait and switch cover they've run in months and will surely sell well for them. The Tiger story is still pretty hot now. People are still trying to wrap their brain around the fact that the guy was cheating on his wife for his entire marriage while playing the happy family man in public. When I saw this cover my mouth dropped open, and not much shocks me lately.
Along with some healthy self promotion, Rachel may have another motivation for featuring her home on the cover of OK! The Real Estalker notes that her Las Vegas condo was just put up for sale. What better way to advertise a condo for sale in this flooded market than on the cover of a celebrity glossy?
In Touch promises that we'll see an exclusive e-mail from Tiger to Rachel declaring his love and promising to leave his wife. The guy should really not get online after he's downed some Ambien and Vicodin. We've already seen the ridiculous e-mail in which Tiger told Rachel he had a dream he was married to her and caught her in bed with two other guys. In Touch has an e-mail in which Tiger tells Rachel he wants to leave his wife for her. Does this mean that Rachel didn't get paid off by Tiger, that she decided to get some cash on the side or that one of her friends got into her e-mail and sold her out?
Tiger Woods' devastated wife, Elin Nordegren, may be trying to ease the pain of her husband's hurtful indiscretions by reminding herself that the growing list of buxom nightclub hostesses and waitresses were just hookups. But, in fact, Tiger committed the ultimate act of betrayal — he fell in love with one of his mistresses. In Touch can exclusively reveal that the woman originally at the center of the storm, party promoter Rachel Uchitel, was more than a fling to Tiger. They weren't just having sex — they were in a relationship. "Tiger told her he would divorce his wife for her," an insider says. In fact, hundreds of secret e-mails between the two show that not only was the superstar athlete over the moon for Rachel, he desperately wanted to leave Elin and their two kids to be with her.

On November 9, Tiger, 33, wrote Rachel, 34, and showered her with gooey, angst-ridden proclamations of devotion. In an e-mail exclusively obtained by In Touch, the golfer gushed, "I know it's brutal on you that you can't be with me all the time. I get it. It f***ing kills me, too. I finally found someone I connect with, someone I have never found like this. Not even at home. You want someone to witness your life. I want you to lay next to me, lay on me or where ever you want to lay. F***. Why didn't we find each other years ago. We wouldn't be having this conversation." After Rachel replied and complained that she didn't want to play out their relationship over the computer, Tiger wrote back, "You don't have to answer that e-mail. I just wanted you to know what's going on inside me."

Also in their correspondence, Tiger and Rachel got into a fight after he questioned her motives and accused her of only sleeping with him because he was famous. "I don't know if this is going to work," Tiger said. "I thought I was getting to know you, but it feels like I'm just another person who happens to be famous. Every time I think about it, I get a lump in my throat. Some of the other parts of your past really get to me. I don't know what person I was falling for so hard. The one I got to know on the phone, e-mail, text and in person. Or the one who likes famous people. I am so confused, because what my brain is saying and what my heart is saying are two different things. Is it the Rachel I know or the character? That's what's hard. It guts me to think I've fallen for the wrong one."
[From In Touch]
Jesus, Tiger really was a blubbering mess. He was a sex addict who happened to fall in love with one of his mistresses]. He probably said similar crap to some of the other women too though. He even ended up paying for one woman's liposuction, but that was kind of by default because he gave her a bunch of money for sleeping with him and that's just what she ended up spending it on.
Thanks to Oxa for the tip!