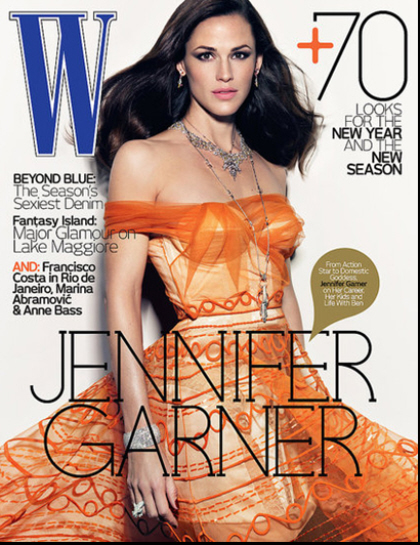 Jennifer Garner is the cover girl for the January 2010 issue of W Magazine. The full interview hasn't been released yet, but there are some pretty good excerpts floating around. First: the cover image. It's okay. I tend to think Jennifer's hair is too dark, and that she would benefit from some highlights. Other than that, she looks great. She's lost the weight from her second pregnancy, and the girl is one of the few who can pull off orange. I do prefer the second image from W Magazine, though, the black and white one (below). It's sultry and sexy, and it's nice to see Jennifer still has that part of herself.
Anyway, Jennifer is doing the cover interview as part of her advanced promotion for Valentine's Day, which comes out… yes, you guessed it. In the excerpts I've found, Jennifer isn't talking too much about the film, though. Instead, she's talking about her life with Ben and their two girls:
On deciding to have kids with Ben: "We were together a year, and we just started breeding. We were like, 'Let's have a baby!' And eight days later…"

On her mentioning Ben in interviews and his not mentioning her: "Ben asks me, 'How come when I do an interview I manage to keep you out of it completely?' And I'm like, 'Either because you don't think about me or because boy magazines don't care about what I make you for dinner. But they should!'"

On being away from loved ones while working: "That's the hardest thing about being on location when it's not for your own project. When it's for you, you're on set with everybody you know, but if not, it's lonely. I can live with Ben working crazy hours. But I can't live without girlfriends around to talk about men with! . . . It's fine if he's not there; I just need someone to bitch about it to!"
[From Pop Sugar, excerpts from W Magazine]
I don't blame Jennifer for talking about Ben in this interview or any interview. People want to know, so many mothers look up to her as their sweatpant-clad patron saint, and people love looking at photos of her family. There's interest there, and Jennifer usually doesn't give too much away. Plus, she probably wants to do a little damage control after that little rumor blip about Ben and his costar Blake Lively. For the record – I don't think Ben cheated on Jennifer with Blake. But I also don't think Ben and Jennifer's relationship is as solid as some people think. We'll see.
W Magazine cover and additional image courtesy of Pop Sugar.