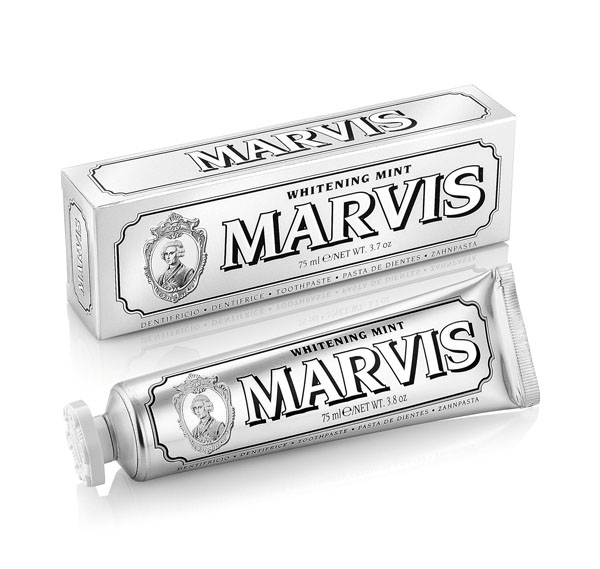 From CB: I ordered that Marvis toothpaste we featured a couple of weeks ago and it's amazing! I don't want to use other toothpaste anymore and it's totally worth the cost. My teeth got whiter almost right away but it's not abrasive and it makes my mouth and teeth feel so clean. I really think it improved my oral health too. Here are links to some sales (some are for Prime members) along with some things Rosie and I are looking at on Amazon.
Sales for everyone
Up to 30% off Amazon Essentials Men's Apparel
Up to 30% off Amazon Essentials Women's Apparel
Up to 35% off Last Chance Styles from Amazon Brands
Up to 35% off Kids' and Baby Clothing from Amazon Brands
Up to 37% off Acer Notebooks, Monitors and more.
Up to 22% off Amazon Fire 10 Tablets
Prime sales
Up to 45% off Amazon Fire TV smart TVs
Up to 40% off Nuwave Air Fryer Ovens, Induction Cooktops, and more
Up to 40% off Nuwave Cookware
Up to 46% off Home Decor from Americanflat, Creative Co-Op and more
Up to 36% off Select Mattresses and Bedroom Furniture from Mellow, Grand Life and more.
A bestselling talc-free dry shampoo to feel fresh when you can't shower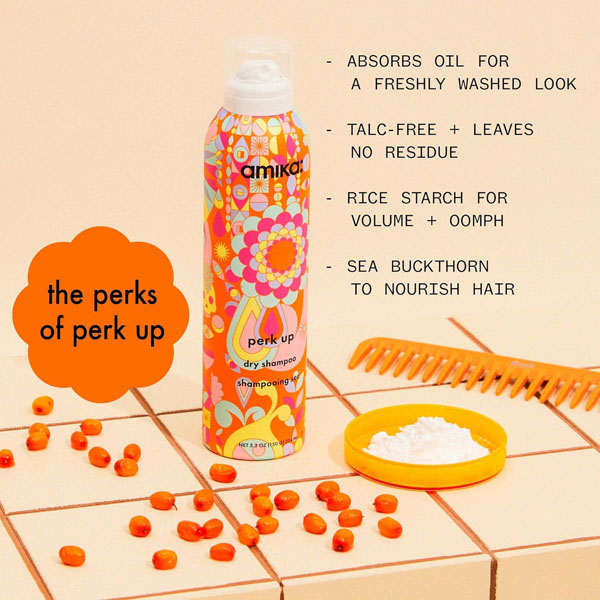 From CB: My hairdresser introduced me to Amika brand products and they've made my hair so nice. I love the Wizard detangling primer, it makes my hair dry faster and look smoother. Perk Up is a talc free dry shampoo that doesn't leave a white film on your hair or counters. This listing has over 15,300 ratings, 4.5 stars and an A on Fakespot. Reviewers say it really works to leave your hair clean-looking and that it smells great too. "This is the absolute best dry shampoo I have ever used. It doesn't have the texture that the other ones have. It actually makes my hair soft and clean looking! 10/10 would recommend to anyone!" "I've tried a lot of dry shampoos and most of them leave my hair less oily but with a weird film. I got a sample of Amika dry shampoo and loved it. No oil or film just refreshed hair. Then I went back to my normal brand when the sample was gone and after one use I bought the biggest can of this that I could."
An affordable vacuum cleaner that works as well as more expensive models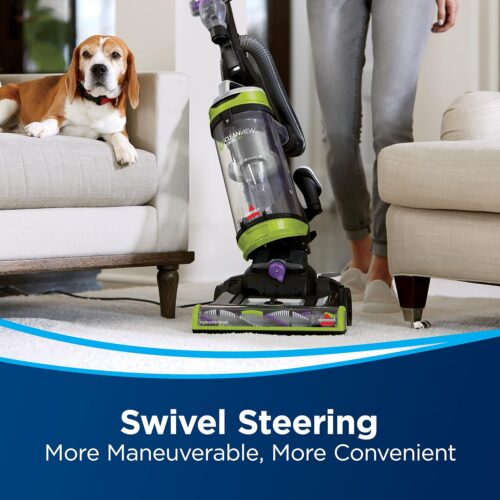 From CB: I need a new vacuum cleaner as I have an older refurbished Shark. It still works OK but it's a pain to lug up and down stairs. The Bissel Cleanview swivel upright is a bagless corded vacuum cleaner that's so affordable at just under $107. It has over 71,000 ratings, 4.6 stars and an A on Fakespot. This works on hardwood, tile and carpet. Reviewers are amazed at how much it picks up and say it's particularly good with pet hair. "Replaced my 12 yo Bissell which was no longer picking up dog hair. Had no idea how much dog hair until I used this today.. Love it so far. Very light weight, no problem with controlling the swivel, easy to assemble, works well on multiple naps and tile floor. Easy to remove and empty canister." "My wife and I have two German Shepherds who shed like it is going out of style. This is by far the best vacuum we have ever used. I only had to vacuum once, not 5 times like other vacuums. It is great for bare floor or carpets, and I am sure it would work with stairs, seeing as it is very lite."
A multipurpose spray cleaner you'll wonder how you did without


From CB: I use Windex multipurpose cleaner around my house as it's an easy go-to. It doesn't always get my surfaces clean though, particularly my counters. This spray cleaner by viral brand The Pink Stuff is just $5. It has 4.4 stars, almost 26,000 ratings and an A on Fakespot. People rave about how well it cleans compared to other products. It's also said to smell good without a strong scent. "My friend told me she uses this on her toilet instead of toilet bowl cleaner. And it's a miracle worker. The ring I've been dealing with for the last 5 years is gone. All I did was let it sit on the stain for 10min." "It's become my go-to cleaning product. This stuff is nothing short of amazing! It tackles tough stains, grime, and dirt with ease, and it's incredibly versatile. I've used it on my kitchen counters, bathroom tiles, and even on some stubborn stains on my stovetop, and it hasn't disappointed me once."
A $5 lip gloss you'll want in several colors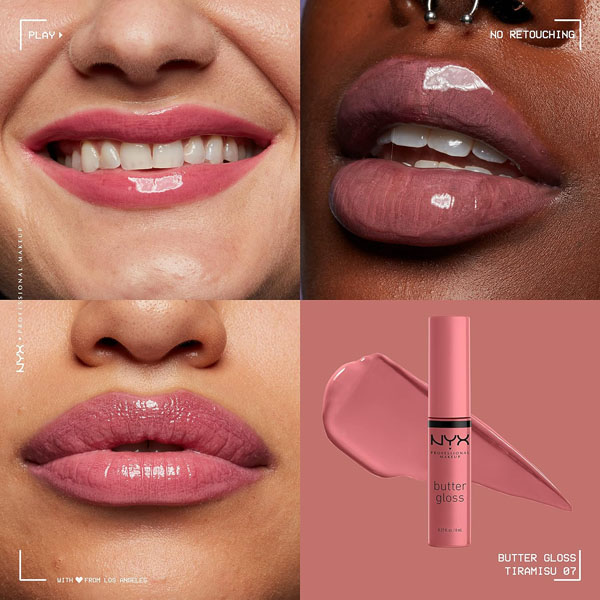 From CB: I keep a tube of NYX butter gloss in my car and I use it just about every day. It's flattering, hydrating and now that I remember how affordable it is I want it in more shades. NYX butter gloss comes in dozens of colors to create so many different looks. The list price is just $6 and right now most shades are $5. This listing has almost 100,000 ratings, 4.5 stars and the same score on ReviewMeta. People say it's not sticky and lasts a long time. "This butter gloss is absolutely perfect! It goes on nice and easy, and the color is lovely. I was impressed with the quality, especially for the price. It is not drying to the lips and the color stays on for a decent amount of time." "I'm super picky when it comes to lip gloss. I happened to try this brand and fell in love. It's not sticky and moisturizes my lips well. I liked it so much I bought a bunch of different colors which are all really pretty!"
A lightly exfoliating cleanser for brighter, clearer skin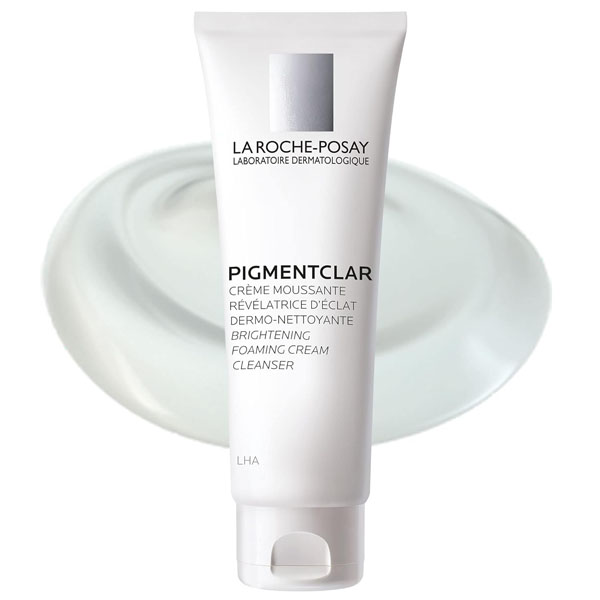 From CB: Pigmentclar cleanser by trusted brand La Roche Posay is a foaming fragrance free face wash. It's paraben free and formulated with salicylic acid and lipo-hydroxy acid for clearer, cleaner skin. This listing has over 2,800 ratings, 4.6 stars and a B on Fakespot. Reviewers say it fades dark spots and makes their skin feel clean without drying or irritation. "I have really sensitive skin and everything I've used in the past broke my face out but this stuff hasn't and my face [is] super soft after using. I highly recommend this product." "I have received several comments on how my skin looks so bright and glowing. I will purchase again." "My face had finally cleared up from a variety of problems, mainly adult acne, and some sort of constantly re-occurring fungal infection."
A machine that lets you make your own milk out of nuts, oats, carrots, and more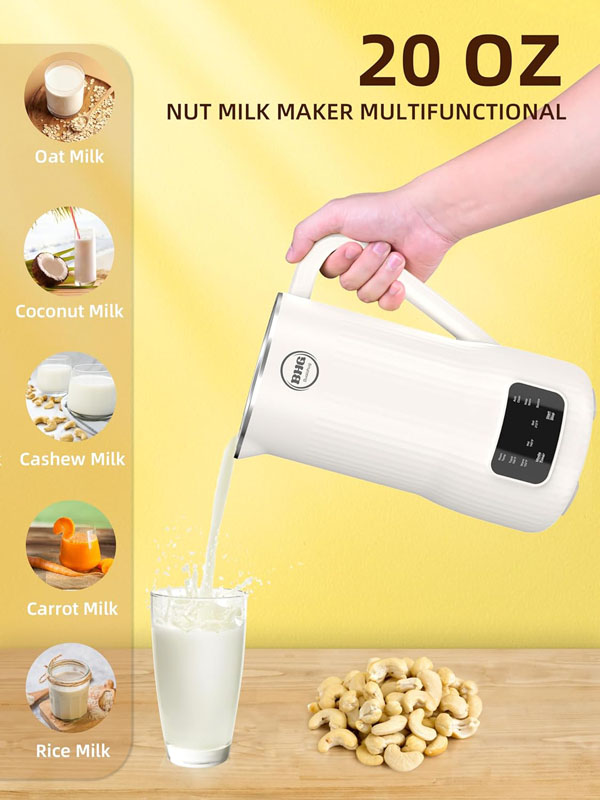 From Rosie: My sister just bought this nut milk maker (I know, it's tough to type that without giggling) and really likes it. It can make up to 20 oz of milk from foods like almonds, oats, soy, coconuts, cashews, carrots, hazelnuts, and rice. There are four different color options. Right now, between sales and coupons applied at checkout, each color currently costs around $100. This nut milk maker (hehe) has 40 reviews and 4.5 stars on ReviewMeta. People are impressed with the quality of milk it makes. "If you've ever tried to make cashew sauce and it comes out clumpy—this is the solution. Super smooth creamy cashew sauce, creamer and milk in minutes. Definitely recommend this product." "I admit I wasn't sure about this when I purchased it. But it is an absolute game changer. Oat and almond milk both super easy and so cost effective!!"
A stylish, versatile Y2K-style bag that you can use for day or night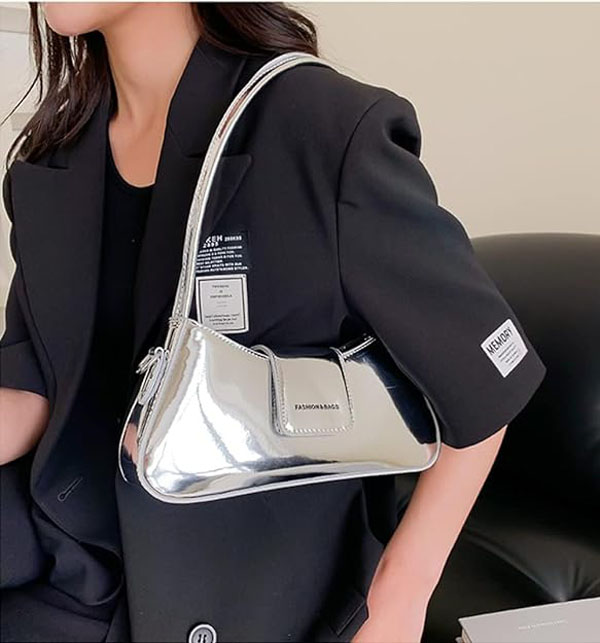 From Rosie: I love this cute asymmetrical purse that you can use as a daily wear or accessorize a "going-out" outfit with. It comes in 21 different color options and shapes. and is affordable at under $30. I'm a big fan of the "B Pink" color/style combo. It has a 4.5 star rating, almost 200 reviews, and an A on Fakespot. People love how chic yet functional it is. "This bag is so so cute, and is very well made. The magnets that keep the "lid" of the bag closed are durable and do not budge. I love that you can adjust the straps, and there's a little pocket inside the bag to put your cards!" "Gorgeous, fun, statement, chic, cool, well made! Love this little bag. Really makes an outfit pop!" "I've gotten so many compliments on this bag! It's so cute and versatile!"
A shelf to organize and reduce clutter underneath your sink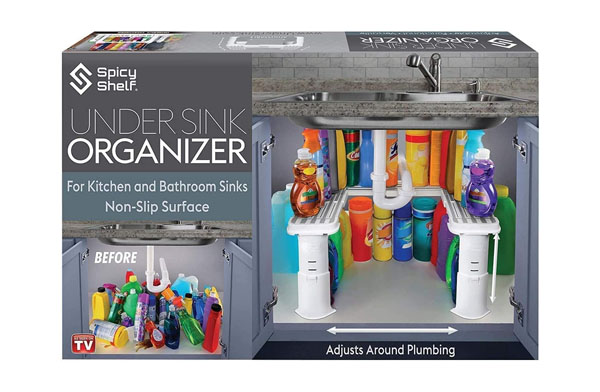 From Rosie: This shelving system is designed to help organize and declutter that space underneath your sink (or really anywhere that you need it to). It's easy to set up and adjustable to fit in the best configuration for your space. There are options to buy it as a one- or two-pack. The one-pack is currently on sale for 35% off, with an additional 5% off that's applied at checkout. This under-the-sink organizer has a 4.3 star rating, more than 11,500 reviews, and an A on Fakespot. Reviewers appreciate that it's adjustable, which really allows them to get the most out of their space. "I like the flexibility of this product. It offers different configurations and placement under your sink. Now that I have it set up, I can see everything, and everything is within reach." "I love that the organizer is completely adjustable when it comes to width and depth, and has a few height settings, too." "Bought two of these to organize my double under sink kitchen cabinets. What a difference. Can find all my cleaners, scrubbers, soaps etc, without having to unload everything to find items in the back."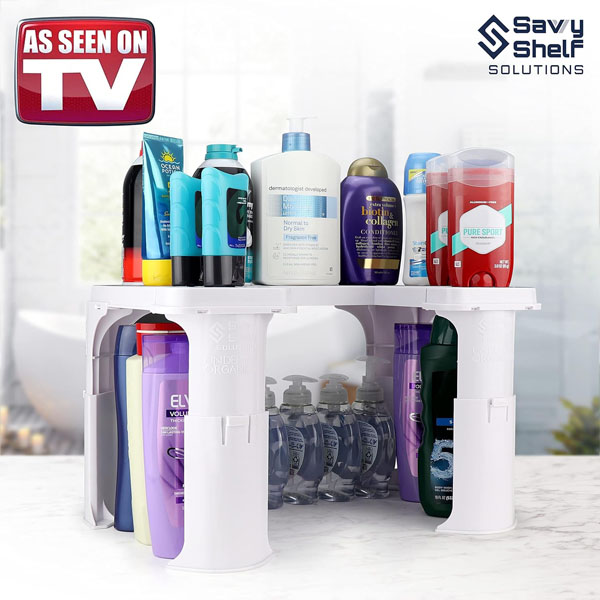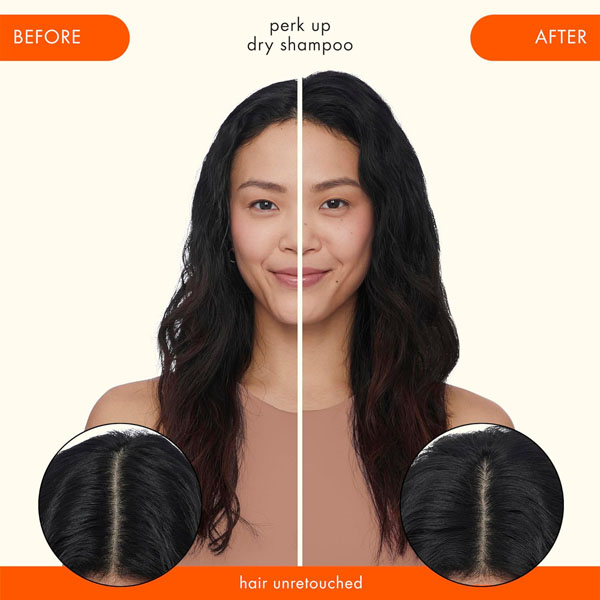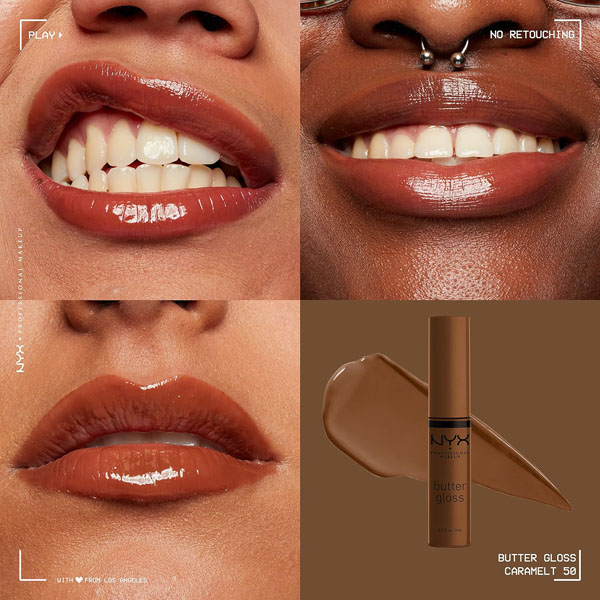 Thanks for reading and commenting on our affiliate post! If you make any purchases through these links we get a small percentage and appreciate it.