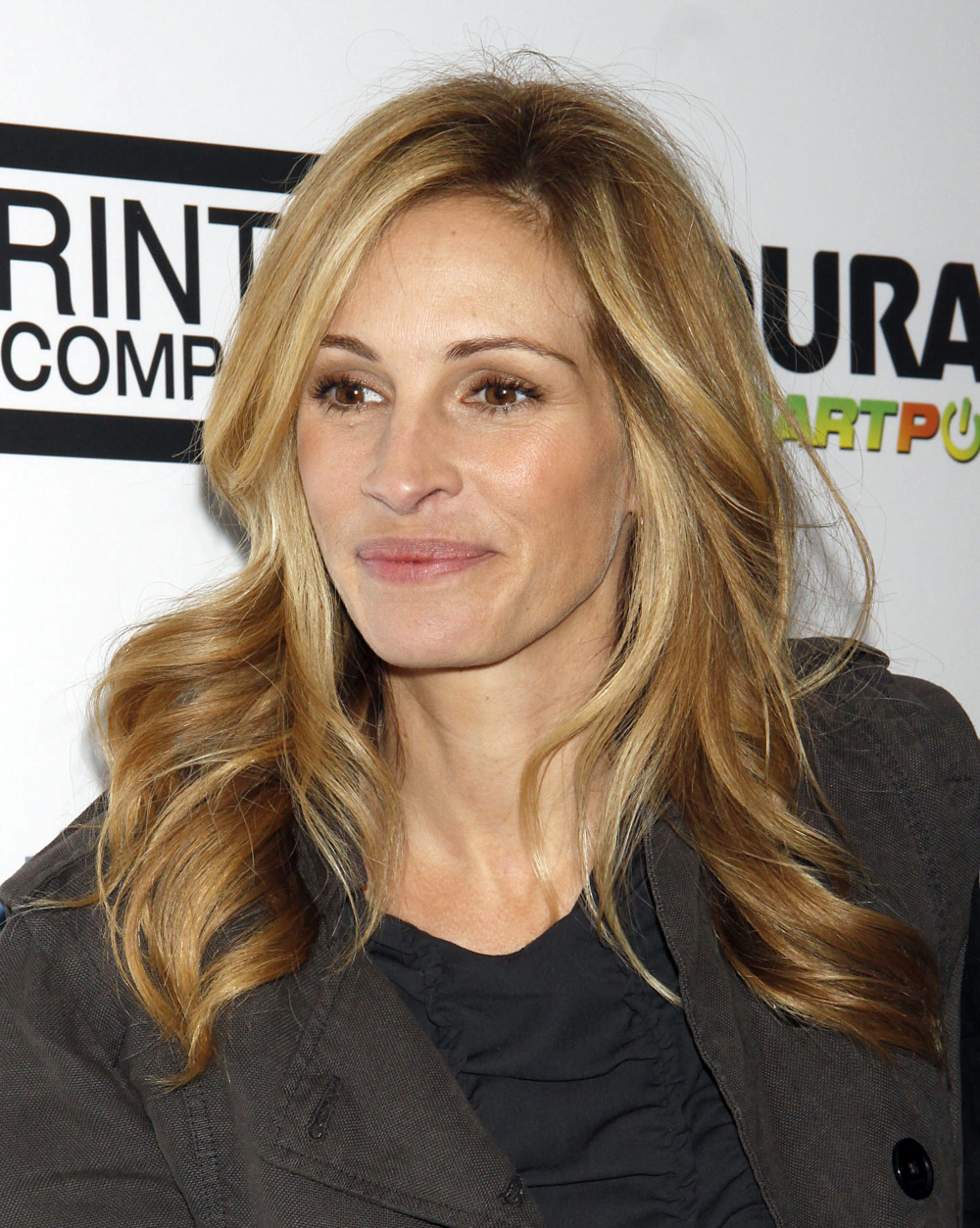 Julia looks pretty, doesn't she? She's not all glammed up, she's not wearing much makeup, and she still looks lovely. Anyway, these are photos from the red carpet of a gala fundraiser for the LAByrinth Theater Company. I know about the company because Phillip Seymour Hoffman used to be (and perhaps still is) one of the co-directors of the theatre, which does lots of experimental stuff, and promotes new talent, from directors, writers and actors. Julia was the big headliner, and she gave it her all, if these reports are any indication. Apparently, Julia got sh-tfaced and hilarious as she tried to do Celebrity Charades.
Julia Roberts hit the sauce for a good cause at LAByrinth Theater's Celebrity Charades fund-raiser, sponsored by Entertainment Weekly.

"She was drinking vodka and tonic beforehand, and was pretty tipsy by the time the event started," laughs our spy. "None of her teammates could decipher any of her clues. She told the crowd that anyone who bid would get a kiss from her, which was OK because her husband [Danny Moder] was in the first row and the kids were at home. At one point, Sam Rockwell tried to carry her offstage, as he jokingly asked for 'three bottles of water for Ms. Roberts.' "

At another point, she tried to divert the attention of Kristen Wiig, who was on the opposing team, by sneaking up behind her. All in all, says our spy, "She was pretty great. She tried to get her team to guess 'In the Heat of the Night' by rolling on the stage floor and pretending to make out with herself."
[From Page Six]
The NY Daily News also reports while playing Charades, Julia (with her teammates Sam Rockwell and Billy Crudup) lost one round and she screamed at the audience "I can't f—ing lose on this! I usually go to sleep at 8:15! Let's have fun! I'm wearing tight pants and my kids are asleep!" The NYDN also reports, in a little side note, that Crudup was "canoodling" with an "unidentified brunette" in case anyone cares.
I like Julia more when she does sh-t like this. It shows that she's not stuffy, and she's still able to throw down and get drunk with the boys. I would have loved to play Charades with her. By the way, how do you get In the Heat of the Night from rolling on the floor?
Julia on the red carpet for the LAByrinth Theater Company's 6th Annual Gala Benefit in New York on December 9, 2009. Credit: WENN