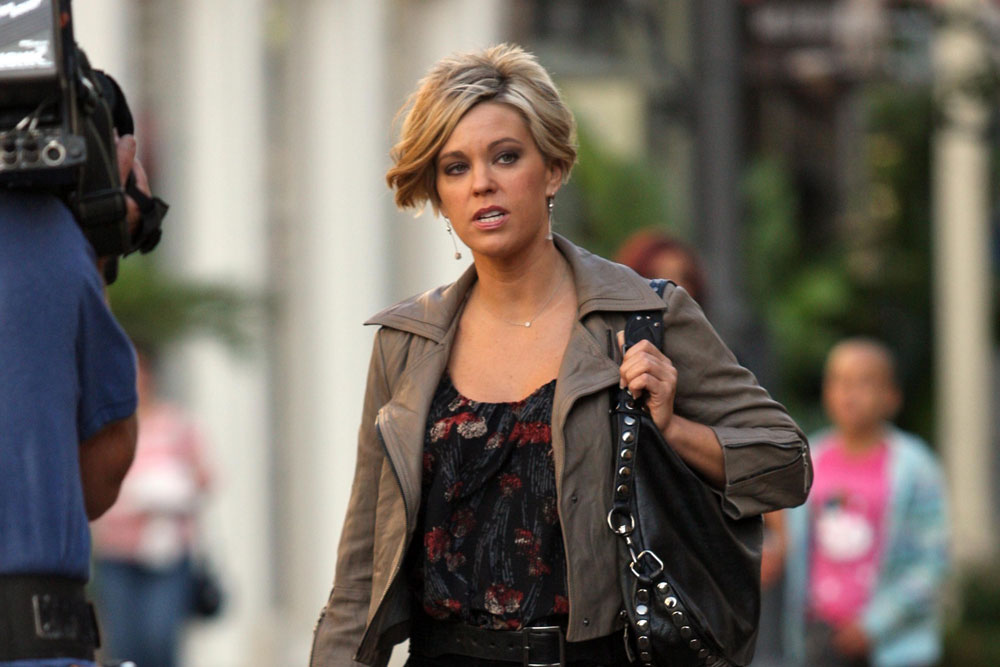 While we were salivating over the latest details in the trainwreck Tiger Woods scandal the Gosselins were wondering what they had to do next to get some press attention. The celebrity media was so Gosselin-focused for the past six months that it took a real doozy to pull our attention away. It's like the Gosselins were a minor tornado that leveled a few houses and Tiger was a big hurricane that hit land. The family of eight with the lazy cheating dad is still doing stuff, though, and there's still some mild interest in them, like "oh yeah, the Gosselins."
Kate Gosseiln has a new interview with Barbara Walters airing Wednesday as part of Walters' 10 Most Fascinating People of 2009 special. It's a shame that the Tiger news didn't break earlier or she could have been replaced on the "Most Fascinating" list by one of his mistresses. Other "10 Most Fascinating" people include Tyler Perry, Glenn Beck, Lady Gaga, and Adam Lambert.
Kate tells Barbara that her kids are upset and crying because they miss the camera crew. She also says they often watch videos from the show and calls them "family memories." That's really sad.
"They cried in the van on the way home from school the other day. I finally admitted to them, they kept asking, 'Where's the camera crew? Where's the camera crew? We miss them.' And I said, 'Our show is over.' …Eight sobbing kids driving home from school," Kate, 34, says on Barbara Walters' The 10 Most Fascinating People of 2009, airing Wednesday on ABC.

The show, Jon & Kate Plus 8, recently ended its two-year run.

In September, TLC made the shocking announcement that as of Nov. 2, Jon Gosselin would no longer appear on the reality series and that the program would be re-titled Kate Plus 8.

But the plan got axed after Jon objected to his kids appearing on TV, claiming that he had an "epiphany" that the show was exploiting his children.

Kate disagrees, telling Walters that Jon ended the show "because he could."

Says Kate, "Unless you live in my house and, and see how everything that we have done with the show has been such a great experience, you can't speak."

To this day, her kids — 9-year-old twins Mady and Cara and 5-year-old sextuplets Hannah, Leah, Alexis, Joel, Aaden and Collin — "watch DVDs of our show and it's family memories to them," she says.
[From US Weekly]
So did all the crew just leave all of a sudden without having a party or saying goodbye to the kids? These people were part of their lives for years and now they're gone. The kids don't miss the cameras, they missed the people that were around all the time. Of course that's going to be a little traumatic for them to be gone. The thing is, Kate doesn't seem to get the distinction between the people behind the cameras and the show. It sounds so insensitive they way she broke the news to them. The kids don't miss the show or being filmed, they miss having the crew around.
Kate was videotaped while serving patrons at a diner in Raleigh, North Carolina on Tuesday. Radar Online reports that the footage was a "test segment… for a show that 's still in development" with TLC. Unlike her soon-to-be ex husband, Kate doesn't burn bridges.
The case by TLC against Jon Gosselin for breach of contract continues. Hailey Glassman, Jon's sometime girlfriend, spoke to Radar after her deposition in the case. She said that she didn't have much evidence against Jon except for the fact that they met up with Christian Audigier over the summer for a clothing line which never happened. Hailey also confirmed that she's off-again with Jon but said they're still living together. She started crying while talking about him, and called him a "monster," saying "I was told under oath that Jon really did sleep with Kate Major. I'm mind boggled and hurt by it. And he still lies to me about it and denies it to this day." Oh, honey. Jon may have told you Hailey was "cuckoo", but you were so stupid to believe him despite all the evidence that he was cheating with multiple women. Where were your friends to tell you?
What's more is that not only was Hailey lied to by Jon, his manager made sure she never got paid for talking to The Insider in late October. "Then when the check came, Michael [Heller, Jon's manager] wouldn't give it to me because he said that Jon owed his father [Mark Heller] money and he wanted me to sign my check over to Jon. It was the most ridiculous thing in the world. To this day, Mike Heller has my check from October." It's too bad all the tabloid money has dried up.
Kate Gosselin is shown out on 10/28/09. Credit: WENN.com