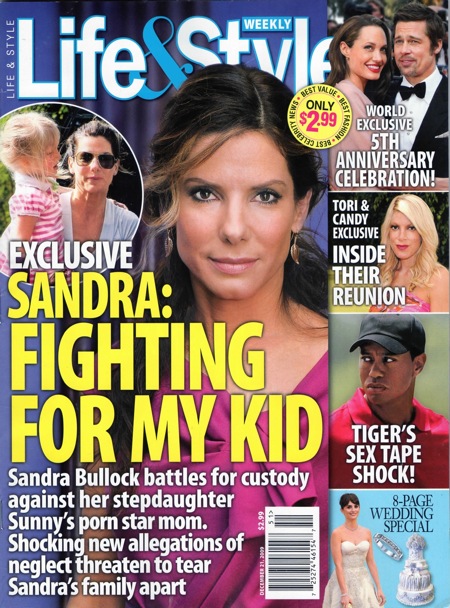 This week's Life & Style promises an "exclusive" and features Sandra Bullock on the cover with the title "Fighting for My Kid." Inside, L&S does have an exclusive – with porn star Janine Lindemulder, the mother of five year old Sunny with her ex and Sandra Bullock's husband, Jesse James. Lindemulder is fighting for "expanded visitation rights" with her daughter, Sunny, who has been under the care of James and Bullock since January when Lindemulder began to serve six months in jail for tax evasion. James and Bullock take the position that Lindemulder is an unfit parent, and that Sunny is best left in their custody. Lindemulder has remarried, to a convicted felon with a long rap sheet. According to court papers filed by James before her incarceration, Lindemulder was sometimes so drugged out that she was leave Sunny alone during the day while she slept it off.
Lindemulder went on Good Morning America last month pleading to Sandra Bullock to sit down and talk to her about Sunny, saying "What would give her the right to take away my daughter? This is my daughter. I'm the best mother I can be." In response, James' lawyers issued a statement that Lindemulder's beef was with James, not Bullock, and that she should bring her issues to court instead of the press.
In her GMA appearance, Lindemulder claiming she was pursuing a career as a tattoo artist. In the latest issue of In Touch, she confirms that she's back to doing porn and says she's "good at it" and it's basically the only career she knows. She also talks some smack about how James wanted nothing to do with Sunny the first three years of her life, and claims that someone hacked into her e-mail account and deleted e-mail from James proving that he didn't want the girl:
On staying in porn: "I like my job. I'm good at it. I've been a porn star for 23 years. It's what I did right out of high school. If I won the lottery, would I do it? No. I don't see myself in this for very much longer."

On making too little to support her daughter: "That's why I'm not going into the courtroom saying I want her completely now. But I do have 50 percent legal custody."

On child support from Jesse: "I'm not getting any money from Jesse. What would make him happy is if I just vanished off the planet. I'm in fear of what Jesse's capable of doing. [I suspect that] he had a hacker erase 30 e-mails from when Sunny was born. The e-mails said, 'I don't want Sunny to have my last name. Find her a new daddy.' After he showed no interest in the first six months, I moved to Oregon. He said, 'Good, the farther, the better.' He wanted nothing to do with Sunny for three years of her life."

On Sandra Bullock: "We haven't even had a conversation. They couldn't care less what I have to say. They changed Sunny's school a while ago and didn't tell me. I found out from Sunny."
[From Life & Style via Popeater]
The more this woman talks, the more it seems like her daughter should stay with Bullock and James. I get that she deserves to see her daughter and I don't think her career choice should affect a judge's decision either way. She didn't pay taxes for six years in a row and went to jail for it, and she's married to a guy who has been convicted on state and federal charges "involving alcohol, guns and the manufacturing of narcotics." Those are huge strikes against her whether she's a porn star or not.
It looks like a judge shares my opinion. In a recent court ruling Lindemulder was denied overnight visits with Sunny and must see her daughter during the day. She was granted Christmas Eve with Sunny, though, that's something.