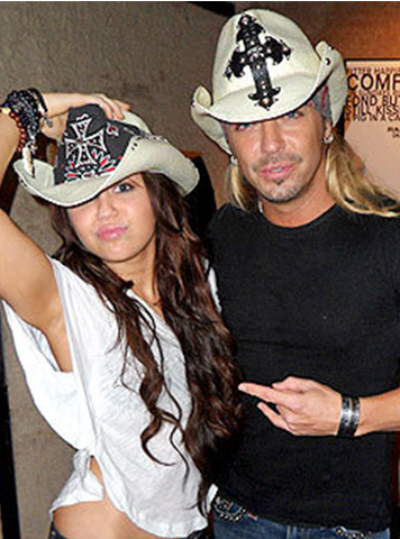 Miley Cyrus might be the devil. She's making me defend Bret Michaels! Of course, I don't really hate Bret. I think he's rather skanky, but I think he seems like a nice guy to hang with, if you just want to chill and not have sex. Because if you want to have sex with Bret, that's a whole different story. But, I digress. People Magazine is reporting that Miley is going to cover Poison's immortal ballad "Every Rose Has Its Thorn". Hey, Miley, try not to pole dance for this one.
Taking a page from a hair band classic, Miley Cyrus is remaking Poison frontman Bret Michaels's '80s rock ballad: "Every Rose Has Its Thorn."

"'Every Rose' is one of her all-time favorite songs and she is really excited about cutting it," Miley's mom Tish Cyrus says.

Miley, 17, might be young but her love for Poison runs deep. Her first concert experience – other than seeing dad Billy Ray Cyrus onstage – was watching the band perform in Nashville. And now she's been in the studio with Michaels – along with other producers – putting her own spin on the '80s ballad. She recorded the song in New York, her rep confirms.

And rumor is that Michaels might even dust off his blue rose guitar to play on the track.
[From People]
I checked with Bret's Twitter, and he did acknowledge the demon child, tweeting "Miley Cyrus to remake 'Every Rose Has Its Thorn'" and posting the above photo. I weep. I love that song.
In other Miley news, she was interviewed on Britain's GMTV after she met Queen Elizabeth, which she did not address. But she did say that she wants her music to be "edgier" and that her current record is her "last pop record". But I thought she didn't listen to pop music like Jay-Z?!?
Is the world ready for an "edgier" Miley Cyrus?

The 17 year-old singer and Hannah Montana star told British morning show GMTV that she is presently at work on "my last pop record." After that, she says, "I kinda want this to be my last record for a little while and … take a break."

During that breather, she says she wants to explore other musical styles and create "something edgier." Perhaps the singer will catch up on hip-hop: she recently admitted that she's "never heard a Jay-Z song" despite name-checking him in her hit single "Party in the USA."

"In a few years, as I grow up, so will my fans," Cyrus reasons. "I'll be able to have more of the sound of music that I'm into."

The star has already grown up in front of the world: when she met Queen Elizabeth on Monday, she turned heads with a low-cut, cleavage-bearing dress; last Thursday, shots of her at a hotel pool in Florida revealed a new tattoo with the message "Just Breathe."
[From Us Weekly]
I get tired of picking on Miley, but she's such an easy target. She's just so… what is the word for it? Is there a word that encompasses "spoiled entitled ignorant brat"? But she's not the devil. She's just a girl with hot pants and a dream, y'all. And that dream is to pole dance to "Every Rose Has Its Thorn". Rest in peace, Glam Rock Classic: