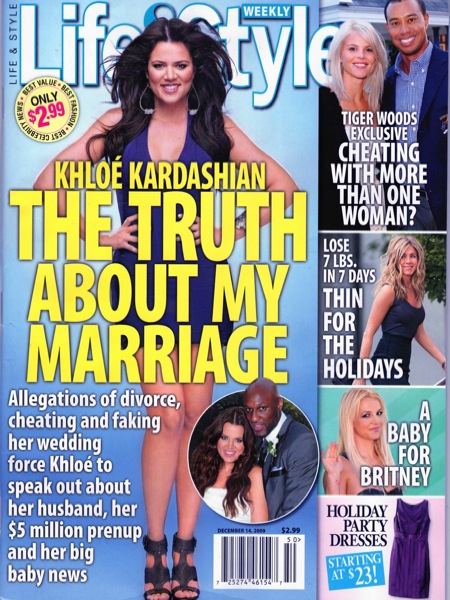 Someone at Life & Style made the poor decision to include Khloe Kardashian on the cover alone last week with the title "The Truth about My Marriage," as if anyone cares. I hope that L&S has some kind of cross promotional deal with E! because that couldn't have been a decent selling issue for them. Inside, Khloe talked about how wonderful and fabulous her marriage to Lamar Odom, which is now reportedly legal, is. From the advance quotes that L&S sent us, there wasn't much of interest there, but here's Khloe bragging about her fabulous marriage of a whole couple weeks or couple months depending on when you believe it started. Khloe and Lamar have only been dating since August, so either way they haven't been together for six months yet.
"The media definitely stir things up," she tells Life & Style. "So many people judge us. They don't know me or Lamar — we're so happy."

L&S: Looking back, do you wish you'd waited longer before getting married?
Khloé: No. I really wouldn't have done it any other way. Many people have judged me, but I don't care how it looks to someone else. We're completely content, and that's the best feeling in the world.

L&S: How is Lamar different from other men you've dated?
Khloé: I've just never felt deserving of this kind of attention before. Every single night before I go to sleep, he tells me how beautiful I am and how lucky he is to have me. I know it sounds cheesy, but I've never in my life met someone who I love this much. Lamar's devotion makes me want to cry because the only other person who gave that to me was my dad.

L&S: Asked when he wants to start a family, Lamar replied "soon." What's your take on kids?
Khloé: He's said that kind of stuff to me in private — but I was shocked when he said it publicly! I didn't know he was that comfortable talking about it. Lamar wants to start having children tomorrow. He already has two beautiful children, Destiny and Lamar Jr., but he can't wait for me to have more kids and form this new family. I know how happy he would be, and I'd love to have kids. But ideally I want to wait at least until we've settled into our new house.
[From Life & Style]
At least one person is interested in what Khloe has to say – Lamar Odom's ex and the mother of his two children, Liza Morales. Morales previously told the press that she was shocked by her ex's quickie wedding because he's a commitment phobe who never proposed in the seven years they were together. According to Morales, she was talking about a reconciliation with Odom as late as August and had to find out about his wedding via text message.
In response to Khloe's Life & Style interview, Morales has some harsh words for her ex's new wife. She says that Khloe is lying about meeting her children with Odom and that Khloe better not talk about her kids to the press. Morales and Odom have two children: a daughter Destiny, 11, and son Lamar Jr., 8.
"Friends and family informed me of a recent cover story on Khloe Kardashian which had several inaccuracies," Morales revealed. She has known Odom for fifteen years and they have three children together (their six-month old son Jayden died from Sudden Infant Death Syndrome).

"First of all it was reported that Khloe and my daughter Destiny have bonded. It quotes Khloe saying my daughter flew out to LA to meet Khloe when her and Lamar first started dating, that is basically a lie," she continued.

"My daughter met Khloe for about 10-15 minutes here in New York when Khloe and Lamar came to New York. I don't think a 15 minute meet and greet with a child can be defined as a bonding experience for anyone."

In the article, Kardashian said she had yet to meet her stepson Lamar Jr. because he was "too young to travel." Morales denies the story.

"The truth is my 8-year-old son told me he didn't want to meet her at that time," Morales reveals.

"She is also quoted saying that her and Lamar are trying to be sensitive with me and that comment puzzled me. If she said these things I think that her and Lamar and the magazine that published these lies should not worry about being sensitive with me but with what they say about my children."

Despite this recent rift, Morales is open to having Kardashian as a part of her and her children's lives. "I feel eventually Khloe and I should meet, if she is going to be around my children we should get to know each other on some level."
[From Radar Online]
I feel like Morales is saying her peace but being even-handed about it and just telling Khloe to stop using her children to get decent press for herself. At least she's clear that she's open to a relationship with her while warning her not to talk about her kids. That seems perfectly reasonable. It's got to be really annoying to see Khloe's giant smiling mug all over the place and she's just adding insult to injury by bringing up Morales' kids.