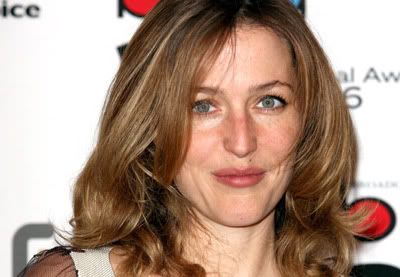 We love Gillian Anderson and will see a new X-Files movie and sit through the whole thing even if it's worse than the God-awful drawn-out series finale. We have to say, though, that she could use some pomade, or even mousse, in these pictures from Broadcasting Press Guild Television and Radio Awards in London last night.
Her hair could have the gently-tousled but finished look if she just would have taken that extra step to secure her flyaways. She also looks a little tipsy, but we could be influenced by the news that she suffered from drunken air rage.
We reported a few days ago that Anderson is going to go topless in her film that's in production, the British thriller "Straightheads." Anderson has admitted that she's had trouble finding work, and said that the longer you're out of the business, the harder it is to find film roles. She has three films in the works, though, and looks to be making a comeback.
Anderson has found success in England with work on stage and for the BBC. Here she is with her nearly-done hair.