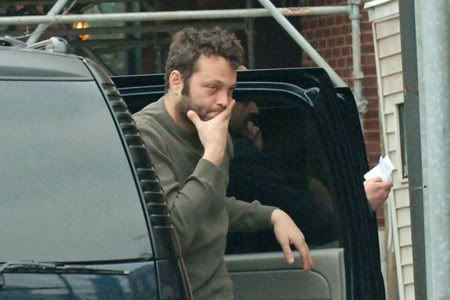 Life & Style Weekly claims that Vince Vaughn has tried to arrange a wedding date twice and that Aniston has backed out each time:
"It's not that she doesn't love Vince — Jen and Vince have an amazing bond," says the insider. "It's just that she thought it was all too soon.
The magazine then brings in relationship expert Gilda Carle to give an opinion…
"When Jennifer told Vogue she's 'tired of being part of this sick, twisted Bermuda Triangle,' it showed she's still harboring strong feelings for Brad."
"It must be awful for Jennifer to see pictures everywhere of Brad with pregnant Angie and their adopted children," says Carle. "But she needs to give herself time to heal. She shouldn't try to numb her pain by remarrying."
And she shouldn't try to air her pain by speaking to any more reporters, either. At least this article doesn't contain more than one Aniston quote. The girl says some stupid things when she rambles.
Regardless of whether she's backed out or not, Aniston has denied that's she in a race to the altar with her famous ex, or that she is planning a lavish wedding at Oprah's estate.
Here are Aniston and Vaughn arriving in Chicago to reshoot scenes from The Breakup. It's gonna suck…
Pictures [via]