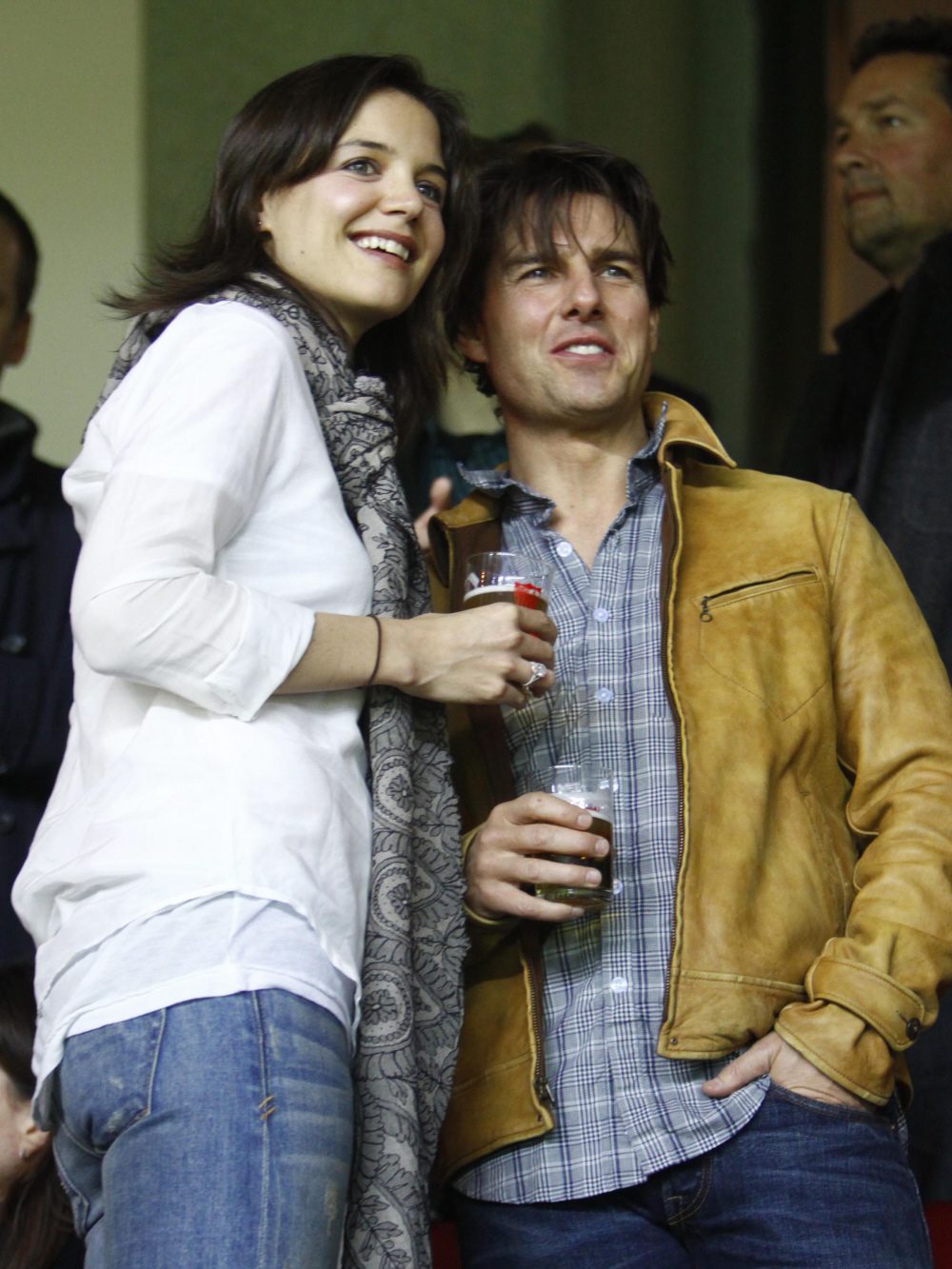 These are maybe my favorite pictures of Tom Cruise and Katie Holmes together in a long time. They were taken yesterday, as Tom and Katie watched a soccer game ("football") in Spain. They were standing in all of these photos, so I think they must have been in some kind of VIP box or something. They were also drinking beer… although Tom is not photographed putting the beer cup to his lips, Katie is chugging that motherf-cker like a frat boy. Yes, we would all need a drink too if we were married to Tom.
Other than the beer-guzzling, the photos are actually lovely. Katie is smiling in many of the photos, and they were captured giving each other some truly funny little looks. Like "inside joke" looks, which is cute. OK! Magazine put an even happier gloss on the photos:
In the years since their early days of couch-jumping and PDA sessions, Tom Cruise and Katie Holmes have — like many married couples — toned down what the public has seen of their romance.

But it looks like all it took was some brews and a few thousand Spanish soccer fans to get them in the mood yesterday. The couple visited Estadio Ramon Sanches Pizjuan in Sevilla, Spain, where Tom is filming Knight & Day with Cameron Diaz, to cheer on the local team and sample some local beer. The good times were infectious, as the twosome got more than a little giggly and loved-up while watching the game.
[From OK! Magazine]
CB thinks OK! is being a little heavy-handed with the glowing relationship report, but I tend to think they just wanted some text to go with the photos. What is OK going to report? "Katie Holmes Needs To Drink To Spend Time With Tom"? They do, actually, look very happy and sweet together. So either their relationship had a good day, or they are both very talented actors. No comment.
Tom and Katie watching a a soccer match in Sevilla, Spain on December 9, 2009. Credit: Fame.