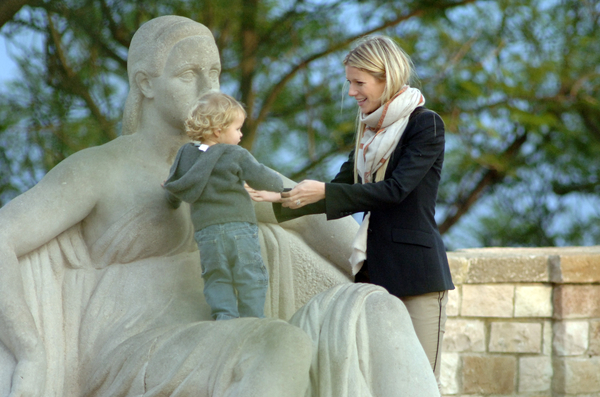 While most celebrities claim to hate gossip and say they never visit celebrity websites or read anything in the papers, a few will admit to what we suspect a lot of them suffer from: a gossip addiction, just like the rest of us. Last fall Kanye West said he was a big fan of our friends Bossip, and then started his own blog a few days later. Now even ice queen Gwyneth Paltrow has admitted she follows the tabloids and is just as addicted as the rest of us.
"There's obviously an appetite for gossip," she told Britain's Daily Mail Weekend Magazine. "It's very addictive to see what people are doing and wearing and saying – and who is breaking up."

The actress went on to describe the outrage of an unnamed friend who had been dating another celebrity and read an inaccurate item about the romance in a New York tabloid.

"Then he turned the page of the same newspaper and said, 'My God, have you seen who's together?'" she told the magazine. "So we're all at it, aren't we?"
[From People]
Gwyneth has been the subject of a good deal of gossip over the years, and not just for her ice queeny nature. She's not often photographed with her husband, Coldplay singer Chris Martin, leading many to speculate that their marriage is in trouble. But Gwyneth reassures us all is okay – it's just that she doesn't like to be seen with her husband in public. I don't know about you, but I wouldn't consider that a sign of the most healthy relationship. Paltrow also says she wants to have two more children in rapid succession a few years down the line.
But Paltrow, 35, is quick to quash rumors of any trouble in her marriage to Coldplay's Chris Martin. Although they are rarely photographed out and about, she explained, "We're not into doing stuff in public together."

Away from the cameras though, she insisted, it's a different story.

"I love the house," Paltrow said of the North London home the couple bought from fellow actress Kate Winslet and her husband, director Sam Mendes. Paltrow – mother to daughter Apple, 3, and son Moses, 1 – also admitted she's thinking of expanding her family. In four years, she dreams of having "two-in-a-row, really quick again," while Martin would like to adopt.

So which will it be? The actress, who recently finished filming The Good Night with her brother Jake, told the Mail, "I'm open to anything."
[From People]
What a free-flowing, easy spirit you are Gwyneth Paltrow. You never change, just like your hair. Gwyneth claims her marriage is in good working order, and it very well may be. People have been speculating for years that there's trouble, and yet the two have remained together. For some odd reason, it may very well be that she doesn't like to be seen in public with Martin much. Maybe she thinks it keeps photographers away? I'd speculate that it makes them follower her more, and makes gossips speculate negatively about her. Maybe she should lighten up, if for no other reason than to show her kids that daddy's not a pariah.
Picture note by Jaybird: Okay even I have to admit that these photos are way too adorable. Here's Gwyneth playing with Moses in Barcelona on October 24th. Images thanks to PR Photos.