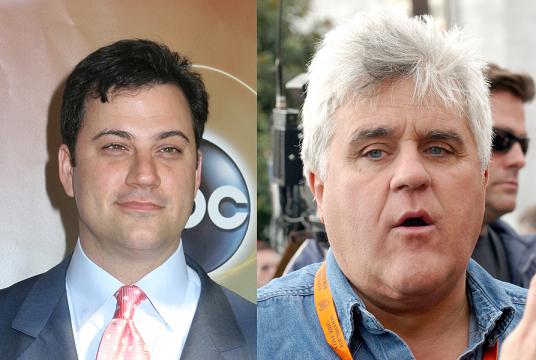 Just like the strikes in the olden days, the WGA strike is leaving people scrambling for guests. Wait, no. The strikes in olden days left people scrambling for food, not actors. It's close, though, and certainly every bit as frightening. Human beings can live for months without food, but can only live for a maximum of seven days without Brad Pitt. Around day 5 your kidneys shut down, and the liver tends to go around day 6. The hosts of late night television, back on the air but without any actor guests, have been scrambling to fill their vacant spots in a desperate attempt to save keep us alive. The Screen Actors Guild has cruelly forbade any of its members from appearing on any non-WGA sanctioned shows. That effectively means they can only show up for David Letterman and Craig Ferguson, whose production company Worldwide Pants has come to its own agreement with the WGA. So what's a late night host to do? Bring in other late night hosts as guests of course!
The talk-show hosts, who both returned to the airwaves last Wednesday without their respective writing teams and with picketers outside their respective studios, are turning into unlikely allies in the late-night race, with both agreeing to appear as guests on each other's shows next Thursday, in the wake of a writers' strike-induced guest drought.

"If Jay and I can come together and guest on each other's shows, surely there is hope for peace in the Middle East," Kimmel said in a joint statement released by ABC and NBC Sunday morning.

"There are only a few people in the world who know how tough this job is," Leno said. "Jimmy is one of them. It will be fun to discuss who's a good guest, who's a difficult guest and everything else that comes with sitting behind these desks." The mutual back scratching will help fill not only headlines but what's proving to be hard-to-populate guest slots for the late-night shows since their return to air.
[From E! News]
I'm no expert, but it seems to me that writers and actors are incredibly loyal to their unions. And something tells me they have long memories. Jimmy Kimmel seems to have done himself quite the disservice recently by voicing his opposition to the writer's strike.
And while Leno has teetered on the brink of violating guild rules since returning to the air, penning his own monologue jokes, despite supposedly standing in solidarity as a striking writer, Kimmel himself has voiced disapproval of the strict code and unwavering solidarity he's meant to display with his unemployed wordsmiths.

"I don't want to depart too much from the party line, but I think it's ridiculous," he said on his first night back of the strike and SAG's insistence that members avoid the late-night shows that did not score a WGA-sanctioned agreement. "Jay Leno, he paid his staff while they were out. Conan did the same thing. I don't know. I just think at a certain point you back off a little bit."

Later, he stripped his opinions of all party-line vestiges, saying flat out, "I'm pissed off, I'll be honest with you."
[From E! News]
I'm pretty sure Jimmy Kimmel is going to find concrete in his shoes within the next three days. Wait, these are writers… so he's probably going to find ink in his shoes. Maybe a few random letters stripped off his computer's keyboard. Nothing teaches you to shut up like some blue ink stains and your favorite S and A keys smashed to pieces.