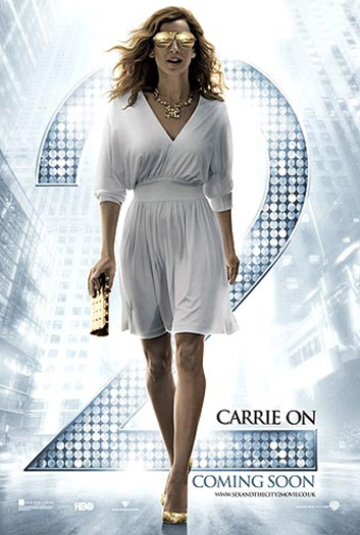 This is the just-released poster for Sex and the City 2, which will be out next year. Michael K at D Listed was all over this earlier today, saying that "the Photoshop wizards got a little "carried away" and turned her into some kind of pre-op zombie Matthew McConaughey who is a proud graduate of Kanye West's School of Ridiculous Eyewear." Granted, this sh-t is Photoshopped. And yes, it's ugly. But if it was really Photoshopped into oblivion, wouldn't they have done something better with her neck and knees? I feel like the Photoshop people just decided to put all of Sarah Jessica Parker's "problem areas" in shadow, as if the eye could be confused so easily. It can't. Oh, and here's a wild question… where the f-ck are Kim Cattrall, Cynthia Nixon and Kristen Davis? If the film is just about Carrie and her crap, no one will give a sh-t.
In other SJP news, when she was in London for the Did You Hear About The Morgans? premiere, the Telegraph asked her about her workouts. Her answer was cryptic:
When asked at the premiere of Did You Hear About The Morgans? in Leicester Square, a film about a couple who join the witness protection programme, she answers: "By running around, stressed, no sleep. I guess I try to be disciplined."

No doubt she and Matthew Broderick, her husband, are kept busy by their twin daughters, Marion and Tabitha, who were born using a surrogate in June this year, along with their son James, seven.

Her co-star Hugh Grant is also impressed by her energy. "I'll never be like her," he laments.
[From The Telegraph]
Eh. I think SJP is just one of those women who is naturally skinny. Maybe it has to do with stress or running around or her metabolism, but I don't think she's the kind of woman who compulsively diets or works out. Just my take.
Just one more thing… SJP has a not-so-secret admirer. His name is Hugh Grant, and he is enamored with his Morgans costar. He told the British papers that he wished he could marry SJP because: "She would be a very good wife. She's very caring. She lives in her own little world and I have literally fallen in love with her." Aw… that's sweet. Never in a million years would I have put the two of them together in a film or in life, but apparently they adored each other, and it seems very genuine.
Sex and the City 2 poster courtesy of Rediff. Additional photo of SJP & Hugh Grant at the London premiere of 'Morgans' on December 8. Credit: WENN