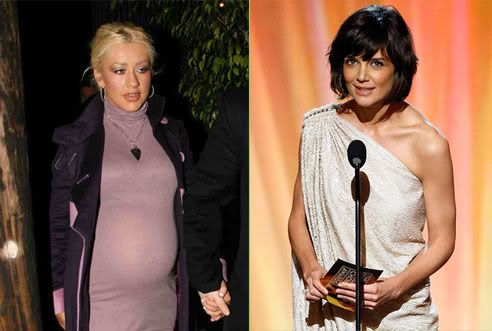 It doesn't look like Katie Holmes' lackluster career is going to improve much after Mad Money comes out. She's in talks to costar in what's deemed a "family dramedy" with Christina Aguilera called Humboldt Park. It supposedly starts filming in February, but if that's the case then maybe they're filming Aguilera's part later or she's only in consideration for the role as she's due to have a baby any day now and is rumored to be scheduled for a c-section on January 10th.
Star has learned that [Katie Holmes and Christina Aguilera] are in talks to costar in the family dramedy Humboldt Park, which starts shooting in February. The Mad Money actress "is trying to prove she can do more than fluffy popcorn movies," an insider tells Star.
[From Star Magazine, print edition, January 14, 2008]
I don't see Christina Aguilera turning out to be the most devoted mom, but surely she has a schedule full of spray tans, trainer appointments, and photo ops for the month after her baby is born and it's going to be tight for her if she starts working on a film at that time. Also, how great a movie is is going to be if they're even considering using Aguilera in a main role? She has no films to her credit apart from brief performances in Moulin Rouge in 2001 and Shark Tale in 2004. (Which I've seen at least 10 times thanks to my son. It's a cute film.) I hope this rumor isn't true or Katie Holmes' career really is doomed. That's probably fine with her. Acting and promoting the few movies that get thrown her way must keep her from her preferred profession – spending Tom's money.
Now that Cruise runs a studio, though, he can create chaste heroine roles just for his wide-eyed Kate. Cruise's studio United Artists has even struck an independent deal with the Writer's Guild, and it looks like they have a huge advantage over every other film studio for the time being. Look for a buddy film starring Katie Holmes and Victoria Beckham with Jada Pinkett Smith in a supporting role.
Katie Holmes is shown wearing a toga dress at last night's Peoples Choice Awards. Christina Aguilera is shown out to dinner on 1/5/08.