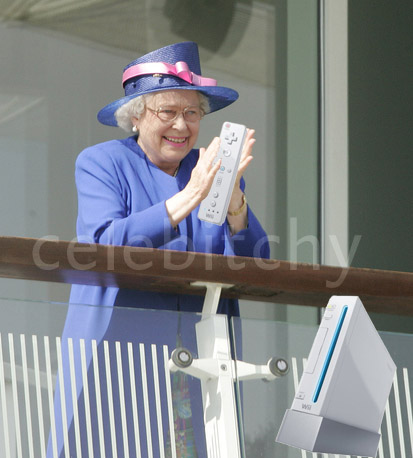 Since the death of Princess Diana the British royal family have been trying to make themselves a little more hip. Prince Charles got his act together and married Camilla, Princes William and Harry party like the most common of frat boys, and Queen Elizabeth II has become more stylish in her dress. But what she hasn't particularly publicised is her apparent love of technology.
Prince William got a Wii over the holidays. His girlfriend was nice enough to pick it up for him. He was having a lot of fun with it, that is, while he had the chance to play. Now the console is being hogged by none other than the Queen! Apparently she is a natural at Wii Sports Bowling. Apparently, the Queen has become a bit of a technophile in recent years. Now she's added the Wii to her list of must-have gadgets.
Now, I would have been pretty sceptical about the Queen being so tech savvy, but she does have her own YouTube channel. She also has a Blackberry and and MP3 player, and has had a personal email address since 2001.
Do you think she's got the best internet connection in Britain? Do you think she does internet searches for herself? Finds fan sites? Does she read gossip sites to see what her naughty grandsons are up to?
Note by Celebitchy: We have the Wii sports pack and the thing is so much fun for everyone in the family. I'm also amazed by how much you actually have to exercise to play some of the games, particularly tennis and boxing, although golf is my favorite. Why does golf only have one course though? That seems like a major oversight.