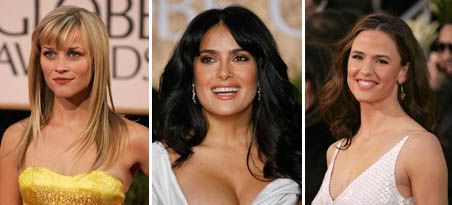 The award show second only to the Oscars has been axed. Of course celebs will still get their ego stroking in the form of the a golden trophy. Instead of a glitzy affair with a red carpet and more hair extensions than Britney's closet can hold, a simple announcement of winners will be made. The unofficial word is that the entire event has been canceled.
"The Golden Globes telecast, Hollywood's biggest party of the year, has been canceled, reports DeadlineHollywoodDaily.com, after weeks of bitter acrimony between striking writers, Globes organizers the Hollywood Foreign Press Association and broadcast partner NBC."
[MTV]
This Sunday should have been a big night for NBC. The network had exclusive right to the award show and would have raked in big advertising dollars. But with the Writers Guild of America still striking the awards could not go on. Writers threatened to picket the live telecast of the awards and the red carpet arrivals. Celebrity boycotts followed their picket threats with support from the Screen Actors Guild.
The Hollywood Foreign Press Association asked NBC to take the show off the air. With celebs refusing to cross the picket line and the lack of a red carpet what will there be to air anyway? A press release with the winners is expected to be the humble way in which winners will be announced.
"A stripped down announcements telecast will be aired by NBC News. It will consist of the Hollywood Foreign Press Association handing out Golden Globes to the winners, who will then pick up the awards and pass through a press room for photos and interviews."
I can just see tumbleweeds rolling along the carpet and Ryan Seacrest standing there smoking a cig waiting for something to do. He would probably bitch to the camera man about how it took him an hour to get his hair just right. It's a sad day.
Note by Celebitchy: Pictures are from last year's Golden Globes. Also, poor Rumer Willis will get stiffed out of her chance at being "Miss Golden Globe" and getting to hand out the stature.