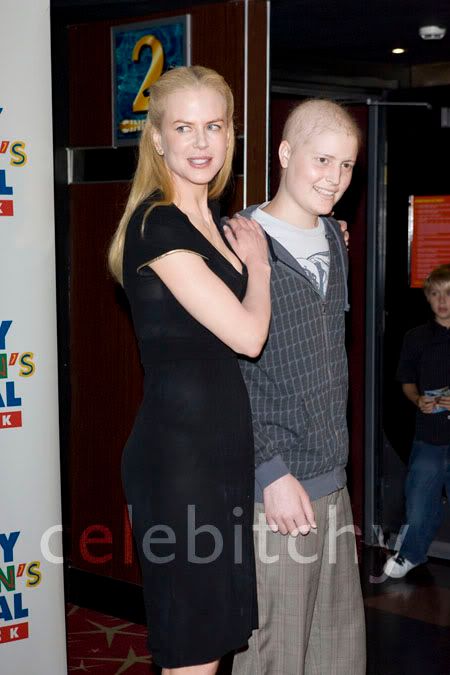 We were wrong about the state of Nicole Kidman's womb – she is pregnant, according to her rep and is predictably "thrilled." Congratulations to Nicole and Keith:
Nicole Kidman and husband Keith Urban are expecting their first child, her rep confirms.

"The couple are thrilled," Catherine Olim says in a statement.

For Kidman, this will be her third child. She and her former husband, Tom Cruise adopted two children during their marriage: Isabella, now 15, and Connor, 12.

As for where Kidman and Urban, who will be a first-time parent, may bring up their impending arrival, the couple, though both from Down Under, purchased a farm near Leipers Fork, Tenn., a half-hour southwest of Nashville, in 2007.
[From People.com]
I was such a skeptic about those pregnancy reports as the gossip rags were getting to be like the boy who cried that the famous frozen-faced lady was pregnant over and over again, but this is wonderful news for Nicole. I hope everything goes perfect for her with her pregnancy and upcoming baby. She has spoken so frequently about wanting a baby and it's so nice to hear her dreams have come true.
Nicole was photographed out looking happy as she lunched with a group of friends in Sydney on Sunday. I bet she broke the good news to them.
Nicole Kidman is shown on 12/18/07 at a screening of The Golden Compass in Australia for sick children from Sydney Children's Hospital Randwick. She is also shown on 12/16 at the Sydney premiere of Golden Compass. We already published these photos but they're the newest ones I have access to where she's standing up.