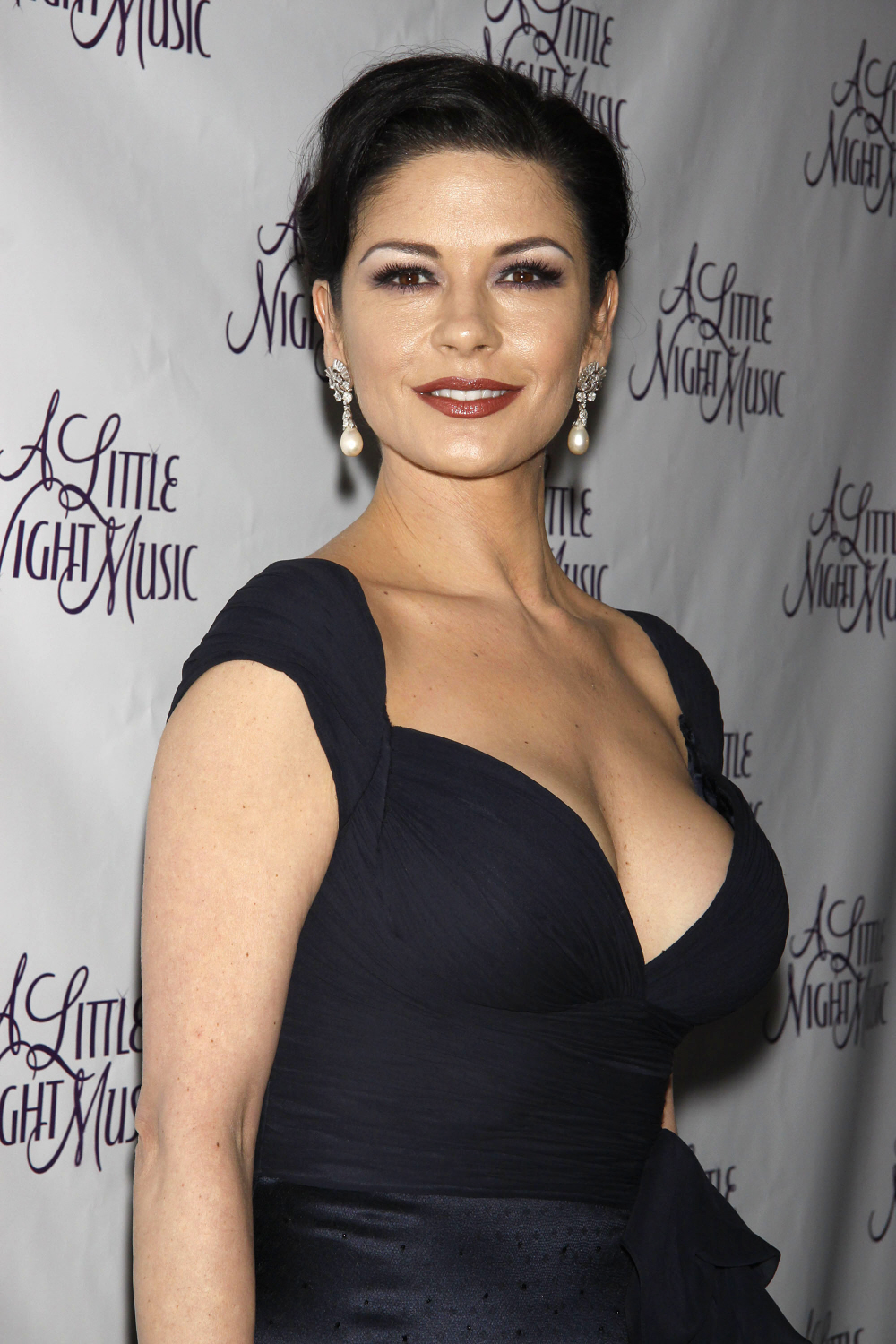 Catherine Zeta-Jones made her Broadway debut last night in A Little Night Music, and these are photos from both the curtain call (white gown) and the red carpet (blue gown). I think Catherine looks gorgeous here. There has always been gossip about Catherine, especially in Britain, that she maybe shaved several years off of her official age. There's also been gossip about some very high-quality plastic surgery. Personally, if she's gotten anything done, it's very, very good, because I think she's looks totally naturally beautiful.
Reviewers were pretty much in agreement about Catherine's beauty, but some criticized her performance. The Daily Mail, of course, compiled some of the greatest hits of the criticism:
In recent months, Catherine Zeta-Jones has been criticized for dressing years beyond her age. But last night she was every inch the glamorous star as she attended the opening night of her new Broadway show in New York. Dressed in a floor-length navy gown, with plunging neckline, the actress oozed sophistication.

Catherine, 40, kept the accessories simple but stunning with diamond and pearl drop earrings, and an understated slick of lipstick. But while her glamorous looks won her rave reviews in A Little Light Music, and her singing voice was praised, Catherine's acting was criticised by some.

The Guardian's Emma Brockes said: 'While [she] can act and sing, she can't do both at once in this production – at least not in one take.'

While the AP's Michael Kuchwara wrote: 'Zeta-Jones has a throaty, sensuous voice which she uses to good, flirty effect…. She is much better in the musical's quieter scenes and shines in Act 2 during her rendition of the show's best-known song, "Send in the Clowns," a touching moment of grown-up introspection.'

Ben Brantley of The New York Times declared: 'In addition to being drop-dead gorgeous… Ms Zeta-Jones brings a decent voice, a supple dancer's body and a vulpine self-possession to her first appearance on Broadway.'

Catherine and husband Michael Douglas have temporarily relocated to the Big Apple while she stars in the play.

The musical, which opened last night, is fast becoming one of the hottest tickets on Broadway, with tickets selling for $300 on eBay. She plays Swedish actress Desirée Armfeldt alongside Angela Lansbury as her mother Madame Armfeldt in the Trevor Nunn revival of the 1973 play.

Catherine began her career on the stage, before finding fame in the TV series The Darling Buds Of May. She told the Evening Standard after last night's show: 'I can't believe it's taken me 20 years to actually do this. It's quite shocking because I love the camaraderie and I just love the theatre life. It was just like going back home to a family.'

Asked when she would be performing in front of British theatregoers again, she said: 'Now it's back in my blood and I'm back on the boards, it may be sooner than they want it to be.'

Catherine said there were similarities between her own life and that of Desiree, a veteran actress reunited with an ex-lover. She said: 'I have lived a bit of the life of a gypsy the way that Desiree has. I've found the love of life in my husband – I'm not searching for that at this particular point in my life.'

The production means Catherine and her family will spend the next few months living in the New York instead of their usual Bermuda home.

As well as marking her Broadway debut, Catherine will also be promoting her new film The Rebound, which is scheduled for release in April. The romantic comedy stars the actress as a single mother who falls for her children's babysitter soon after her divorce.
[From The Daily Mail]
I love the while-cream gown that she wears for the play. It's breathtakingly beautiful, and just seeing pictures of the gown made my mind wander. Hmm… God, I love costume pr0n. I just had a nice little daydream about going back in time to the days when women really dressed like this. I think I would have done well in the corset-wearing past, I really do.
Catherine Zeta-Jones on the red carpet for 'A Little Night Music' and at the curtain call, in New York on December 13, 2009. Credit: WENN.