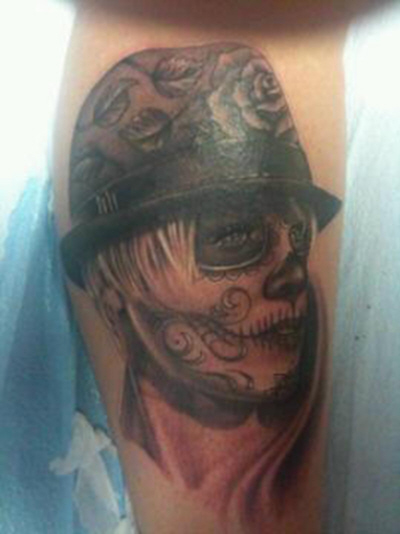 As some know, I have some affection for Pink and Carey Hart. I think they're a cute couple, and I like that they seem to work at maintaining their friendship, despite whatever is going on between romantically. They were married in 2006, and separated in 2008. However, earlier this year, back in March or April, they got back together and Pink announced that they "were working sh-t out". Since then, there hasn't been a lot of gossip (good or bad) about them, so I just assumed they were going strong. I guess I was right.
Carey announced on his Twitter that he was sitting through his first tattoo session to get Pink's face put on his leg. But it's not some pin-up style image of Pink – oh, no. Carey got her portrait done in the "day of the dead style". Oh, yes. Pink as a ghoulish skull. It still really looks like her, though.
Carey says that it will take two hour sessions with the tattoo artist to get it right. But seriously, why mess with something this perfect-looking already?
Photo of Carey Hart's Pink tattoo courtesy of Carey's Twitter.