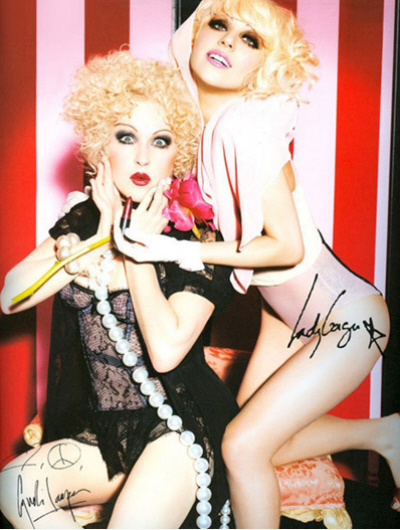 I love seeing new ad campaigns almost as much as I love seeing new magazine covers. One of my absolute favorite things in the world is the September and March magazine issues – because not only is it a new magazine, but those are usually the issues with the new ad campaigns. Love. It! Anyway, I'm all over this new MAC Viva Glam ad. The MAC Viva Glam is used to promote the MAC AIDS Fund, which supports global AIDS charities and causes. Every cent of the Viva Glam lipsticks goes to the MAC AIDS Fund, and so far $135 to $150 million has been raised. With that kind of goodness, it's not shocking that MAC gets some high-profile celebrities to promote the lipstick line in print ads around the world. Previous spokes models have included Fergie, Mary J. Blige, Christina Aguilera and Missy Elliot.
So, the new ad: Cyndi Lauper and Lady Gaga, together at last. I kind of feel like this is bigger than Madonna and Lady Gaga. Probably because I just love Cyndi Lauper so much! The ad is for two new MAC shades – Viva Glam Gaga and Viva Glam Cyndi, which won't be in stores until March of next year. But until then we can enjoy the ad – although it took me a second to figure out which one was Cyndi and which one was Gaga.
And the Photoshopped the hell out of Gaga's thighs, yes? I mean, she's slender and she has a nice figure, but her thighs don't look like that.
Cyndi is killing me. I LOVE her.
In one other piece of Gaga news, she was chosen as one of Barbara Walters' "Most Fascinating" people of 2009. Gaga actually sat down for a surprisingly boring interview with Barbara, and ABC Online has some of the highlights. Some of my favorite quotes? When asked how her parents reacted to her starting her career, singing half-naked in bars, Gaga says: "It wasn't really so easy for my dad, especially in the beginning. I mean we didn't talk for months after the first time he saw me play, and uh, he didn't understand. And from a genuine, genuine place, my mother told me that he was afraid I was like mentally unstable." Ah, Gaga… who would ever think that?
MAC Viva Glam ad courtesy of Huffington Post.