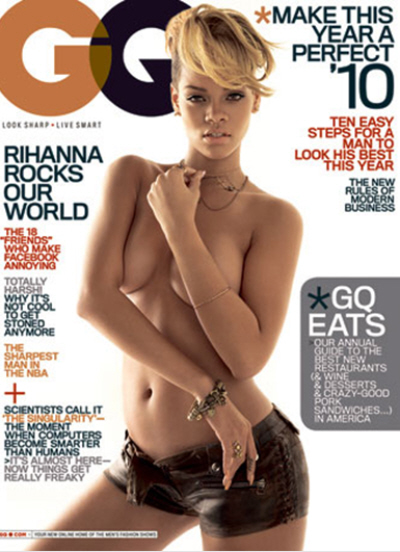 Rihanna went topless for the January issue of GQ Magazine. The New York Daily News gives the cover a resounding "meh" and calls it far from provocative. I'm not so sure – Rihanna has done photo spread stunts before (like the sketchy bound and muzzled spread she did for Italian Vogue), but I do think this cover is interesting, just because Rihanna looks young and vulnerable, which is unusual because she's been trying to look more ass-kicking lately. It's become quite the thing for stars to go topless for GQ – I question their editorial decisions (and the sneaking suspicion that the editors have become one-trick ponies) more than I question Rihanna's judgment.
In a recent interview, Rihanna also admits that she's doing a sort-of tribute to her new favorite artist, Lady Gaga. She dons some… interesting sculptural dresses and some sketchy makeup. Is that all it takes to do a Lady Gaga homage? Maybe.
Rihanna's raunchy makeover continues, as the pop singer graced a magazine cover in little more than a pair of leather hotpants. Despite her arms being strategically placed, the daring shot of a topless Rihanna leaves little to the imagination.

Rihanna is seen featured of the forthcoming issue of the US edition of GQ magazine as she continues her high-profile publicity campaign for new album Rated R. And it's clear she is keen to push the boundaries both visually and musically.

Rihanna has worked hard to relaunch her career following the abuse incident she suffered at the hands of ex-boyfriend Chris Brown. And it appears she hasn't taken inspiration from the pop world's emerging superstar Lady GaGa.

'She has a very bold, fearless image," Rihanna told MTV News on the set of her "Hard" music video. 'I have to say, I have so much respect for original artists and artists who aren't afraid to do what they want to do. That's what I respect most, so she's awesome.'

And in tribute to her new heroine, Rihanna wore a GaGa-esque dress with huge spongy spikes for the promo shoot and carried a rifle.
[From The Daily Mail]
Rihanna is also debuting her new video "Hard" at some point either today or tomorrow. She already released a 30-second preview of the video and it looks… okay. I guess. Rihanna's videos kind of leave me cold, and I don't really care for the Mad Max vibe she's been rocking lately. I guess it's her way of reasserting her power after the Chris Brown incident, so God bless. It's just not my cup of tea, though.
GQ cover and additional GQ photos courtesy of The Daily Mail.