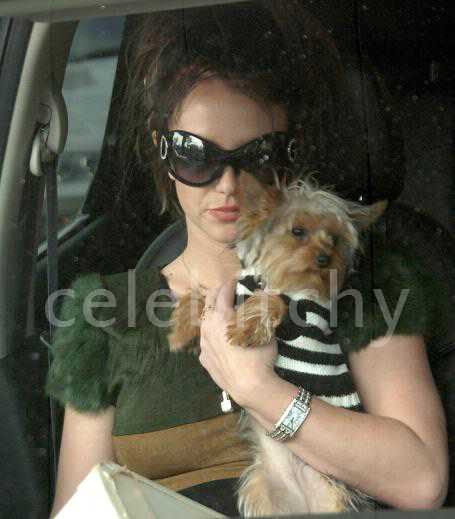 It seems that even if the mental health system failed last week in regards to Britney Spears, law enforcement is still doing a good job. A restraining order was issued against Brit after endangering her children and holding one hostage last Thursday. The order wasn't requested by Kevin Federline or his lawyer, but appears to have been issued by a police officer. An LAPD spokesman noted, "In most cases, it's issued by officers when there's the possibility of imminent and immediate danger to the victim." It seems like they're the ones who are most on the ball in this situation. Brit was let out of the hospital – where she had been placed on a mandatory 73 hour hold – after just a day and a half. For five business days Brit must stay 100 feet away – but they weren't specific as to who she has to stay away from. I'm assuming it's both of her kids, and perhaps K-Fed as well.
LAPD officers slapped Britney Spears with a temporary restraining order last Thursday night during her custody standoff, PEOPLE has learned exclusively. Called an "emergency protective order," it is enforced for five business days. Officers did it to "stabilize the situation," confirmed Kevin Federline's attorney, Mark Vincent Kaplan. Kaplan, who did not request the restraining order, declined to say whether he would seek to extend it.

"The person it's placed upon would have to stay approximately 100 feet from the other person, or face arrest," says LAPD spokesman Mike Lopez, who could not confirm the restraining order on Spears. "In most cases, it's issued by officers when there's the possibility of imminent and immediate danger to the victim."

Added Kaplan: "Kevin doesn't want to keep his kids from being involved in [Spears's] life. But foremost is that the kids be in an environment of structure [and] stability. The next goal is to get things to a point where both parents are able to participate fully in their [children's] lives."
[From People]
Britney's family has also gone on the record to slam Dr. Phil's behavior last week. They said that they asked him for private help, not as a way for him to increase his ratings. I actually believe them – although I wouldn't give Lynne Spears a ton of credit, she doesn't strike me as the Dina Lohan type who's always trying to get her face in the papers. It seems like she's pushed her kids too hard and could have done a lot of things differently, but she's not telling famous people she's her kids' friend instead of mom in an attempt to hook up with celebrities. Britney's father and brother have both kept pretty low profiles over the years, but were at the hospital on and off. It seems they were integral in the decision to involve Dr. Phil. At this point I'm much more likely to believe that Dr. Phil got really carried away and/or misinterpreted the Spears' family's wishes.
Britney Spears's family is accusing Dr. Phil McGraw of violating their trust by making public statements about his hospital visit with the troubled pop star and his call for her to receive therapy.

Family spokesman Lou Taylor, a business manager for mother Lynne and daughter Jamie Lynn Spears, appeared on Wednesday's Today show and also said that at no time had the family planned to do a show with McGraw, despite his statements about such a program. (McGraw later said the scheduled episode would not go on as originally planned.)

"It was decided it would be detrimental to ever do that," said Taylor, who described McGraw's request for such a show in the first place to be "self-serving." She also said that McGraw has now "compromised" Lynne and Jamie Lynn's relationship with Britney.
[From People]
I'd hazard a guess that Lynne and Jamie Lynn's relationship with Britney was already pretty compromised. But I'm sure Dr. Phil didn't help things any. I'm also guessing that he didn't go into Britney's room and listen and discuss thoughtfully, but rather did that yelling/telling it like it is thing that he's so fond of. And it seems that when people do things like that around Brit, she'll do the opposite of what they say, just to prove a point.
Picture note by Jaybird: Header image of Britney with her dog London as she waits at a Brentwood, CA gas station while her assistant fills the car up with gas. Image thanks to Splash Photos.