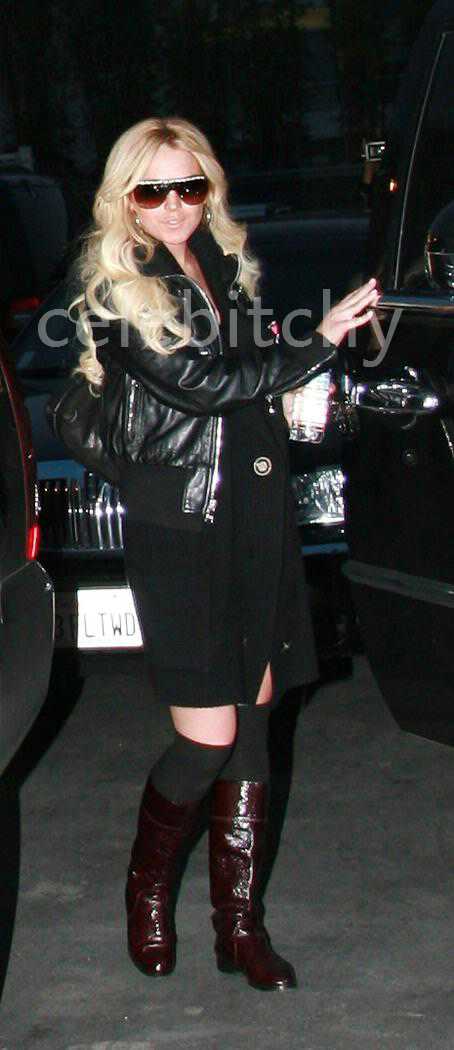 Life just isn't fair for Lindsay Lohan. But that tends to happen when you consistently make really poor decisions. And there's only a few things Lindsay Lohan does consistently: wear sheer leggings, give bad acting performances, and make really poor decisions. Last summer, Lindsay was involved in a high speed chase through the streets of Los Angeles. High on God knows what, she stole a car, ran over a guy's foot in the process, and then chased Michelle Peck, her former assistant's mother. Peck frantically called the police (having no idea who was chasing her or why) – thinking she was about to be killed. She then drove to a police station, where batshit crazy Lohan followed her – and was greeted by police officers with weapons drawn. Lilo failed a sobriety test, and cops found cocaine on her. She was then arrested. It seems like there were five or six people who could have legitimately taken legal action against Lohan as a result of that evening, and luckily the lawsuits are pouring in. Tracie Rice, the passenger in Michelle Peck's car, has filed a suit for emotional distress.
In August, Rice filed a lawsuit against Lohan for emotional distress. The lawsuit seeks unspecified damages and payment of medical and other expenses related to emotional distress. According to papers filed in Los Angeles Superior Court in late December, Rice spent about $7,000 on medical bills, including a therapist who charges $175 per visit, and lost her $60,000 per year job because of the incident.

Rice said she thought she was being carjacked when an SUV, driven by Lohan, pursued them at high speed, putting her and Peck "at extreme risk of death or injury," until they arrived at the police station and were met by officers with guns drawn.
[From Yahoo! News]
Celebitchy has a theory that Lohan is spending all her money so she doesn't have to give it to her victims. I don't think Lilo is nearly that smart or able to formulate even very simple, obvious plans. She's obviously a self-centered bitch who will take other people's lives in her own hands, but I would definitely not call her cunning. Though a lot of people have called her a few names that start with the same letters as cunning.
Lohan got some very mild good news in another lawsuit filed against her. Raymundo Ortego, the busboy who filed a (even I will admit) frivolous lawsuit against Lohan has dropped part of his suit against Lindsay's production company, Crossheart Productions. It is by no means a major victory, but might show his case is weak.
In my not-so-expert opinion, the only movie Lindsay was any good in was "Mean Girls." It's ironic that she's turned out to be such a vain, empty, mean girl. I can't help but wonder if she ever thinks about that movie, which could have helped her career if she'd made better choices after doing it. Tina Fey gave Lindsay the lead in her movie. Fey seems pretty down to earth and is definitely freakishly smart and funny. I can't help but wonder what smarter, better, respectable actors who used to support Lohan think of her now.
Picture note by Jaybird: Header image of Lohan and her f-me boots outside a Santa Monica studio yesterday. Images thanks to WENN.