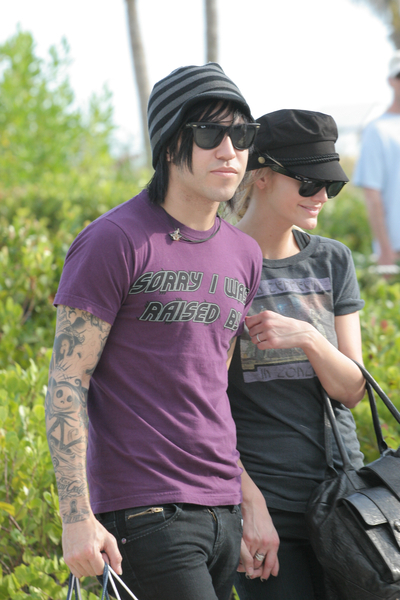 There seems to very little drama in Fall Out Boy frontman Pete Wentz and Ashlee Simpson's relationship apart from a rocky start, so we may as well report this minor story. Pete is said to have moved out of Ashlee's LA mansion – not because they're having trouble or anything, but because he was too much of a slob for her and she didn't want him messing up her house any more. Ashlee is said to be a "neat freak" while Pete just leaves his stuff around, especially in the bathroom.
Pete Wentz and Ashlee Simpson have been joined at the hip since hooking up last March. But the lovers are no longer sharing an address. Star has learned that the 28-year-old Fall Out Boy bassist moved out of Ashlee's $4.7 million mansion in LA's Benedict Canyon because he was too much of a slob!

"Ashlee loves Pete, but she just can't seem to live with him," explains a pal of the pop star. "Her house is a mess when he's there, and that drives her insane."

While Pete seems born to be sloppy, 23-year-old Ashlee is a neat freak and one of her pet peevs is Pete turning her bathroom into a mascara-caked disaster zone – while putting on his makeup! "Pete is in touch with his feminine side but he's just a slob," reveals Ashlee's friend.
[From Star Magazine, print edition, January 14, 2008]
There was a story right before Christmas that Ashlee's over-protective father, Joe, didn't like Pete because of his admission that he likes to kiss guys and said he didn't want Pete showing up at the holidays. Pete has denied that this is true, and says he gets along well with Joe.
It sounds believable that Pete might be getting out on his own for a while because Ashlee's annoyed that he's not cleaning up after himself. My husband is very helpful around the house, he'll clean up and do the laundry and he's like that joke book "Porn for Women
," (link SFW and funny). But he does leave his stuff around and that drives me crazy. I'm not the neatest person either, and I do this too but conveniently only notice when it's his stuff. It's just something you learn to live with and pick up when you love someone and you're married.
If you're single and rich, though, you can hire a maid, take a break and live separately for a while. I can't see Ashlee and Pete breaking up over this. They might not be engaged as was rumored, but they seem really into each other.
Ashlee and Pete are shown on South Beach with Ashlee wearing her publicity-seeking non engagement ring on 1/1/08. Thanks to PRPhotos.