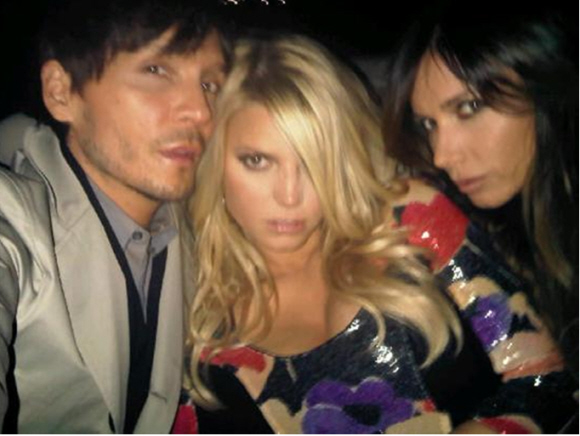 It looks like we've always concentrated on the wrong member of Jessica Simpson's beauty entourage. I had Jessica's hair guy Ken Paves as the one Jessica would take a bullet for, her best friend in the whole world, the guy who probably comes closest to Jessica's soul mate. Well… all of that might be the case, but it looks like Jessica's makeup artist Mary "Lil' Cholita" Phillips is also Jessica's bestie, so much so that when Phillips got arrested for drunk in public, Jessica is the one that got the call. Jessica's a good friend, too! She showed up to the West Hollywood jail ("the drunk tank") to get Lil' Cholita out, but the police wouldn't release the sh-tfaced makeup artist because she was still so wasted, and apparently that's against some kind of policy.
Oh, and Jessica is the one who calls Mary "Lil' Cholita". Jessica posted the above photo of herself, Phillips and Ken Paves on Twitpics with the note Sizzlin' w my peeps, pretty boy KP (@kenpaves), lil' cholita (Mary Phillips)…look out Yo!! This was just hours before Lil' Cholita's arrest.
Jessica Simpson paid a late-night visit to … jail!

The singer, 29, stopped by the L.A. County Sheriff's Department in West Hollywood early Friday morning to try to bail out her friend, Usmagazine.com confirms.

Her pal and longtime makeup artist, Mary Phillips, was arrested at 1:30 a.m. for being drunk in public after police received a disturbing the peace call at the Sunset Tower Hotel, a law enforcement source tells Us.

Simpson, however, was turned away when she attempted to bail her out.

"She was arrested for being drunk in public, and she was not released to Jessica because you can't release someone who has not sobered up," Deputy Aura Sierra tells Us. "They're going to release her a little later when she's sobered up. I don't know what time that will be. It could be a minimum of 6 to probably 8 hours."

Hours earlier, Simpson had posted a photo on Twitter of herself, hairstylist BFF Ken Paves and Phillips — who worked with Simpson on The Dukes of Hazzard and Employee of the Month and prepped her for her 2002 wedding to Nick Lachey.

She said that she was "sizzlin' with my peeps, pretty boy KP and Lil' Cholita [Phillips] … look out yo!!"

Phillips is still in custody, the law enforcement official tells Us.
[From Us Weekly]
I think Lil' Cholita sounds like a fun person. I hate hearing about people getting arrested for drunk in public or drunk and disorderly, because ultimately I feel like "at least they weren't driving." If you're not drinking and driving, how else are you going to get home? You'll have to walk! Thus, drunk in public. I learned that in my college town, where the police loved nothing better than to arrest college kids walking home after a long night at the downtown bars. I never got arrested, but I did my fair share of drunk in public.
One more thing: Lil Cholita 4 EVA.
UPDATE: Lil' Cholita was released from jail after she sobered up. She was given a citation, and Jessica did not return.
Jessica's Twitpic courtesy of her Twitter.