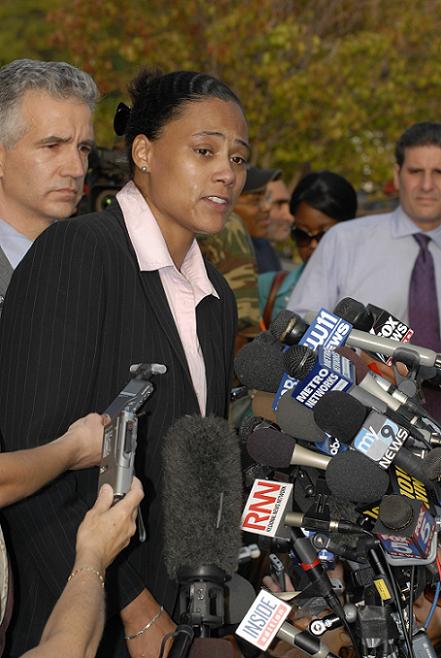 Marion Jones, the former-Olympic gold medalist in track and field, was sentenced to six months in prison for obstruction of justice after she lied to two grand juries regarding her use of steroids and knowledge of a bad-check cashing scheme by runner Tim Montgomery, who is the father of her oldest son. Jones had initially said she thought she was just taking flaxseed oil given to her by her trainer. Barry Bonds has said the same thing about his steroid use. Jones said she realized she had been given steroids after her performance improved and then later suddenly dropped off without cause. She claims she then figured out she'd been given tetrahydrogestrinone or THG.
Disgraced Olympian Marion Jones, whose speed and smile made her an international superstar until steroid use led to her downfall, was sentenced Friday to six months in prison for lying to investigators about performance-enhancing drugs and a check-fraud scam.

The judge sentenced Jones despite her plea that he not separate her from two boys, "even for a short period of time. I ask you to be as merciful as a human being can be," she said. After she was sentenced, said Jones, who cried on the shoulder of her husband after learning her fate.

As she pleaded for mercy, Jones talked at length about her children, including the infant son she is still nursing.

"My passion in life has always been my family," she said. "I know the day is quickly approaching when my boys ask me about these current events. I intend to be honest and forthright … and guide them into not making the same mistakes."
[From the Associated Press]
Six months in prison is a surprisingly long sentence. Considering how lightly celebrities get off for DUIs and other crimes that put other people's lives in danger, it seems a little disproportionate. But lying to a federal grand jury is certainly no petty crime. Several articles point out the Jones lied several times over a three year period, insinuating that she had many opportunities to come forth and be honest, which she failed to do. The judge made it clear that part of why he was giving Jones the maximum sentence is because of the status athletes have in our society.
But the judge said he believed a message needed to be sent to athletes who have abused drugs and as a result, have overlooked the values of "hard work, dedication, teamwork and sportsmanship."

"Athletes in society have an elevated status, they entertain, they inspire, and perhaps, most important, they serve as role models," he said.
[From the Associated Press]
Barry Bonds was caught up in the same scandal as Jones, after federal investigators found the Bay Area Laboratory Co-Operative had provided doping agents to many athletes. They also found records of doping schedules for Bonds, Jones, and others. Bonds case is still under investigation, so it will be interesting to see how his punishment – if any – varies from Jones'. Six months seems like a lot when compared to other crimes, but considering how much Jones profited from her enhanced performance – she had an endorsement deal with Nike, amongst others – half a year for lying in a federal case doesn't seem that severe.
Picture note by Jaybird: Header of Marion Jones after pleading guilty in federal court on October 7th. Images thanks to Splash Photos.