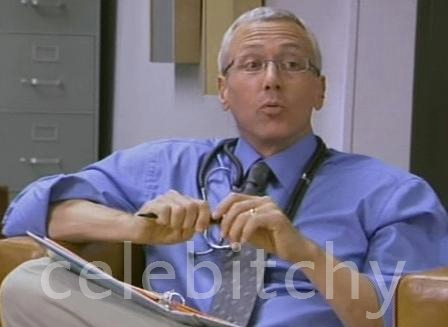 Dr. Drew Pinsky, my favorite of all television/radio doctors, is going on the attack, and his target is Dr. Phil McGraw. Dr. Phil famously tried to use Britney Spears' emotional breakdown last week as a vehicle to boost his own show's ratings. The Spears family requested that he meet privately with Britney. And while Dr. Phil did technically do that, he then issued multiple press releases about it, blabbed to Entertainment Tonight about Brit's condition, and then said he was going to have the Spears parents on his show. He eventually had to retract that, and the Spears had to issue a statement explaining that they wanted Dr. Phil's private – not public – help. By most accounts, Dr. Phil just yammered at Britney for fifteen minutes (not the hour long conversation he originally reported) while she packed her belongs to leave the hospital.
Dr. Drew (who is a board-certified MD, an addiction-medicine specialist in full time practice, teaches at the Keck School of Medicine at USC, has been the host of radio's Loveline since he was a med student in 1983, and is currently the host of VH1's Celebrity Rehab) has called Dr. Phil out for his unprofessional behavior.
Celebrity doctors Drew Pinsky and Phil McGraw are sparring over the treatment of troubled superstar Britney Spears. Pinsky, who recently treated American Idol singer Jessica Sierra, has attacked the advice McGraw gave Spears when he visited her in hospital following her recent stand-off with police – and challenged the TV talk show host's right to call himself a doctor.

The addiction specialist claims by getting involved, McGraw has made the situation worse. He says, "It's never good for an addict when there are multiple sources getting involved. You have to have a unified front. Addicts love a split. It helps them maintain the chaos.

"He's not a physician. I'm an MD. I went to medical school. He's a psychologist and I don't think he has a license in California."
[From PR-Insider]
Britney clearly needs a specialist, not a general TV-grade psychologist who's out for their own benefit. And it seems pretty likely that she needs someone with a medical degree, as it seems possible that she has some sort of physical problem going on, whether it's chemical or biological. Hopefully the biggest disservice Dr. Phil did was to his own career and not to Britney or her family. There's been a lot of speculation that his actions may have caused an irreparable rift between the Spears.
Dr. Drew made some additional points about Dr. Phil's lack of professional responsibility.
"My concern was, I don't know that Dr. Phil has a license in California," Drew told Access Hollywood. "He's not on staff at Cedars. Is he interfering with the care of another doctor's patient? I don't know."

As for rumors that Britney's family plans on having her involuntarily committed, Dr. Drew said that is unlikely to happen. "When a patient doesn't want help, there's sort of a fallacy that we can somehow intervene and make them get better," he said. "It doesn't work like that, it has to come from within them."

Dr. Drew said in order to help a person out, sometimes a family has to cut the person off. "So what we try to do is get the family actually to actively disengage with the patient. It is their dance with the patient that allows their disease to go on," he explained.
[From Access Hollywood]
I really feel like Dr. Phil needs some sort of professional sanctioning. Apparently it is a rule amongst those in the mental health field that one professional doesn't treat another's patient without consulting with them first. Otherwise the patient could get a lot of conflicting information, advice, and treatment. I used to find Dr. Phil's show somewhat entertaining, but frankly his brand of superficial advice just isn't appropriate in anything other than an hour-long TV format.