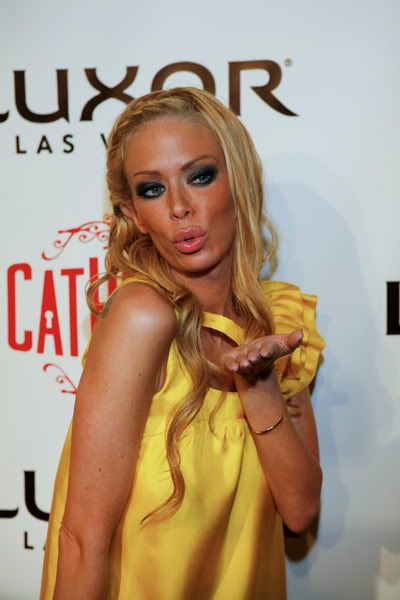 Press the pause button on your (porn) DVDs – Jenna Jameson has announced her retirement! Again.
Porn queen Jenna Jameson shocked an auditorium full of porno stars and adult entertainment executives at the AVN Awards in Vegas on Saturday night when she unexpectedly announced that she was retiring from showbiz.

"Honesty is key," she said. "I will never ever ever spread my legs again in this industry. Ever!"

Jameson's announcement was met with some boos from the audience.

The porn star presented the crossover award to Stormy Daniels, who shared: "Well I plan on spreading my legs for this industry for quite some time."
Her parents must be so proud. Who knew that when they waved their little girl off to school that she would one day be taking over from Jenna Jameson as the Queen of Porn? Actually, I was surprised to read how successful Jenna actually is within the industry.
Jenna started out in pornographic film after failing to meet the height requirement to be a Vegas showgirl, following in her mother's footsteps. Her mother died before she was 2-years-old.
Jenna then worked as a nude model and stripper, before briefly entering rehab for cocaine, LSD and crystal meth addiction when she was 20, just after making her first film. A year later in 1994 she had breast and chin implants, which increased her popularity with adult film makers.
It wasn't until Jenna released her autobiography in 2004 that she achieved mainstream success, appearing regularly on television (on Family Guy, WWE, and her own reality series) as well as having her own company, selling DVDs, video games and sex toys. She sold the company to Playboy in 2006.
Jenna, although bisexual, has been married twice to men within the porn industry. She attempted to get pregnant during her second marriage using IVF, but miscarried shortly after being diagnosed with skin cancer. She said she would be leaving adult entertainment when she had a baby, before announcing her retirement in August 2007, the same time that she had her breast implants removed.
So, is Jenna Jameson retiring because she is pregnant, or just because no one wants to see her hoo hoo anymore? Isn't there a market for middle-aged pornstars? Jenna apparently had a vaginioplasty last year, which I guess is one of the first places a porn star might get plastic surgery to maintain her appearance.
Jenna will continue running her company ClubJenna. Additional information from Wikipedia.
Picture note by Celebitchy: Jenna Jameson and Tito Ortiz are shown at the opening of CatHouse Restaurant and Lounge at the Luxor Hotel on 12/29/07, thanks to PRPhotos.