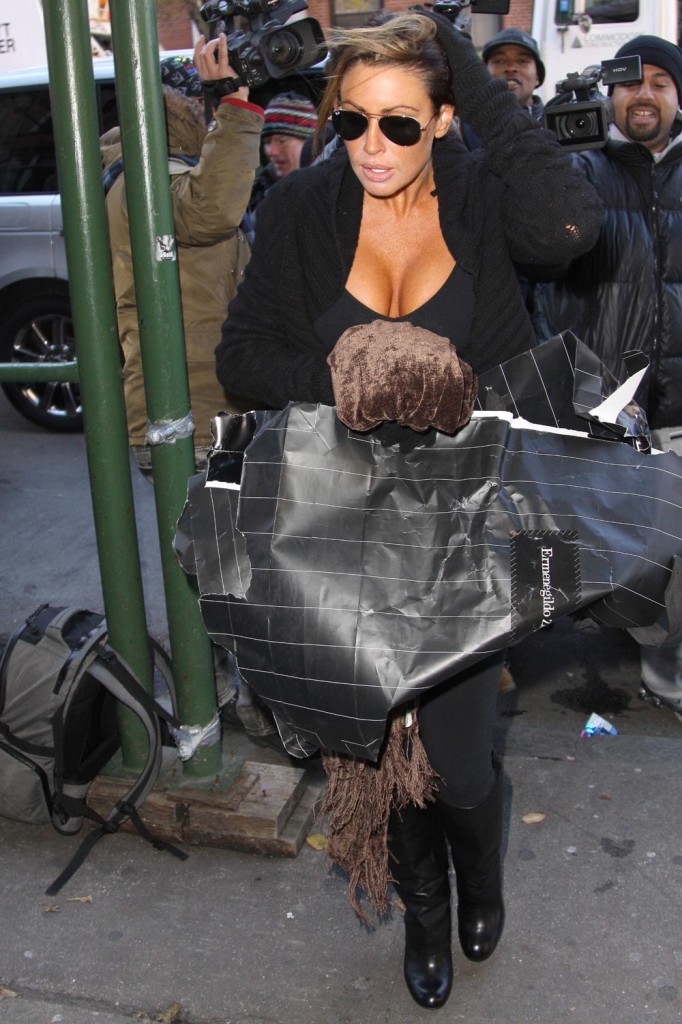 It looks like Kaiser was right – mistress Rachel Uchitel is gunning to be the next Mrs. "look the other way at the sparkly jewelry" Woods. Entertainment Tonight reports that Tiger emerged from his party boat to attend a holiday party on Uchitel's arm. The two were spotted holding hands at a big shindig on Sunday.
First word out of Palm Beach, Florida…

Was Tiger Woods partying in Palm Beach?

That's what sources tell ET, and Woods wasn't alone. Rumors that Tiger and reported mistress No. 1 Rachel Uchitel were spotted holding hands and mingling with about three hundred other partygoers Sunday night inside a private mansion in Palm Beach, Florida.

Some even say the couple is living together in Palm Beach, where Woods' yacht is reportedly docked and where Uchitel has even been photographed.

Reports also surfaced that the couple partied together Saturday night at the Everglades Club in Palm Beach.
[From ETOnline]
Instead of going to the press and cashing in with a quick interview, Uchitel got a hefty settlement and is in it for the long haul. She doesn't care that Tiger's mistress list has reached over a dozen, she's the head bitch and she's going to run things from now on. Tiger needed some fake boobs to lean on after the scandal and Uchitel flew right down to provide some synthetic cushioning. She's also selling her condo in Vegas with the help of OK! Magazine so that she can be by Tiger's side full time.
Tiger ultimately did leave his wife for Rachel as he promised in that rambling e-mail. He had to get busted first, but she doesn't care. She's getting paid handsomely for her services. It beats wrangling up celebrities for clubs. Meanwhile Rachel is modeling her bikini on the beach and issuing dumb denials to celebrity outlets. She has cover all her bases in case the Tiger gig runs out sooner rather than later.
In related Tiger news, his high profile infidelity is estimated to have cost his sponsors over $12 billion in lost revenue from tanking stock prices. The good news is that the companies who said that they would stand by tiger, EA Games, Gatorade and Nike, lost the most revenue as a result. Maybe Tag Heuer will rethink their pledge to "stand with Tiger" and suffer a loss.
Update: People magazine reports that Rachel was partying by herself at a club on Saturday night. I'm thinking that this story comes straight from Rachel/Tiger's camp, particularly since it includes the incredibly dubious quote "Rachel was much prettier than I had expected after seeing photos of her. She had a great body, too." Please, you just pushed it too far with the "great body" crap. How transparent can this woman be?
Rachel Uchitel is shown in NY on 12/10/09. Credit: JDH/JCP/WENN.com