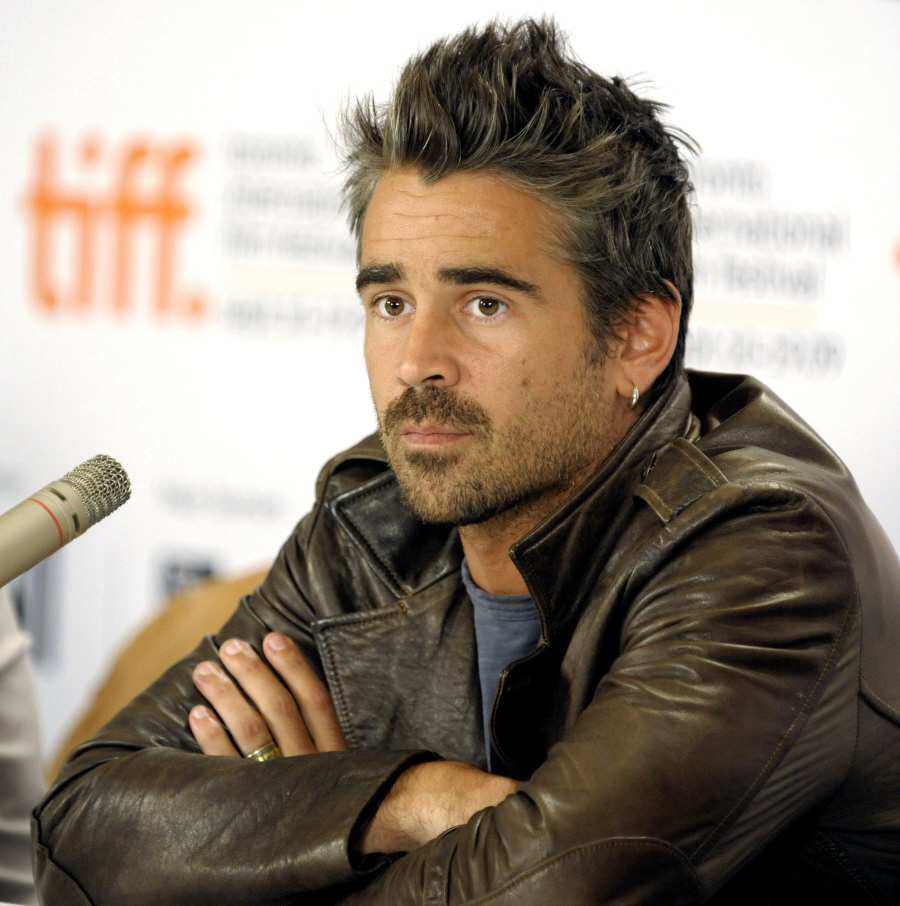 Maybe I'm just too emotional, or maybe I was just having an off-day when I read this, but this article made me cry. It seems Colin Farrell was "caught" spending Christmas day at an Irish hospital (specifically, Crumlin, Ireland), hanging out with sick kids and bringing them cool presents like Ninetendo Wiis. The Irish Herald also notes that Colin "has carried out similarly unheralded visits to Crumlin for the past few years." Oh, but that's not all. It seems that since Colin's oldest son, James, was diagnosed with Angelman Syndrome, Colin has been something of a tireless (yet under-the-radar) supporter of the Special Olympics. Here's more:
KIND-HEARTED new dad Colin Farrell paid a secret visit to sick children in Our Lady's Hospital, Crumlin, on Christmas Day. The In Bruges actor played and chatted with children for several hours on Christmas Day and also brought them presents. And it wasn't his first festive visit — he has carried out similarly unheralded visits to Crumlin for the past few years.

"He keeps a low profile when he comes in. He doesn't want photographers or anything," a well-placed source told the Herald about the actor's visits. He comes in every Christmas Day and spends a lot of time with the children."

"He has bought Nintendo DS and Wiis for them and plays with them for a couple of hours," the source added. "He's really popular with the staff and really genuine, and the kids really love and appreciate his visit."

The actor, who recently became a father for the second time to baby son Henry, does not want to court any publicity when visiting patients. And back in 2003, Colin (33) helped support the Special Olympics which was hosted then in Ireland.

Since then, he has been a tireless campaigner for the cause, regularly giving up any free time he has to help the organization with their activities and further raise their profile. Much of Colin's spare time is spent in Los Angeles, so he can be with his six-year-old son James, who suffers from the rare, neuro-genetic condition, Angelman Syndrome.

Colin often credits little James, who lives with his model mum Kim Bordenave, with saving his life thanks to the positive influence he has held over his father since he was born.

The award-winning actor spent Christmas at home this year, and brought elder son James (6) to enjoy festivities in their father's native area of Castleknock. Baby Henry, who was born in October, is also believed to have made the trip.

A source close to the former hell-raiser has confirmed how the actor will be jetting home with his girlfriend Alicja Bachleda (26) and their tiny tot on Christmas Eve.

"Colin's a real family-orientated guy and nearly always makes it back for Christmas anyway, no matter how busy he is with his filming schedule, but this year it will be extra-special thanks to his new baby."
[From The Irish Herald]
Now we know why Colin Farrell still makes panties drop wherever he goes. Because in his heart, he's a good boy. He plays at being the bad boy to great effect, but I really have no doubt that he's a very sweet, considerate, lovely man. Sigh… okay, I'm overly-emotional for crying while reading this, right? I love Colin. I want him to be happy. I want him to make good movies and win awards and stay sober and be a great dad. That's the Colin I'm seeing now.
Colin Farrell with son James in Ireland on December 27, 2009. Also, assorted photos of Colin from the Toronto Film Festival in September. Credit: WENN.