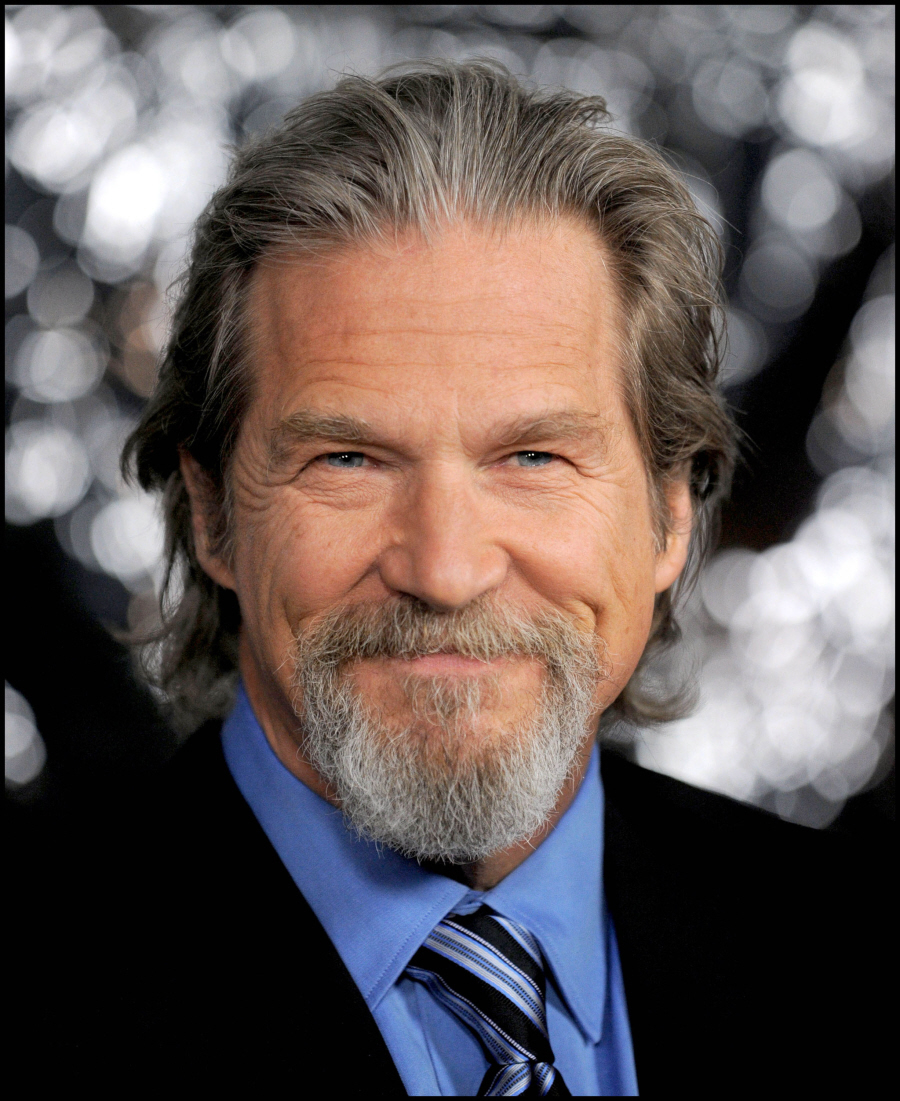 When Jeff Bridges sat down for an interview with Entertainment Weekly to discuss his new film, Crazy Heart, the EW people just had to ask Bridges about his most iconic role – that of "the Dude" in The Big Lebowski. Full disclosure: I love The Big Lebowski, and hearing Jeff Bridges talk about the film made me geek out like the dorkiest fangirl you've ever seen. Not only is Jeff Bridges talking about the film (The Dude on The Dude), what he says just struck me as hysterical:
A couple of weeks ago, we found ourselves sitting face to face with His Dudeness, Jeff Bridges, to talk about his excellent new movie, Crazy Heart. But since we were in the presence of everyone's favorite stoned, strike-rolling cult hero, we had to ask about the 1998 Coen brothers classic, The Big Lebowski. Specifically, we asked Bridges what he does when he's sitting at home in Santa Barbara, chilling, watching TV (with, one hopes, a White Russian in hand) and The Big Lebowski comes on. Does he turn the channel? Watch the movie from beginning to end? Stick around to see a particular scene? Here's what Bridges had to say…

"The only movie that I'll catch and watch all the way through is The Godfather. That hooks me in every time. I've seen that several times thinking I'm going to change the channel. With Lebowski, usually I'll say, 'Oh, I'll just wait until Turturro licks the ball, then I'll change it.' And then he licks the ball, and I'll keep watching."
[From Entertainment Weekly]
"I'll just wait until Turturro licks the ball" is the best sentence ever. Best sentence of the year, really. Anyway, Jeff Bridges is receiving a ton of critical praise for Crazy Heart, in which Bridges plays a down-on-his-luck alcoholic country singer still searching for a break. The film costars Colin Farrell (who asked to have his name taken off the credits out of respect for Jeff Bridges' performance), Maggie Gyllenhaal and Robert Duvall. Jeff has already been nominated for some of the big awards this year – he's got a Golden Globe nomination for Lead Actor Drama, as well as a Broadcast Film Critics nomination, Independent Spirit Award nomination, a Screen Actors Guild nomination, and he picked up the LA Critics award for Best Actor.
Many people have Bridges pegged for an Oscar nomination, which, if it happens, would be his fifth career nomination with no wins. In my mind, Bridges is one of the most underrated actors working today – and it's a travesty he's never won an Oscar. If he gets nominated, he might be this year's choice for "getting the Oscar because it's his turn." Bridges' biggest competition in the category could be George Clooney (Up In The Air), Morgan Freeman (Invictus) and Colin Firth (for A Single Man, and Colin could also get some "it's his turn" votes).
Bridges has been doing a lot of interviews, and he basically seems like one of the most decent, professional, kindest, most interesting actors you'd ever want to meet. If I ever met Jeff Bridges, I would fall at his feet and beg him to touch my head. Anyway, here's part of one of the better interviews I've read with Bridges:
Q: T Bone Burnett (musician, producer) says this started on the set of "Heaven's Gate," 30 years ago.
A: That's true. That's where T Bone and I met, as well as Stephen Bruton, who's an old friend of T Bone's. I also met (Kris) Kristofferson, who was a role model for this character. And he brought all of his musician friends to "Heaven's Gate," so that was six months of jamming with these guys every night after work. All of those years between then and now, we kept our friendship up. When this script came across my path initially, I turned it down, because while the script was fine, there was no music attached to it, so it was missing an essential piece. And then I ran into T Bone somewhere, and he was saying, "Did you ever hear about this script 'Crazy Heart'?" And I said, "Yeah, why, are you interested in doing it?" And he said, "I'll do it if you do it." And I said, "I'll do it if you do it." So then the missing piece appeared.

Q: You had to set aside your own performance style to play the character.
A: What I do for any role is I look inside myself, think about aspects of myself that I must use. I've written country tunes and I like to sing, those kinds of things, so I used that. But you're right, Bad doesn't perform exactly like me, so I look to other role models like Kris and Waylon (Jennings). My biggest role model was Stephen Bruton, who the film was dedicated to and who died shortly after the film was completed. He was with me every step of the way, giving me instructions on how to play the guitar, how to perform, and also what it's like to lead that kind of life. Bad's life parallels Stephen's own life. He would drive himself to gigs, and he had problems with booze and substances and all that, so he was a wonderful touchstone for me.

Q: The performance is pretty vanity free. You're not too concerned about how you look.
A: There's a certain amount of vanity in that. Vanity is caring how you appear. That caring manifests itself in looking bad. That would be the most effective way of making that character look good. See what I mean?

Q: It took me awhile to realize your character is half in the bag the whole film. Other actors would have been a little more showy about being loaded.
A: Guys who drink so often are pretty good at it. It's not a matter of knowing. They're like that all the time. They're used to being that way, and it's no big deal.

Q: And the Oscar talk. What is your attitude toward that?
A: To be getting the "Attaboy!" is a wonderful feeling. And also another aspect of it is bringing attention to this movie that I'm very proud of.

Q: I was looking at a list of films you supposedly turned down, like Indiana Jones. These are films you were offered and decided it was a direction you didn't want to take?
A: Yeah, I've heard that. It must be on the Internet. I don't remember turning any of those things down.

Q: The upside of that is that you've had a longer career than someone who had done those kinds of roles.
A: Yeah. One of the things I learned from my father (Lloyd Bridges) just from observing the frustration that he got from developing a strong persona from a TV show ("Sea Hunt"), he pulled that off so well that people thought he was a skin diver. He only got scripts for skin divers. He was a classically trained actor, a very versatile guy. That's something I really worked for, not to develop a persona, for a couple of reasons. One, it keeps it interesting for me. And hopefully it's easier for the audience to project a character on me without bringing the last time they saw me. And also for filmmakers, that I can play all kinds of parts.
[From The San Francisco Chronicle]
See? He just seems like a really nice man. He makes and keep friends for decades, he works when he wants, he cares about the work, and he doesn't treat people like crap. Love him!
By the way, just for The Big Lebowski fangirls and fanboys out there, The New York Times just ran an excellent piece on the cultural impact the film has had for the past decade – it's a really interesting, funny read, and I would recommend it.
Promotional images from 'Crazy Heart' courtesy of WENN. Additional photos of Jeff Bridges, with his wife and daughter, at the 'Crazy Heart' premiere in Los Angeles on December 8, 2009. Credit: WENN.