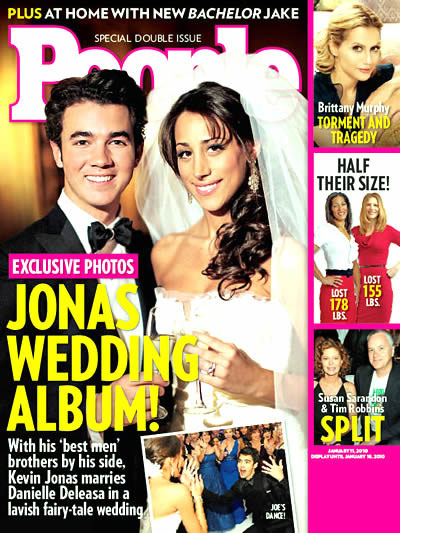 Former US Weekly editor Bonnie Fuller has written an editorial criticizing Kevin Jonas. Jonas, 22, sold the photos of his Long Island winter fantasy wedding to People Magazine for an undisclosed sum. As Fuller notes, plenty of other celebrities have chosen to release free wedding photos to share their happy event with fans. The same goes for baby pictures. Not Jonas, who is forcing fans to buy a particular magazine. Fuller doesn't discuss what photos may have cost People and if Jonas and his new bride pocketed the money.
I'm wagging my finger at you Kevin Jonas for being a sell-out!

You of all people have no business turning your wedding into a business. By that I mean, giving all your wedding photos to one media outlet—exclusively.

I don't fault People magazine for doing whatever it took to get your photos with your bride, Danielle Deleasa, on their cover. That's their job—to try and get exclusives.

I fault you, Kevin! You are a huge star. And not just a regular huge star—but a HUGE teen star! You and your brothers are adored by multi-millions of teen girls around the world. You've sold over 8 million albums and most of those buyers have been under 20 years old.

I believe that when you have such an enormous fan base and are such a HUGELY popular star—you have an obligation to share with those fans.

That means giving a free, non-exclusive handout photo to the world's media, so all your fans can share in your Big Day—not just those people who buy one magazine. Especially one that doesn't even focus its content on your fans.

Kevin—I also want to be clear that I place the blame on you, not Danielle. After all your experience in the public eye—you are media savvy—not your new wife.

You should have been a fan-friendly class act like Ivanka Trump, Tom Cruise and Katie Holmes, Ellen DeGeneres, Jessica Simpson and Nick Lachey, and Julia Roberts to name a few—who all released wedding photos non-exclusively for all their fans to see.
[From Hollywood Life]
To me it's about how much he got paid, not necessarily that he's denying his fans a chance at seeing the photos. There's something obscene about very rich celebrities selling photos to the fans who pay for their music or movies. (Granted they sell them to magazines, who then sell them to fans, but it's kind of the same thing.) That's a good point that the fans get shafted as it's particularly hard for overseas fans to get access to the pictures. There are a lot of comments on People's website from people who live abroad and want to see Jonas' wedding. When the pictures aren't online they have little chance.
The pictures might be pretty interesting. As Michael K at D-Listed writes, the description of the wedding on People's website reads like "one big promo for Disney's Princess Collection." The wedding took place in a castle and Kevin even gave Danielle real glass slippers. People has his naseating quote "I knew that my princess needed her glass slippers and her castle."
In related news, there's a parody website that claims that Jonas gave a press conference after his wedding night expressing his disappointment in sex. Some outlets are picking it up as if it's a real story, as it ran in the Huffington Post and wasn't clearly labeled a joke. It is, though. Kevin never said "to be honest about it, sex was not worth the wait. After we did it, I was kind of like, that's it?"